South Africa attacks on foreigners spark anger abroad
<![CDATA[By Sibongile Khumalo* [caption id="attachment_17575" align="alignleft" width="300"]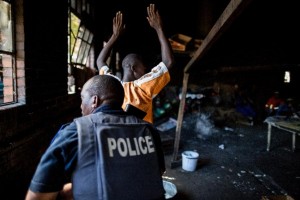 A resident raises his hands as a South African anti-riot police officer raids a hostel in Benoni on April 16, 2015 (AFP Photo/Marco Longari)[/caption] Johannesburg (AFP) – Countries neighbouring South Africa on Friday prepared to evacuate their citizens from South Africa as the UN raised the alarm over deadly xenophobic attacks which have displaced thousands.
The anti-foreigner violence, which erupted in the eastern port city of Durban, has left at least six people dead and spread to the economic hub, Johannesburg.
"In South Africa, xenophobic attacks over the last three weeks have… displaced over 5,000 foreign nationals," the UN refugee agency said, adding it was "extremely concerned".
"We would like to underscore that those affected in these xenophobic attacks are refugees and asylum seekers who were forced to leave their countries due to war and persecution," the UNHCR said.
Foreigners who have fled their homes are sheltering in makeshift camps.
Neighbouring Zimbabwe, Malawi and Mozambique announced plans to evacuate their citizens, as the violence drew regional outrage.
Zimbabwe's ambassador to South Africa, Isaac Moyo said the repatriation of about 1,000 Zimbabweans from Durban would start on Sunday.
In the Zimbabwean capital Harare, demonstrators marched to the South African embassy to condemn what they called the "senseless and gruesome slaughter" of fellow Africans.
In Mozambique, a group of about 200 on Friday blockaded the southern Lebombo border with South Africa, stoning South African vehicles.
"The demonstrators blocked the road for half an hour, refusing to allow cars with South African registration plates to pass," Moamba district police commander Alfonso Rocco told AFP.
– South African gigs cancelled –
[caption id="attachment_17576" align="alignright" width="300"]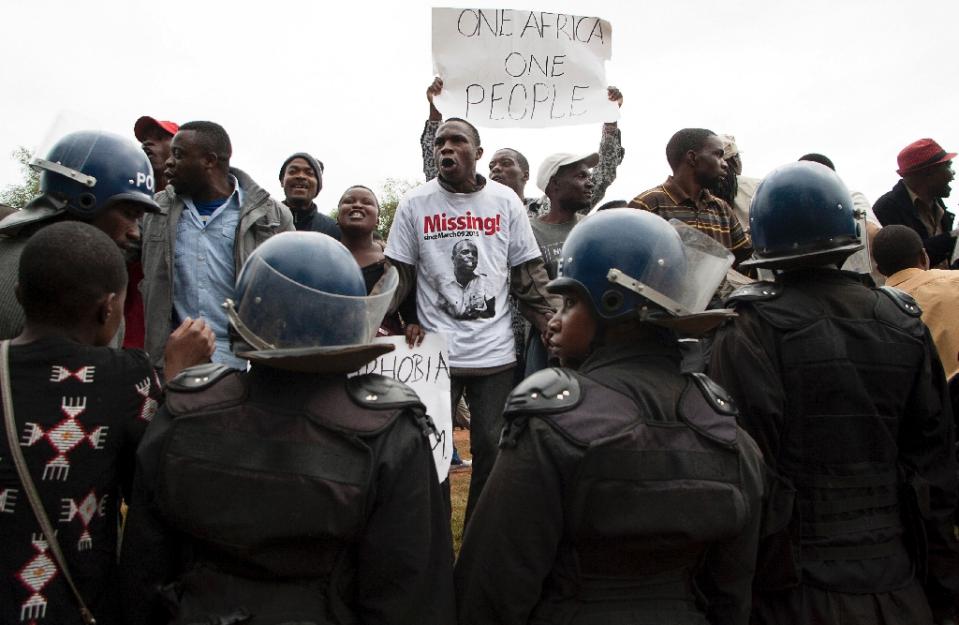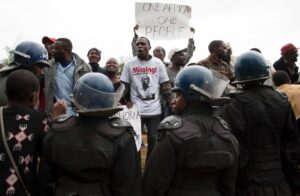 Zimbabwean citizens protest outside the South African Embassy in Harare against a wave of violence against immigrants in parts of South Africa, April 17, 2015 (AFP Photo/Jekesai Njikizana)[/caption]
In Zambia, a privately-owned radio station has stopped playing South African music in protest against the xenophobic attacks.
"Radio QFM has blacked out the playing of South African music effective today, April 17th in protest against xenophobic attacks on foreign nationals taking place in that country," QFM managing director Asan Nyama said in a statement posted on the station's website.
South African singer Kelly Khumalo was forced to postpone performances in London because of outrage, while Big Nuz — a group that plays the popular Kwaito dance music genre — had to cancel a concert in Zimbabwe, Minister in the Presidency Jeff Radebe said Friday.
The anger in neighbouring countries was exacerbated by the fact that they hosted thousands of South African exiles during the struggle against apartheid — a point that President Jacob Zuma raised in a speech to parliament Thursday.
"We were treated with generosity, dignity and respect by our brothers and sisters on the rest of the continent," Zuma said, noting that their solidarity was "critical to achievement of freedom and democracy we are enjoying today".
'Government must act' –
The latest violence has been largely blamed on a speech last month by King Goodwill Zwelithini, traditional leader of the Zulus, in which he blamed foreigners for South Africa's high crime rate and said they must "take their bags and go".
The king has since said his words were misinterpreted, but for some, Zwelithini simply articulated what many were feeling.
[caption id="attachment_17578" align="alignleft" width="300"]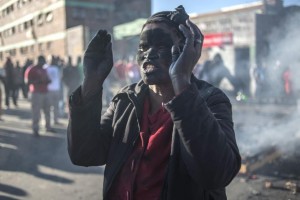 Zimbabwean citizens protest outside the South African Embassy in Harare against a wave of violence against immigrants in parts of South Africa, April 17, 2015 (AFP Photo/Jekesai Njikizana)[/caption]
South Africa's relatively sophisticated economy attracts both legal and illegal African immigrants, but massive inequalities and high unemployment among locals breed resentment against them.
"We believe that the cause of the xenophobic attacks is policy failure by the government," said Mienke Mary Steytler, of the South African Institute of Race Relations. "High unemployment and inequality are not being tackled."
The Economic Community Of West African States (ECOWAS) condemned the "barbaric, criminal and xenophobic murder of innocent foreigners", calling on the South African government to act quickly to end the violence.
This is not the first wave of anti-foreigner violence in South Africa. In January, foreign shopkeepers in and around the vast township of Soweto, south of Johannesburg, were forced to flee and six were killed as looters rampaged through the area.
And in 2008, 62 people were killed in xenophobic violence across the city's townships.
*Source
AFP/Yahoo
]]>