Rosario Dawson's Adventures in Ghana, Celebrating Women and Her First Clothing Collection
<![CDATA[BY JEANINE CELESTE PANG* [caption id="attachment_17794" align="alignleft" width="300"]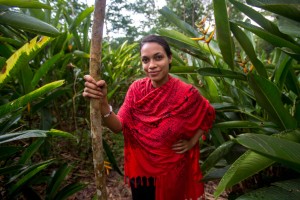 This stick gave me a little stability while walking through the farm in the rain in the central region of Ghana," says Rosario Dawson, who shares images of her recent trip to Africa here. "We were able to find natural essential oils such as ylang ylang, patchouli and cinnamon, as well as flowers that we use at our Studio One Eighty Nine events in Ghana. We hope that eventually the farm will be a source of cotton for use in our collection!" Adam Desiderio[/caption]
As dusk fell on a weekday last month, a four-wheel-drive barreled down a jungle path in the central region of Ghana, carrying Rosario Dawson, who, rubbed clean of makeup, less resembled a Hollywood actress than her latest role as a fashion entrepreneur studying agroforestry and sustainable cotton practices on a century-old plantation. During a break from promoting her new Netflix series, Marvel's "Daredevil" (released last Friday), Dawson, 35, had escaped a New York snowstorm to spend six days in Ghana and oversee production of her first full collection for Studio One Eighty Nine, a line of recycled glass jewelry and batik cotton and indigo separates. The company was cofounded and soft launched with her best friend Abrima Erwiah in 2013. "We wanted to do something we both valued and loved," she said, adding that they both grew up on Manhattan's Lower East Side and realized the need to do something social-minded.
They forewent fast fashion in favor of a more intimate and community-based approach, enlisting a vibrant fashion collective of African artisans. "We aren't telling their story, we aren't trying to push anything or create something new," Dawson says, "we are just trying to celebrate people and help push their story through." Her most recent visit to Africa Light began at the beach resort and fishing village of Busua, to celebrate International Women's Day, and then traveled up the Cape Coast, where she met with batikers and seamstresses, all of whom she knows on a first-name basis.
"Things are so mass-produced these days," says Erwiah, a former communications and marketing director at Bottega Veneta who now spends her time in the sprawling capital of Accra, home to Studio One Eighty Nine's headquarters. "When you wear something that is beautiful and unique, it's a gift. It's like art — you feel the energy behind the person." Designs in the collective's first collection include understated examples of luxury, like the "Andy," a unisex button-down made of butter-soft indigo denim, exclusively sourced and dyed in Mali. It's what you might wear to a summer concert in Brooklyn, or like Dawson, to a recent Ghanian dinner of fried tilapia with a side of kenkey (fermented corn dough), scooped up with her fingers in a back alley. "It's just too good," she remarked, reaching for seconds. Above, she shares a handful of other highlights from the trip.
*Source
Tmagazineblogs
]]>