Only four nations have signed pact for African court
<![CDATA[
[caption id="attachment_17468" align="alignleft" width="300"]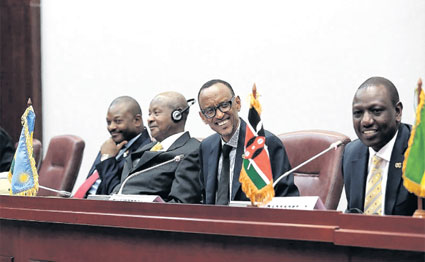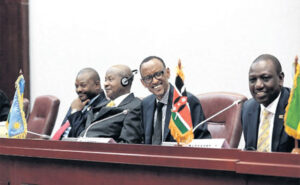 Deputy President William Ruto (right) with African presidents at an AU summit in Malabo, Equatorial Guinea, where a protocal on establishment of an African court was made. Despite President Kenyatta's condemnation of the ICC, lobbying by Kenya for the alternative African court has been low key. FILE PHOTO | NATION MEDIA GROUP[/caption] Kenya's push for an African court for trying crimes against humanity has received the backing of only three other countries.
A total of four countries — including Kenya — have signed the Malabo Protocol on the African court, according to the Arusha-based Pan African Lawyers Union.
In response to questions from Sunday Nation, the union listed the countries that have signed the protocol as Benin, Guinea Bissau, Kenya and Mauritania.
Foreign Affairs Cabinet Secretary Amina Mohammed had said 11 countries had committed to support the initiative at the 24th Ordinary African Union summit in Addis Ababa (January 23 to 31 this year).
"In a recent conference, the Legal Counsel of the African Union, Prof Vincent Nmehielle, confirmed that, as at Friday March 20, 2015, only the four countries had signed the Malabo Protocol. To the best of our knowledge, no country has ratified the said Protocol to date," the umbrella association of African lawyers and law societies said.
For the court to be operational, 15 countries need to sign and ratify the protocol, which was adopted in Malabo, Equatorial Guinea, in 2014. It aims to expand the jurisdiction of the African Court of Justice and Human Rights (ACJHR) to handle 14 international crimes that are of serious concern to African states.
They include genocide, crimes against humanity, war crimes, crimes of unconstitutional change of government, piracy, terrorism, corruption, money laundering, trafficking of persons, trafficking in drugs and crimes of aggression. Kenya, whose priority agenda at the 24th AU Summit in Addis Ababa, Ethiopia, was to convince African countries to sign the protocol, was the first to do so on January 27. It was then Ms Mohammed told a press conference that 11 other countries had also agreed to sign up.
"We are not in a position to confirm what statement the Kenyan Cabinet Secretary for Foreign Affairs and International Trade, Ms Amina Mohammed, may have made, or what her motivations may have been. We prefer not to speculate," PALU said.
The West African nations of Benin and Guinea Bissau signed the Protocol on January 28 and 31, respectively, while Mauritania did so on February 26.
It is difficult to speculate with any measure of accuracy the time it may take to garner 15 ratifications for this Protocol, or indeed for any other," PALU said. This, according to the association, is because "individual states have internal processes of assessing the implications and requirements of committing to international instruments, which they follow, before they ratify or accede to a treaty.
These processes could be lengthy and detailed, depending on the complexity of the treaty in question."
Kenya has been pushing for the establishment of an African court which would weaken the International Criminal Court (ICC). Kenya and a number of African states have criticised the ICC, based at The Hague, as a puppet of the West and a tool of neo-colonialism.
Kenya's concerted push for the African court started after the ICC indicted six senior leaders for the 2007/08 post-election violence in which an estimated 1,133 people were killed and another 650,000 driven from their homes.
Three of the individuals have had their cases terminated. They are former head of public service Francis Muthaura, former Commissioner of Police Hussein Ali and former minister Henry Kosgey. President Uhuru Kenyatta's case was withdrawn.
However, the cases against Deputy President William Ruto and former radio broadcaster Joshua Sang are going on at The Hague. ICC Prosecutor Fatou Bensouda is left with only one witness to conclude her case.
During the 24th Ordinary AU Summit in Addis Ababa, Ethiopia, African leaders "underscored  the need to expeditiously operationalise the exercise of the jurisdiction of the African Court of Justice and Human Rights to try international crimes through signing and ratification" of the same.
According to the protocol, the African court's criminal jurisdiction would be complementary to national jurisdictions, the Journalists for Justice said.
President Uhuru Kenyatta had urged other African leaders to support the setting up of an African court that is run and funded by Africa. At the same meeting, he castigated ICC, saying The Hague court "poses a grave risk to peace and security not only in Africa, but to the whole world." He also pledged a donation of $1 million (Sh92.6 million) to the African court. Despite the President's strong condemnation of the ICC, lobbying by Kenya of other African States was low-key. But the country is hoping that the 25th Ordinary AU Summit in South Africa will provide it with an opportunity to get its peers to sign to the protocol. The 25th Ordinary AU Summit is set to be hosted by South Africa in June 2015. *Source
Daily Nation
]]>