France investigating alleged child sex abuse by its troops in C.Africa
<![CDATA[By Thomas Urbain* [caption id="attachment_17829" align="alignleft" width="300"]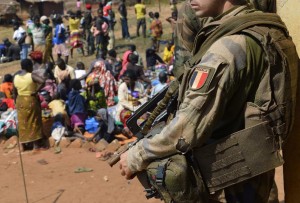 A French soldier standing guard in Boali, some 100km north of Bangui, Central African Republic, on January 19, 2014 (AFP Photo/Eric Feferberg)[/caption] Paris (AFP) – France is investigating allegations that its peacekeepers sexually abused children in the Central African Republic after a leaked UN report said victims as young as eight were raped in exchange for food and money.
The French government "was made aware at the end of July 2014 by the UN's high commission for human rights of accusations by children that they had been sexually abused by French soldiers," the defence ministry said in a statement on Wednesday.
An investigation was opened shortly after by Paris prosecutors, it said.
The defence ministry vowed to take measures to ensure that "the truth be found" and said "the strongest penalties" would be imposed on those found responsible.
The abuse was alleged by around 10 children, the ministry said, and reportedly took place at a centre for displaced people near the airport of the capital Bangui between December 2013 and June 2014.
UN spokesman Farhan Haq confirmed that UN rights investigators had conducted a probe last year following "serious allegations" of child abuse and sexual exploitation by French troops, and had suspended a staff member for leaking the report in July.
The report was given to Britain's The Guardian newspaper by the US-based advocacy group AIDS-Free World, which is calling for a commission of enquiry to be set up on sexual misconduct by peacekeepers.
Children searching for food –
Paula Donovan, co-director of the organisation, said the report detailed interviews with six children, aged eight to 15, who approached the French soldiers to ask for food.
"The children were saying that they were hungry and they thought that they could get some food from the soldiers. The answer was 'if you do this, then I will give you food'," Donovan told AFP.
"Different kids used different language."
The report by the UN human rights office was commissioned amid fears of sexual abuse against children last year as tens of thousands were displaced by fighting and unrest in the country.
The UN employee accused of the leak, Swedish national Anders Kompass, is based in Geneva and turned the report over to French authorities because his bosses had failed to take action, The Guardian reported.
He has been suspended and faces dismissal for breaching protocol, the paper said.
But UN officials said Kompass passed on the confidential document before it was presented to senior officials in the Office of the High Commissioner for Human Rights, suggesting that senior UN officials were not even aware of the report's findings when it was leaked.
"This constitutes a serious breach of protocol, which, as is well known to all OHCHR officials, requires redaction of any information that could endanger victims, witnesses and investigators," said Haq.
While the UN did not identify the source of the leak, it asserted that "such conduct does not constitute whistleblowing".
– Zero tolerance –
[caption id="attachment_17830" align="alignright" width="300"]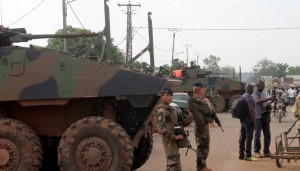 French soldiers stand near armoured personnel carriers on March 13, 2015 in Bangui, Central African Republic (AFP Photo/Pacome Pabandji)[/caption]
The Swedish foreign ministry said it was aware of Kompass's suspension, which it described as "worrying".
"The UN must have zero tolerance of sexual abuse of children and must push to investigate any such suspicions," said its chief legal counsel Anders Ronquist.
The French government said prosecutors had "immediately" opened a case into the abuse after receiving the news last year, and that police investigators had travelled to the Central African Republic on August 1 to look into the case.
France sent troops to the impoverished, landlocked nation in December 2013 as the country became engulfed in violence following a coup in March that toppled longtime leader Francois Bozize
The United Nations deployed its own MINUSCA mission in September.
Since December 2013, violence has displaced nearly 900,000 people in the Central African Republic, including more than 460,000 who have become refugees — a full 10 percent of the population.
About half of the country's people live in severe poverty and need humanitarian aid, while 1.5 million are considered food insecure, according to the UN.
*Source
AFP/Yahoo
]]>