Burundi president launches controversial re-election bid
<![CDATA[By Esdras Ndikumana* [caption id="attachment_17755" align="alignleft" width="300"]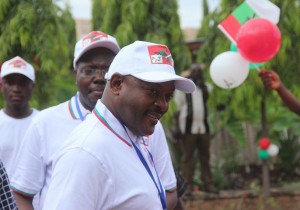 Burundi President Pierre Nkurunzinza (C) looks on during a party congress after his nomination as candidate for the next presidential election on April 25 in Bujumbura (AFP Photo/Landry Nshimiye)[/caption] Bujumbura (Burundi) (AFP) – Burundi's president was on Saturday nominated as the ruling party's candidate for a third term in office, prompting complaints from the opposition and drawing a sharp rebuke from the United States.
Opposition figures said the move was unconstitutional and warned that President Pierre Nkurunziza's effort to cling to power could push the central African nation back into violence.
They also vowed to defy a nationwide ban on demonstrations and warnings the army could be deployed. The country, situated in Africa's troubled Great Lakes region, only emerged from civil war in 2006.
Washington also condemned Nkurunziza's candidacy and warned that the central African country "is losing an historic opportunity to strengthen its democracy."
There was tight security as the ruling CNDD-FDD — which has been accused of intimidating opponents — opened a special party congress in the capital, during which Nkurunziza was officially designated as the party's candidate.
"We wish to announce to the national and international community that the member who has been selected to represent us in the elections is Pierre Nkurunziza," the head of the ruling CNDD-FDD party, Pascal Nyabenda, announced.
He said Nkurunziza "has the right to be elected" to a third term in the June 26 presidential elections.
But opposition groups say this violates the constitution as well as the peace deal that ended the civil war.
Nkurunziza, a former rebel leader, born-again Christian and football fanatic, has already served two terms as president.
"This third candidacy is illegal, it violates the constitution," said Rights activist Pierre-Claver Mbonimpa, president of Burundi's influential campaign group Aprodeh.
"We will demonstrate from tomorrow (Sunday) morning, in silence and without breaking anything," he said, insisting that only peaceful protests are planned.
Ex-rebel turned politician Agathon Rwasa, an opponent of the president, said Nkurunziza "risked plunging Burundi into chaos".
– Panic buying –
No Western ambassadors were present at the congress — a sign of unease among key donors over Nkurunziza's bid to stay put. Only the Russian ambassador and several regional diplomats were present.
Delegates underwent thorough searches before being allowed into the venue. Police and soldiers have also been deployed on the streets of Bujumbura since Friday evening.
An AFP reporter said many residents could be seen doing last-minute shopping in an apparent bid to stockpile supplies just in case unrest breaks out.
In addition to banning all demonstrations, the government has also threatened to call out the army.
The influential Catholic Church has also spoken out against the president's plans to stay put, and earlier this month UN rights chief Zeid Ra'ad Al Hussein warned that the country was at a "crossroad" between a fair vote and a route back to its "horrendously violent past".
The US State Department accused the ruling party of disregarding the term-limit provisions of Burundi's peace accords and said it was closely monitoring the situation.
[caption id="attachment_17756" align="alignright" width="300"]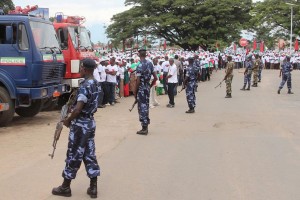 Burundi's security forces form a cordon to contain crowds of members of the ruling party on April 25, 2015 in Bujumbura (AFP Photo/Landry Nshimiye)[/caption]
"We specifically call on the Burundian government to respect the rights of all peaceful political parties and their candidates to campaign, hold meetings and rallies and express their views," acting State Department spokeswoman Marie Harf said in a statement, hinting Washington was prepared to act if necessary.
Thousands of Burundians have fled the country in recent weeks to neighbouring Rwanda and Democratic Republic of Congo, according to the UN's refugee agency, which has also warned that the numbers of refugees could swell "with more political tension rising and more acts of violence being reported."
Many are fleeing threats by the pro-government militia Imbonerakure, the youth wing of the ruling CNDD-FDD party. Rights groups allege that the militia has been armed and trained over the past year in order help Nkurunziza stay in office.
Many residents of Bujumbura also left the city for the weekend, amid fears of violent clashes.
Burundi's constitution only allows a president to be elected twice — for a total of 10 years in power — but Nkurunziza argues he has only been directly elected by the people once.
For his first term, beginning in 2005, he was selected by parliament. The opposition boycotted the last elections in 2010, alleging fraud.
*Source
AFP/Yahoo
]]>