Boko Haram, 'Islam's worst enemy,' will be beaten – Niger president
<![CDATA[By Richard Valdmanis* [caption id="attachment_17351" align="alignleft" width="300"]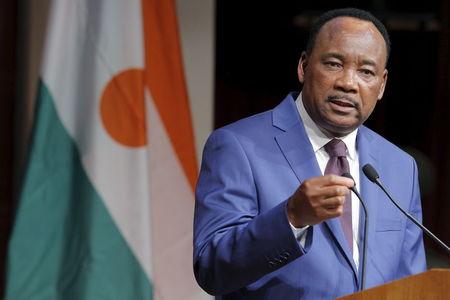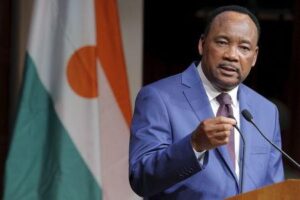 Issoufou Mahamadou, President of Niger, answers a question from a student in the audience following a speech at the John F. Kennedy School of Government at Harvard University in Cambridge, Massachusetts April 3, 2015. REUTERS/Brian Snyder[/caption]
CAMBRIDGE, Mass. (Reuters) – Militant group Boko Haram is "the worst enemy of Islam" and will be defeated because West African Muslims reject its violent actions and harsh interpretation of the Koran, Niger's President Mahamadou Issoufou said on Friday.
"There is nothing Islamic about Boko Haram," Issoufou told students and faculty at the Harvard Institute of Politics John F. Kennedy Forum in Cambridge, Massachusetts, during a trip to the United States.
"Abducting and raping women, killing innocent people, drinking human blood … these are not the most efficient ways of spreading Islam," he said. "Boko Haram has no future, Boko Haram will be defeated, God willing."
Niger is taking part in a regional operation against Boko Haram in northern Nigeria, a militant group which has launched repeated bloody attacks and abductions in Nigeria and an increasing number of raids into neighbouring countries. The military alliance includes troops from West African countries Nigeria, Niger, Cameroon, Chad and Benin.
Issoufou said Niger's mostly Muslim population broadly supported the alliance, which he said had notched recent successes fighting Boko Haram, and rejected Boko Haram's attempts to carve out its own state in the border region.
"The successes of this multinational force … can be explained not only by the fact that they are coordinating their information systems and operational forces, but more importantly by the fact that they are supported by the population," he said.
"It shows the population of our countries reject terrorism, reject extremism. The population of our countries reject Boko Haram as a Muslim organization," he said.
Niger, which is also stepping up security against traffickers and jihadi groups bolstered by weapons and fighters from Libya's conflict to the north, is ranked at the bottom of the U.N. Human Development Index for 2013.
[caption id="attachment_17353" align="alignright" width="300"]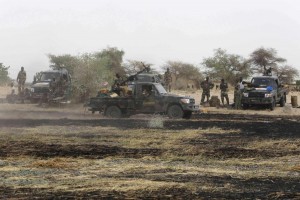 Chadian soldiers drive in the recently retaken town of Damasak, Nigeria, March 18, 2015. Armies from Nigeria, Cameroon, Chad and Niger have launched an offensive to end Boko Haram's six-year campaign, which has killed thousands in northern Nigeria and spilled over into Cameroon and Niger. REUTERS/Emmanuel Braun (NIGERIA – Tags: CIVIL UNREST MILITARY POLITICS)[/caption]
Issoufou said he saw poverty as an important reason some people join militant ranks, but he said efforts to combat it have been hindered by fluctuations in donor support, rapid population growth and climate shocks.
He said he had held meetings with the International Monetary Fund and the World Bank during his trip to discuss financing.
Issoufou won election in 2011 in the uranium-producing country following a military coup that removed the previous president, Mamadou Tandja, widely criticized for overseeing rampant state-level corruption.
Issoufou touts advances in transparency and press freedoms since coming to power, and is expected to seek re-election in mid-2016.
*Source
Reuters/Yahoo
]]>