Benin votes in test for President Boni Yayi
<![CDATA[By Benjamin Agon* [caption id="attachment_17738" align="alignleft" width="300"]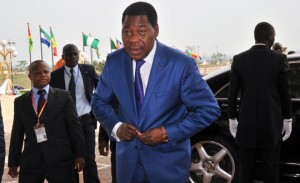 Benin President Thomas Yayi Boni arrives at the Felix Houphouet-Boigny Foundation center in Yamoussoukro, Ivory Coast, on March 28, 2014 (AFP Photo/Issouf Sanogo)[/caption] Cotonou (AFP) – Benin voted Sunday in legislative elections seen as a key test for President Thomas Boni Yayi, whom the opposition accuses of planning to try to cling to power after his second term ends next year.
Boni Yayi, who has led the small west African nation since 2006, has announced plans for constitutional reforms aimed at cracking down on corruption by strengthening the justice system.
But the opposition insists the real motive of his constitutional amendment is to scrap a two-term limit on presidential mandates so he can run again in 2016 — a claim denied by the president.
"I am not a candidate in this election and I am no longer a candidate for anything," Boni Yayi told reporters after casting his ballot in Benin's commercial capital Cotonou.
The battle over the proposed reforms shaped Sunday's election in the nation of 10 million.
About 4.4 million voters were eligible to cast their ballots to pick 83 lawmakers in a vote the opposition says may be mired in fraud.
"The challenge for the ruling party is to have a large majority in the national assembly, which would allow the president to realise consitutional reforms and maybe authorise (his) third term," said Gilles Yabi, a west Africa specialist based in Senegal's capital Dakar.
Polling stations opened at 7:00 am (0600 GMT) and closed at 4:00 pm (1500 GMT) in Cotonou, but voting offices in other areas that opened late were set to stay open well into the evening.
The run-up to the election also saw delays in the distribution of voter cards. Some residents complained this week they were not given their biometric voting cards at registration centres.
Voting results should be announced within eight days.
– 'Red card' –
Political analyst Rock Sosthene Nepo said the near total focus on the president's purported third-term ambitions had pushed the big issues to the back burner.
"Serious debate on public projects is non-existent or at least diminished" because of the dispute, he said.
Guy Kodjo, a 45-year-old unemployed electrician who voted in Cotonou's CG l'Ocean district, said he backed a candidate who promised to cap housing prices, complaining that accommodation in Cotonou had become "too expensive".
Valentine Amouzou, a 66-year-old retired midwife and mother of six, said she wanted to give incumbent lawmakers "the red card"
Student and election volunteer Leonide said she did not believe the president would try to stay in power beyond 2016. "Those who doubt that should stop believing in ghosts," she said.
Benin boasts a relatively strong democratic record compared to other countries in turbulent west Africa.
But it is grappling with issues seen across the region: corruption and the challenge of ensuring the poor share in the benefits of economic growth.
Analysts said the emphasis on the issue of the presidential third term was to be expected after the revolution late last year in neighbouring Burkina Faso, which saw long-serving president Blaise Compaore toppled after he tried to abolish term limits.
Boni Yayi has not expressly voiced a desire to run again but "he has created the impression of a president in a permanent campaign", fuelling opposition suspicions that he will not stand down, Yabi said.
– Fractured opposition –
Boni Yayi's Cowry Forces for an Emerging Benin party (FCBE) lost its majority in the national assembly following a series of recent defections to the opposition, but experts warn against attributing that to rising opposition strength.
Politics in Benin are "very poorly structured", said Yabi, adding that "political migrations" are common in campaign season and MPs are happy to switch sides if they think it will boost their re-election prospects.
The opposition ranks are fractured, with more than 20 parties fielding candidates.
Boni Yayi has tried to boost his international profile through his second term, shuttling across the continent while serving as head of the African Union in 2012.
But the most global attention his administration attracted was during the so-called Poison Plot of October 2012 when the government announced the discovery of an alleged plan to assassinate the president.
According to official allegations, Boni Yayi's doctor, conspiring with a prominent business tycoon and others, tried to replace his heart medication with poison.
Most of those allegedly involved have been pardoned.
*Source
AFP/Yahoo
]]>