African campaigners take aim at immovable leaders
<![CDATA[By Marie Wolfrom*
Paris (AFP) – Fed up with immovable African presidents and political dynasties, campaigners across the continent are joining forces to "turn the page" on leaders who see power as an end in itself.
[caption id="attachment_17357" align="alignleft" width="300"]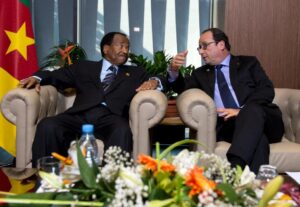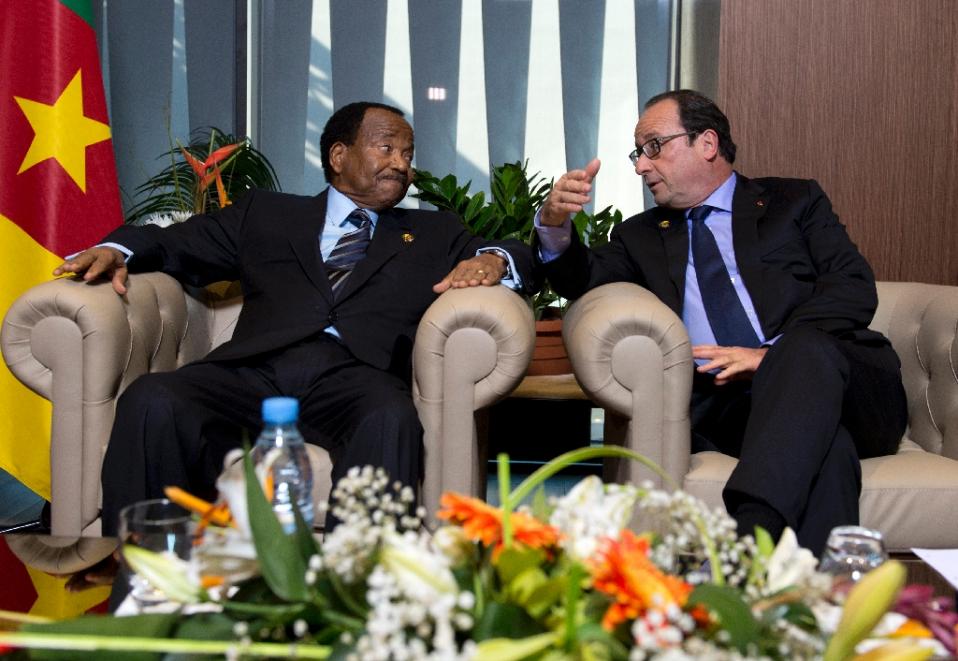 French president Francois Hollande (right) talks to Cameroon's long-serving President Paul Biya, on November 30, 2014, in Dakar (AFP Photo/Alain Jocard)[/caption]
As Nigeria marked its first ever democratic change of power following national elections, a report published this week by the Tournons La Page (Turn the Page) campaign group highlighted just how unusual incumbent Goodluck Jonathan's decision to concede defeat was.
According to the report, 88 percent of Togolese and 87 percent of people in Gabon have only known one ruling family.
Burkina Faso dictator Blaise Compaore was driven out by his people last October after 27 years of rule while President Paul Biya of Cameroon and his Congolese counterpart Denis Sassou Nguesso have each accumulated more than thirty years in power.
Cameroon's democracy hunters may well be casting envious glances over the border to Nigeria where Muhammadu Buhari scored a narrow electoral victory over Jonathan in the country's March 28 poll.
With a raft of upcoming elections in mind, the regional appeal to turn the page was launched late last year by NGOs in 30 African and European countries and signed by prominent African figures including Senegalese singer Youssou N'dour and Cameroonian historian Achille Mbembe.
The call for change harks back to the multi-party politics which began to emerge in the 1990s.
Twenty years on the campaigners are seeking to energise ordinary people and make a round of elections throughout Africa over the next couple of years result in an end to the dynasties.
"We realised that Congolese civil society was becoming more amorphous… and was not playing its role," said Jean-Chrysostome Kijana, head of the New Dynamic of Civil Society group founded in the Democratic Republic of Congo in 2013.
– The 'dictators union' –
He was in Paris for a conference organised by 'Turn the Page', at which he spoke alongside campaigners from Cameroon, Congo Gabon and Togo.
New movements are springing up and inspiring each other; "Enough is Enough" in Senegal and the "Citizens' Broom" in Burkina Faso were trailblazers, recently joined by similar groups in Chad and the Democratic Republic of Congo.
The fall of Compaore in Burkina Faso and the proposal by Senegal's President Macky Sall to reduce his own mandate by two years have fuelled hopes that public mobilisation elsewhere can bring about change.
"We have to understand, in Africa too, that we are able to offer an example, and that power is not an end in itself," Sall said last month as he made his announcement.
His move followed a plea by UN Secretary-General Ban Ki-moon to African leaders gathered for an annual summit in January not to cling to power and to respect the wishes of their people.
"We are in communication with Citizen's Broom in Burkina. We share our experiences," said Kijana.
"I think we can make many links between African civil groups and that will send a message to the 'dictators' union'," said Brigitte Ameganvi of the Synergie Togo group.
– Social networks –
"Each country has its own people and each organises in its own way," said Marc Ona, a Gabonese participant at the Paris event.
"We've got the smartphones, the social networks, it's impossible to block the flow of information today."
But despite the exchange of ideas and experiences by linked-up civil groups across the continent, they are not yet in a position to take concrete action.
In the central African nation of Burundi, ahead of elections in May and June, civil groups and local media say they are paying the price for campaigning against President Pierre Nkurunziza's bid to defy a two-term limit and stay in power for another five years.
[caption id="attachment_17358" align="alignright" width="300"]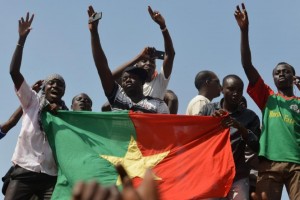 People celebrate in Ouagadougou on October 31, 2014 after Burkinese President Blaise Compaore announced that he was stepping down (AFP Photo/Issouf Sanogo)[/caption]
There are allegations of widespread harassment and threats of violence, and even talk of a hit-list containing the names of opposition figures, civil society activists and journalists ahead of parliamentary polls in May and the presidential election in June.
Bob Rugurika, director of the popular independent African Public Radio (RPA), is among those who have been arrested, picked up in January after implicating intelligence officials in the recent murders of Italian nuns.
In the neighbouring Democratic Republic of Congo President Joseph Kabila is suspected by the opposition of seeking to hang on to power at the end of his second term in late 2016.
US President Barack Obama this week urged him to respect his country's constitution.
Protests against a draft revision of the electoral law were bloodily repressed in January. This was followed by an Internet shutdown and the blocking of social network sites.
In mid-March, 30 Congolese activists, along with others from Senegal and Burkina Faso, were arrested for taking part in a meeting in Kinshasa on democracy and good governance.
– 'Dinosaurs' –
"This is the behaviour of dictators and thugs", said rapper Serge Bambara, known as Smockey, a founding figure of the Citizens' Broom movement.
"We talk about the Arab Spring. Now we must speak of the African Harmattan (a hot dry wind from west Africa) because it's time for the prevailing wind to move the people," he added.
In his sights is President Kabila, but also Chad's Idriss Deby who came to power by force in 1990 and Cameroon's Paul Biya, all of whom he described as "dinosaurs."
The African activists' conference in Paris is also intended to nudge the international community, which he sees as often too complacent against African potentates.
"As African citizens, we want to see pressure and even sanctions" from the international community, "because things have to change," said Kijana.
*Source
AFP/Yahoo
]]>