$300 million top-up from AfDB to support countries' Post-Ebola Recovery Programs
<![CDATA[Washington, DC, April 17, 2015 – African Development Bank President Donald Kaberuka announced $300 million to support the national Post-Ebola Recovery program of Ebola-affected countries during the World Bank-IMF Spring Meetings in Washington.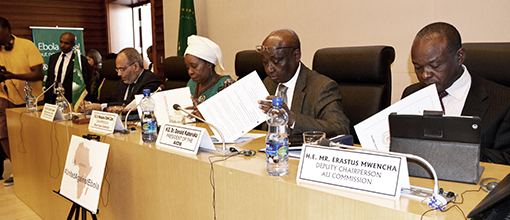 AfDB's funding will provide support to Governments of Ebola-affected countries by investing in health, education, water and sanitation, agriculture and financial sectors. "Now is not the time to relax. We need to strengthen primary health care in Africa; give countries debt relief, and get the ready to beat back the next epidemic", Kaberuka said Friday. In addition, to US $523 million to strengthen the health and transport sector, the Bank is currently preparing two new post Ebola operations:
The Bank will support the establishment of a surveillance and prevention epidemiological centre of excellence on the continent – the Africa Centre for Disease Control (CDC) led by the African Union, which involve the establishment of regional centres, enhancement of early warning systems and harmonization of national health regulations and interventions.
The Post-Ebola Livelihoods Restoration Project (PELREP), which aims to increase access to basic socio-economic services and increase the productive capacity of the poor. The funds will be used to:
o  
Restore agricultural production systems and livelihoods for farm households affected by EVD
, providing farmers with starter packs of seeds (rice and maize), planting materials (cassava, and sweet potato), fertilizers and agro-chemicals; farm equipment; and provision of livestock for households; rehabilitation of seed system related infrastructure; rehabilitation of markets and warehouses. o  
Reopening of health facilities & providing psycho-social support to EVD victims.
o  
Development of skills and technology.
Teacher recruitment and training; training and deployment of professional water supply and sanitation technicians; training of value chain actors in technical and managerial skills; promoting the use of science & technology in agribusiness; training in post-harvest loss reduction methods; capacity building along the commodity value chains; business and entrepreneurship training; and upgrading of seed data system for NARES (National Agricultural Research and Extension System) and Africa Seeds. o  
Creation of a Social Investment Fund
to strengthen economic support systems (start-up capital, entrepreneurial & technical skill development, grants, soft loans, scholarships, insurance premiums, subsidies, etc.) for EVD victims. o  
Strengthen regional surveillance systems
jointly with West African Health Organization (WAHO) and Mano River Union (MRU). "The US $300 million will be used to provide support to strong and robust national recovery plans, and sub-regional [recovery] plan", said Kaberuka.
Latest GDP estimates from the
World Bank
show that Ebola epidemic is continuing to severely affect the economies of Guinea, Sierra Leone, and Liberia. Estimated GDP losses for the three countries in 2015 rose to US $2.2 billion: US $240 million for Liberia, US $535 million for Guinea and US $1.4 billion for Sierra Leone. This has been aggravated by the sharp decline in
price of commodities
(e.g., sharp decline in the price of iron). The countries are reacting differently. Liberia is gradually returning to normalcy, Guinea's economy is stagnating, and Sierra Leone is suffering a severe recession due to the collapse of the mining sector.
Chaired by World Bank Group President Jim Yong Kim, the Ebola roundtable discussion included the participation of President Kaberuka alongside President 
Alpha Condé
 of Guinea, President Ellen Johnson Sirleaf of Liberia, and President 
Ernest Bai Koroma
 of Sierra Leone who presented their Ebola recovery plans. Kaberuka thanked the three Presidents for their outstanding leadership in the fight against this human tragedy and most of all thanked the countless
health workers
who are risking their lives on a daily basis. One case of Ebola is sufficient to destroy an entire country. The latest estimates from the World Health Organization show that there have been 28 new confirmed cases in Guinea, 0 in Liberia, and 9 in Sierra Leone in the seven days prior to April 12.
African Development Bank's Response to Post-Ebola Recovery 
As of April 2015, the African Development Bank has mobilized US $823 million for 12 operations in the West Africa region, and
launched an Ebola Response Fund alongside development partners and representatives from the private sector
. This includes US $223 million from the
African Development Fund
(ADF), Transitional Support Fund (TSF), and the Special Relief Fund (SRF) aimed at strengthening health systems, training health workers, and providing equipment and other emergency support to Ebola affected countries,$300 million for a road transport project for the Mano River countries aimed at strengthening infrastructure and the economy in the region, as well as the new US $300-million for multisector post-Ebola recovery.
*Source AFDB A total of 25,791
confirmed, probable, and suspected cases 
of Ebola have been reported in Guinea, Liberia and Sierra Leone with over 10,600 reported deaths since the outbreak began. *Source AFDB ]]>