University feeds 270,000 taking refuge from Boko Haram
<![CDATA[ By Margee Ensign American University of Nigeria* [caption id="attachment_16881" align="alignleft" width="300"]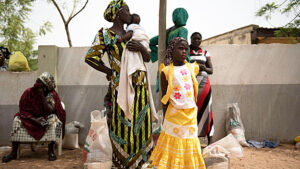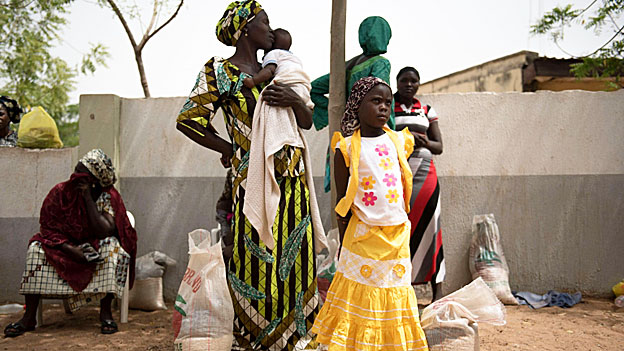 The university feeds families in a town inundated with people made refugees by Boko Haram violence[/caption]
The kidnapping of schoolgirls in Chibok in Nigeria by Boko Haram caught the attention of the world. Some of the girls who escaped are being taught at a school run by the American University of Nigeria.
The university now finds itself helping to feed 270,000 displaced people, pushed out of their own homes by violence. The university's president describes the humanitarian crisis unfolding around her.
How does an American-style university survive in northern Nigeria, where Boko Haram has been waging war against education? Can a university function in a town that has doubled in size with people fleeing the terror? This is a region where thousands of citizens have been killed, villages have been destroyed and hundreds of thousands have been displaced. Against this backdrop, at the edge of Boko Haram controlled territory, sits the American University of Nigeria (AUN), which stands for western education in name and practice. It is located in Adamawa state, one of three northern Nigerian states in a state of emergency with a curfew. Yet the capital Yola remains a safe haven, free of the violence that plagues so much of the north-east. But now with an estimated 400,000 "internally displaced persons" in Yola, there is another humanitarian crisis right outside the gates of this outpost of American education.
Raising the alarm
The magnitude of Boko Haram's devastation was not evident to those outside north-east Nigeria until news reports and photos began showing the violence and devastation. For those of us here in Yola, we have been daily confronted with the realities of the violence of Boko Haram. Almost a full year ago in March 2014, we were asked by the Emir of Mubi to bring food and clothing to a group of displaced women and girls. When we asked, "Where are your boys and husbands?" the women cried and then turned quiet. Finally one said: "They were burned or forced to join Boko Haram." Since then, we have been trying to raise the alarm by sharing the story of these women who ran with their daughters and lost their husbands and sons to Boko Haram. At first a few thousand internally displaced people, mostly women and children, came to live in our city. Many stayed with their relatives. With the university the largest employer in the region, we heard their stories through family members who are employees. Most arrived only with the clothes on their backs. The university gave them food and blankets. Then 5,000 more came and community leaders rallied to help them.
Planting crops
A local chief from the village of Bole, where AUN is located, offered to settle the displaced on his land if the university and the Adamawa Peace Initiative, which brings together community and religious leaders, could give them seeds to plant on the land. Now this visionary traditional leader, Chief Abdulomumuni, counts those seeking refuge as part of his village. But more kept coming: 20,000, then 100,000, now close to 400,000 displaced people are in Yola. The population of Yola, which is normally 300,000, has more than doubled with the addition of people who have fled the horror of Boko Haram. Only a small percentage of them, about 10,000, are living in government-run refugee camps. The Nigerian culture is generous and dedicated to family. Extended relatives are offered shelter regardless of the strain it will put on already stretched resources. As a result, some Yola residents, including one of AUN's drivers, have as many as 50 displaced persons living with them in their homes. It is a mark of shame to let even a distant family member go to a refugee camp. While there is food distribution in the camps, the living conditions are not good, and lately there have been serious allegations of abuse.
Church grounds
This leaves the vast majority of the displaced living in our community with relatives or on church grounds. Close to 3,000 Christians and Muslims live on the grounds of St Theresa's Catholic Church. Here Bishop Mamza, a member of the Adamawa Peace Initiative takes care of housing and distributing food to them. An additional 30,000 women come to the church grounds to receive food aid from the university and Adamawa Peace Initiative. Why only women? When we began the food distributions the men were disorderly and at times unruly, so at St Theresa's we have limited the distributions to women only. Each woman represents an extended family of about 20. Last weekend we gave aid to 5,000 at the church. This means 100,000 will have food for two weeks. Food distribution also takes place almost every week at the Muslim Council. And just as at St Theresa's Catholic Church, Christians and Muslims come together. [caption id="attachment_16882" align="alignright" width="300"]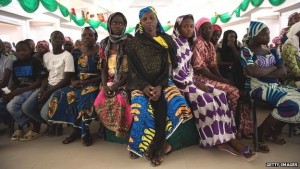 Crowds come to the university for food and clothing[/caption] Here the "feedings" are deliberately smaller so both women, children and men participate.
Imams and bishops
Organised by Imam Dauda Bello, the rice, maize and beans are passed out to the hungry with the help of local bishops, other imams, our university students, faculty and staff. One of the Christian bishops also assists. Most large non-governmental organisations are set up to provide aid to refugees in camps, but are not set up to deal with hundreds of thousands of refugees outside of the camps. AUN is now feeding 270,000 of the 390,000 sheltering with family or relatives. While we have been fortunate to receive $100,000 (£65,000) from US Agency for International Development (US AID) and another $200,000 (£130,000) from AUN's founder, Atiku Abubakar, this will not last past the new date for elections on 28 March. And the university is appealing for more support to help displaced people and to provide scholarships. Even if Boko Haram were suddenly defeated and no more displaced people came to Yola, people will shelter in Yola for the foreseeable future. Most have no homes or villages to which to return and many no longer have husbands or sons to provide for them.
Witnesses to terror
Funds to feed, clothe, provide medicine are desperately needed – and they need to go to local organisations that have the knowledge and experience to provide in the community and not in camps. Among our 400,000 displaced persons in Yola, there are approximately 200,000 children in Yola. Some are orphans, others do not know whether their parents are still alive. Many have witnessed Boko Haram's gruesome atrocities first hand. None of these children is in school. With a few vans, tablet computers, books and the dedication of our students and staff, we could create a mobile education program to make sure the future of Nigeria keeps learning. But this too requires funds. As a development university, we are committed to community development programs that are enabling an environment for peace, women's empowerment, and socioeconomic equality. Today we are embracing a much broader definition of community – both inside and outside our university gates – and the problems that come with that larger community. Almost a year ago, Boko Haram abducted 276 girls from their school in Chibok. The #BringBackOurGirls campaign garnered headlines, international attention and outrage. Yet 10 months later, they are all but forgotten by world, but not by the AUN community. We are now home to 21 of the "girls" who escaped after being kidnapped in April 2014 by Boko Haram. These girls – who are actually strong young women of 16, 17, 18 and 19 years old – inspire us every day. The entire campus has embraced them. Our female head of the Honor Society and chair of Society of Ethics and Leadership Club live in their residence hall and mentor them.
'Obsessed with peace'
They play sports with our students, yet their memories of the evening they were kidnapped still weigh heavily on them and are a topic that is still too painful for them to talk about. They are continuing their education and aspire to become teachers, lawyers, dentists and doctors and go back to Chibok to help their families and town rebuild. They are in intensive classes from 8am to 5pm, preparing for the exams that they were about to take when they were kidnapped last year. I asked them recently if they would write me what education means to them. One of the young women, Grace said, "Education gives me the wings to fly, the power to fight and the voice to speak." How does a university not only survive, but also enable its students to thrive in such circumstances? Imam Dauda Bello says he is "obsessed with peace." We all are obsessed with peace in Yola. Perhaps that is why we are safe in the midst of violence and anarchy and our students are growing the wings to fly. *Source
BBC
]]>