U.S. top diplomat for Africa to lead observation mission for Nigeria vote
<![CDATA[[caption id="attachment_17131" align="alignleft" width="300"]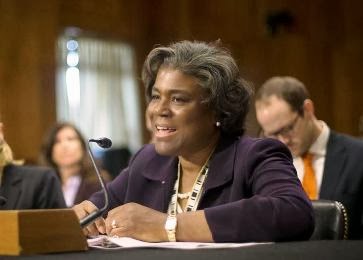 Assistant Secretary of State for African Affairs Linda Thomas-Greenfield[/caption]
The top U.S. diplomat for Africa will travel to Nigeria for Saturday's elections, the State Department said on Thursday, amid concerns over the possibility of violence.
Linda Thomas-Greenfield, the U.S. assistant secretary of state for Africa, will lead a U.S. observation mission for the presidential and parliamentary elections, the department said.
"This is the latest example of U.S. support for a credible, peaceful electoral process in Nigeria," the State Department said in a statement, adding that she may hold high-level talks while in the country.
President Goodluck Jonathan is running against former military ruler Muhammadu Buhari in what looks set to be the closest presidential race since military rule ended in 1999.
Thomas-Greenfield's predecessor Johnnie Carson led an election observation team to Nigeria in 2011. He is heading a U.S.-funded international observation team to the election on Saturday.
In 2011, around 800 people died in Nigeria in post-election violence and Western powers have been pressing both sides not to stoke tensions. The election, which was initially set for Feb. 14, was delayed to Saturday because of violence tied to an insurgency by Boko Haram Islamist militants.
U.S. President Barack Obama this week appealed for calm ahead of the election and British Prime Minister David Cameron called for transparent and violence-free elections.
*Source
Reuters/Yahoo
]]>