Nigerian president quits voting station after tech glitch
<![CDATA[[caption id="attachment_17184" align="alignleft" width="300"]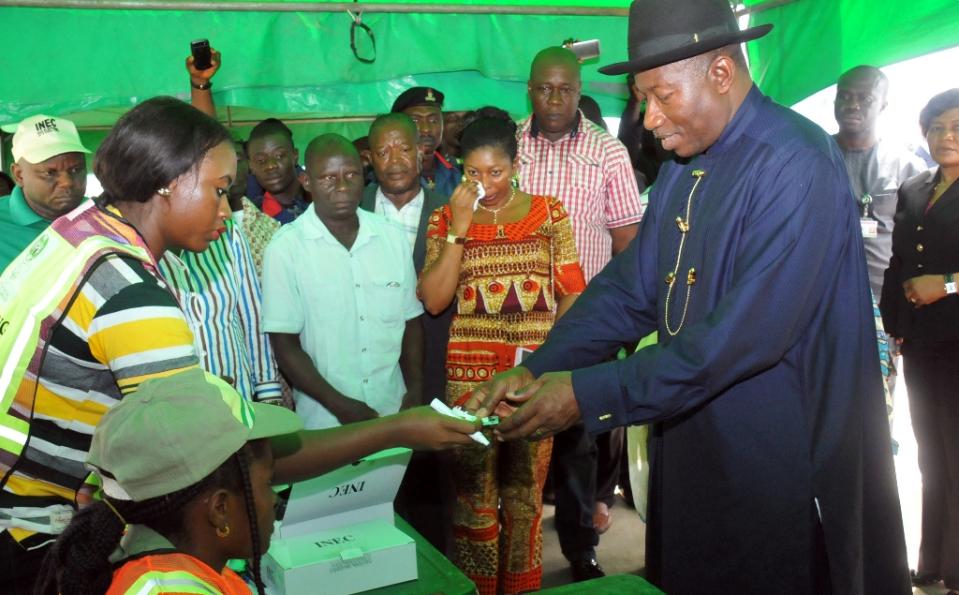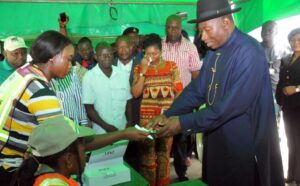 Goodluck Jonathan presents himself on March 28, 2015 in Otuoke to accredit himself and wife Patience to vote (AFP Photo/-)[/caption] Otuoke (Nigeria) (AFP) – Nigeria's President Goodluck Jonathan turned up Saturday to accredit himself and his wife Patience for his re-election bid but problems with new voting technology forced to him to temporarily abandon his plans.
The incumbent leader, who is seeking a second term of office, arrived at his hometown polling station of Otuoke in southern Bayelsa state at about 0820 GMT to begin the accreditation process.
But handheld technology being used for the first time to "read" biometric voter identity cards apparently malfunctioned, forcing Jonathan to stand around in the scorching heat before leaving.
The 57-year-old, whose ruling Peoples Democratic Party (PDP) has raised concerns about the technology and election officials' ability to use it, acknowledged that "there may be an issue".
But he joked, "Maybe it's me?" while calling for patience.
"If I can endure, you see my sweat? I plead with all Nigerians to be patient, no matter the pains we take," he told reporters outside the polling station.
"It's the first time we are using this technology, PVCs (permanent voters card), card readers," he said, adding that he was "not worried", despite reports of difficulties in other states across the country.
Jonathan later returned and was accredited using the old manual system.
"Because it's new, anything new must have its challenges," he said, adding that he would return again once voting proper gets under way from about 1230 GMT.
[caption id="attachment_17187" align="alignright" width="300"]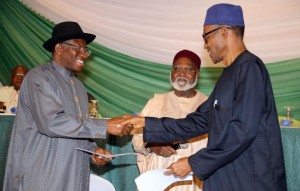 Nigerian President Goodluck Jonathan (left) and APC main opposition party presidential candidate Mohammadu Buhari shake hands on March 26, 2015 in Abuja Security is a major concern at Saturday's vote both from Boko Haram violence against voters and polling stations to clashes between rival supporters. In 2011, around 1,000 people were killed in violence after Jonathan beat Buhari to the presidency. AFP PHOTO / PHILIP OJISUA (AFP Photo/Philip Ojisua)[/caption]
The main opposition candidate for the presidency Muhammadu Buhari, whose party backs the technology, had no problem getting accredited in his hometown of Daura, in northern Katsina state.
But one polling station in Abuja suffered major delays, with the readers struggling to confirm voters' fingerprints, an AFP reporter said.
There were also problems in the north's biggest city of Kano, where tensions rose among thousands of voters who had been waiting for both election officials and materials to turn up.
"We've been here since six o'clock and now it's half-past nine," fumed Ismail Omar, a 65-year-old builder. "No one has shown up from INEC (the Independent National Electoral Commission).
"They told us accreditation will start at eight then end at one, and so far we think something is fishy. This is a deliberate attempt to sabotage the elections."
Another voter, Mohammed Awwal, added: "We don't want to fight anyone but are ready to die to defend our rights.
"This is our fundamental right that is being denied for whatever reason. We will not leave here until we are accredited and then allowed to vote."
*Source
AFP/Yahoo
]]>