Nigerian leader urges peaceful vote as elections loom
<![CDATA[
By MICHELLE FAUL*
[caption id="attachment_17152" align="alignleft" width="400"]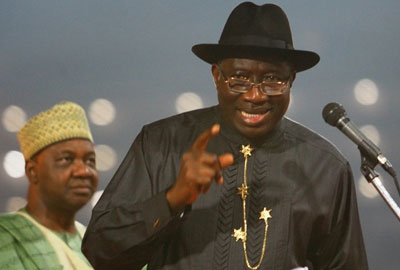 "No political ambition can justify violence or the shedding of the blood of our people,"says Jonathan[/caption]
ABUJA, Nigeria (AP) — Nigeria's President Goodluck Jonathan urged his nation to vote peacefully and accept the results of Saturday's presidential elections, which analysts say will be the most tightly contested in the history of Africa's richest nation and its largest democracy.
"No political ambition can justify violence or the shedding of the blood of our people," Jonathan, who is running for re-election, said Friday in a televised broadcast.
In a country steeped in a history of coups, bloodshed caused by politics, ethnicity, land disputes and, lately, the Boko Haram Islamic uprising, the election is important as Africa's most populous nation consolidates its democracy.
"It's just healthy that they approach this as an exercise of the rights of Nigerians to choose their government and not as a war," the U.N. Secretary General's special envoy to West Africa, Mohammed Ibn Chambas, told The Associated Press in an interview.
Nigeria's political landscape was transformed when the main opposition parties formed a coalition two years ago and for the first time united behind one candidate, former military dictator Muhammadu Buhari who is Jonathan's main challenger.
The election is only the eighth since independence from Britain in 1960 and the first ever to raise the possibility of a democratic transfer of power through the ballot box, a high-stakes contest in Africa's biggest oil producer where patronage and corruption are rife. No incumbent has ever lost an election.
It should be "cause for celebration," said Chidi Odinkalu, chairman of the National Human Rights Commission. But he noted it has spawned "the most extraordinary form of hate speech, incendiary vituperations, ethnic bating; all the things you are not supposed to do."
His state-sponsored but independent organization reported at least 58 killings by Feb. 13 and there have been many more since then, Odinkalu told AP. He also complained that politicians have done little to dampen tensions.
Meanwhile, Nigeria's military announced it had destroyed the headquarters of Boko Haram's so-called Islamic caliphate, in the northeastern town of Gwoza, in fighting Friday that left several extremists dead. It claimed the recapture of Gwoza has cleared insurgents from strongholds in all three northeastern states, which seems unlikely. There was no way to verify the report. Critics of Jonathan have said recent military victories after months of ceding territory to the Islamic extremists are a ploy to win votes — a charge the presidential campaign denies.
Appeals for a peaceful election came from the U.S. White House and from the U.N. Secretary-General Ban Ki-moon, who urged Nigerians to vote in "large numbers" and resolve any disputes through peaceful means.
At the gold-domed Abuja National Mosque, chief Imam Musa Muhammad appealed at Friday prayers for people to follow the tenets of Islam, to vote peacefully and accept, even congratulate the winner, no matter who he is.
Outside, veiled women searched other women wearing hijabs with metal detectors. Boko Haram has used women and girls as young as 10 in its suicide bombing campaign that has killed hundreds.
"Wage peace not war," is a campaign long promoted by the National Orientation Agency which is working with bloggers and other social media popular among millions of Nigerians, according its director general, Mike Omeri. The idea is to "create a lot of buzz" and build "a community of people that will be driven by a passion for peace."
Entertainment star and musician 2Face Idibia wrote a song aimed at young voters called "Vote not Fight: Election no be war" in Nigerian colloquial English.
But some people are so fearful of election violence that they are leaving for a while, going as far as the United States and Canada. Flights are packed, with airlines turning away standby passengers this week at Lagos international airport.
Army chief Lt. Gen. Kenneth Minimah said he will not tolerate any disruptions, warning this week that "whoever wants to invoke or provoke violence will meet organized violence" from security forces.
Jonathan in his broadcast reminded Nigerians that the world is watching. Chambas, the U.N. envoy, said Nigeria's elections are especially important on a continent where contested results brought Ivory Coast to the brink of civil war and led to hundreds of deaths after Kenya's 2007 elections.
U.S. President Barack Obama sent a video message this week, saying "Today, I urge all Nigerians — from all religions, all ethnic groups and all regions — to come together and keep Nigeria one."
Jonathan's party has governed since decades of military dictatorship ended in 1999. His insistence on running has caused many defections to the opposition by politicians who say Jonathan is breaking an unwritten party rule to rotate power between the mainly Christian south, where he is from, and the predominantly Muslim north that is Buhari's stronghold.
Buhari's loss to Jonathan in 2011 elections sparked riots in his northern stronghold that killed more than 1,000 people, according to the human rights commission. A complaint before the International Criminal Court at The Hague accuses Buhari of instigating the violence, a charge the retired general denies.
In recent days, the church of a pastor who backed Jonathan has been burned down in northern Kaduna state, the opposition governor of a southern state was shot at as he campaigned, and there has been nightly gunfire in Lagos, the commercial capital in the southwest where Odinkalu said there is an "arms race" getting weapons to ethnic militias.
Jonathan and Buhari signed peace pledges Thursday and urged their supporters to avoid violence.
Both men promise to address the major problems of Africa's giant by creating jobs for millions of youths and homes with reliable electricity and clean water. Buhari has said he would tackle corruption, which Jonathan downplays even though his administration is accused of losing some $20 billion in oil revenues.
Rampant corruption is keeping millions in abject poverty in a nation rich in oil, minerals, precious stones and agriculture. Jonathan's government has succeeded in a mini-revolution in agriculture, galvanizing farmers to triple production of staples like rice.
*Source AP/Yahoo
]]>