Namibia leader wins $5m Mo Ibrahim African leadership prize
By Aude Genet*
Nairobi (AFP) – Namibia's outgoing president was on Monday named winner of the Mo Ibrahim Prize for "good governance" in Africa, the world's richest award that has seen a dearth of worthy candidates.
[caption id="attachment_16772" align="alignleft" width="300"]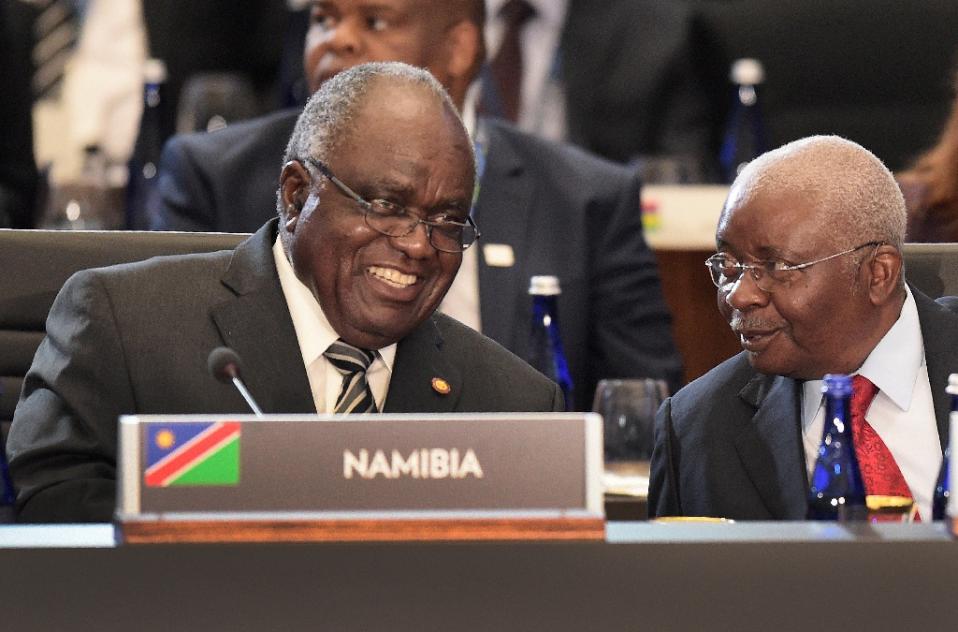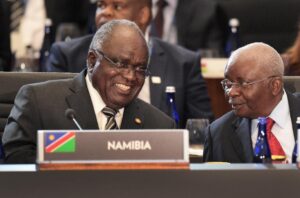 Hifikepunye Pohamba (L) is only the fourth winner of the $5 million annual Mo Ibrahim prize, launched in 2007 with the aim of encouraging and rewarding good governance across Africa (AFP Photo/Jim Watson)[/caption]
Hifikepunye Pohamba, 79, is only the fourth winner of the $5 million annual prize, launched in 2007 with the aim of encouraging and rewarding good governance across a continent where the likes of Nelson Mandela — who bowed out gracefully from office — remain the exception.
While elections are now the rule in Africa, many leaders seek to force through constitutional changes in order to stay in power, sometimes well into old age, while others die in office or are forced to flee.
"President Pohamba's focus in forging national cohesion and reconciliation at a key stage of Namibia's consolidation of democracy and social and economic development impressed the prize committee," said Salim Ahmed Salim, chairman of the Mo Ibrahim Prize committee and a former prime minister of Tanzania, during the announcement of the award in Nairobi.
The award, founded by Sudanese-British telecoms entrepreneur and billionaire Mo Ibrahim, is given to a democratically-elected former head of state who left office in the previous three years and who demonstrated "exceptional leadership" while abiding by constitutional term limits.
Winners are given $5 million over 10 years followed by a further $200,000 a year for life — seen as inducement to good behaviour by offering a sum of money big enough that leaders need not indulge in large-scale corruption before retiring.
Salim praised Pohamba's "sound and wise leadership" and his "humility" during two constitutional terms. Pohamba did not contest national elections in December and is due to stand down as president on March 21.
– Most want to stay put –
The soft-spoken Pohamba has been hailed for reconciling with opponents, pushing for gender equality in politics and increasing spending on housing and education — earning him high approval ratings.
The prize has only been awarded on three previous occasions – in 2007, 2008 and 2011 – due to a lack of suitable candidates. Ex-presidents of Mozambique, Botswana and Cape Verde have all won the prize.
But the pattern across Africa has been of leaders seeking to stay put as long as possible.
Zambia's president Michael Sata died while in office last year, as did leaders of Ethiopia, Ghana, Malawi and Guinea-Bissau in 2012. In Burkina Faso mass protests last year brought a sudden end to president Blaise Compaore's long rule.
Other leaders have sought to change their countries' constitutions in order to stay in power. Uganda's Yoweri Museveni changed the rules in 2006 and observers suspect Rwanda's Paul Kagame and Democratic Republic of Congo's Joseph Kabila of scheming a similar move.
Burundi's President Pierre Nkurunziza is also widely expected to seek a third term when the small central African nation goes to the polls in June, causing mounting tensions with opponents who argue such a move would be unconstitutional.
Speaking at the African Union summit in January, United Nations Secretary-General Ban Ki-moon warned the assembled leaders against using "undemocratic constitutional changes and legal loopholes" to stay in power.
*Source
AFP
]]>