Kenyan president torches 15-tonne ivory stockpile
<![CDATA[By Tristan McConnell*
Nairobi (AFP) – Kenyan President Uhuru Kenyatta set fire to a giant pile of 15 tonnes of elephant ivory Tuesday, vowing to destroy the country's entire stockpile of illegal tusks by the year's end.
[caption id="attachment_16812" align="alignleft" width="300"]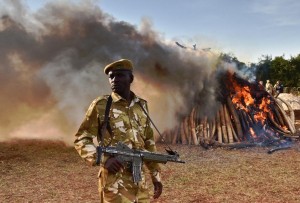 A Kenyan soldier stands near a burning pile of ivory at Nairobi National Park on March 3, 2015 (AFP Photo/Carl De Souza)[/caption]
The 15 tonnes destroyed was worth some $30 million (over 26 million euros) on the black market and represented up to 1,500 slaughtered elephants — and dwarfs the ivory burned by previous Kenyan leaders.
"We want future generations of Kenyans, Africans and the entire world to experience the majesty and beauty of these magnificent beasts," Kenyatta said as he lit a three-metre (10-foot) tall pyre of tusks — which conservationists said was the largest ever burned in Africa.
"Poachers and their enablers will not have the last word. We hope the rest of the world will follow our action in the same manner," he said at the event, held on World Wildlife Day.
"Elephant and rhino poaching is driven by demand from international markets," Kenyatta said, calling for "effective and collective action" as well as saying the inferno stood as a sign of Kenya's "determination to put an end to poaching".
Huge flames and thick plumes of smoke reached high into the air from the pile of yellow tusks at the burning site, in Nairobi's national park, just on the edge of the capital.
"We will burn the rest of the stockpile we have within the year," Kenyatta promised.
No official figures are available but the total of seized ivory held in Kenyan is believed to be some 100 tonnes. Former Kenyan president Daniel arap Moi set fire to 12 tonnes in 1989, while president Mwai Kibaki destroyed five tonnes in 2011.
– 'Buying a dead animal' –
A sharp rise in poaching in Kenya, which is home to an estimated 30,000 elephants and just over a thousand rhinos, has sparked warnings from conservation groups that the government is losing the fight against the slaughter.
Ivory is sought out for jewellery and decorative objects and much of it is smuggled to China, where many increasingly wealthy shoppers are buying ivory trinkets as a sign of financial success.
"Poaching and illicit wildlife trafficking have become growing challenges for Kenya," the president added.
"These vile crimes threaten biodiversity as well as human peace and security."
Conservationists said the destruction of the ivory sent a clear signal to both poachers and buyers.
[caption id="attachment_16814" align="alignright" width="300"]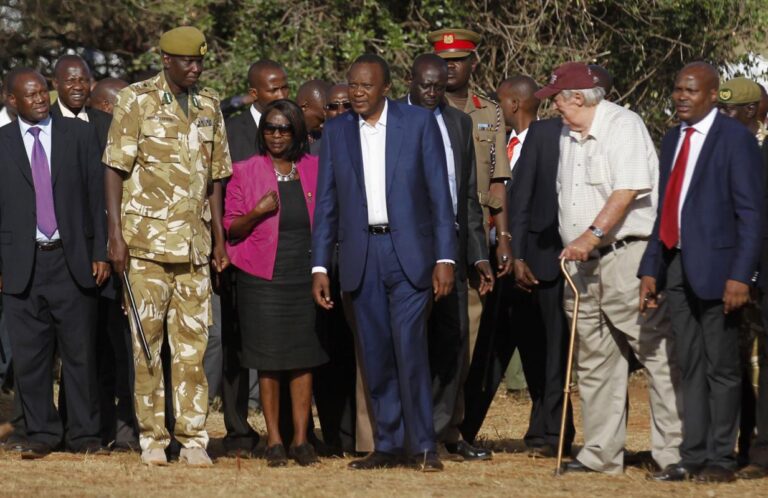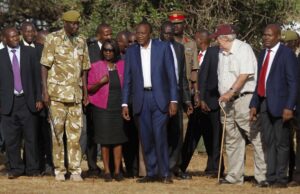 Kenya's President Uhuru Kenyatta (C) looks on as 15 tonnes of ivory confiscated from smugglers and poachers is burnt to mark the World Wildlife Day at the Nairobi National Park March 3, 2015. The United Nations on December 20, 2013, declared 3rd March World Wildlife Day as a celebration of wild fauna and flora and to raise awareness of illegal trade. The 2015 theme for World Wildlife Day is "Wildlife Crime is serious; let's get serious about wildlife crime". REUTERS/Thomas Mukoya (KENYA – Tags: SOCIETY CRIME LAW POLITICS ANNIVERSARY ENVIRONMENT ANIMALS)[/caption]
"It's a symbolic act to bring the world's attention to the elephant crisis, but it's also a clear message to people who buy ivory that all they're buying is a dead animal," said Ian Craig, chief executive of Kenya's Northern Rangelands Trust.
"I would like to see every tusk in Africa go up in flames."
The United Nations estimates that up to 30,000 elephants are killed in Africa every year out of a total population of not more than half a million.
It is expected that the pyre will burn for around five days until the tusks have turned to worthless ash.
The burning comes after China on Friday launched a one-year ban on imports of ivory carvings.
*
AFP/Yahoo
]]>