Angelle B. Kwemo Congratulates the First 1000 Tony Elumelu Entrepreneurship Program (TEEP) Entrepreneurs
<![CDATA[
Witnessing the birth of a new generation of "Africapitalists"
[caption id="attachment_17177" align="alignleft" width="300"]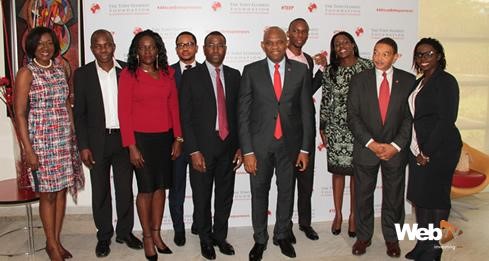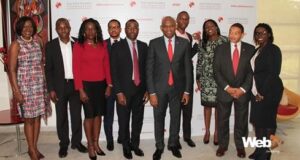 From L-R: Ms. Nimi Akinkugbe, Founder & CEO, Bestman Games Ltd; Prof Ndubuisi Ekekwe, Chairman, FASMICRO Group; Ms. Angelle Kwemo, Founder & Chair Believe in Africa, M. Sam Nwanze, Chief Investment Officer, Heirs Holdings; M.Amadou Hott, Founded FONSIS SA, M. Tony O. Elumelu, Chaiman, the Tony Elumelu Foundation; Mr. Ayodeji Adewunmi, President & CEO of Jobberman; Ms. Monica Musonda, CEO & Founder of Java Foods; Dr. Reid Whitlock, CEO, The Tony Elumelu Foundation and Ms. Mariéme Jamme, Founder, Africa Gathering[/caption]
LAGOS, NIGERIA
– Angelle B. Kwemo, Founder & Chair, Believe in Africa (BIA) and Managing Director & CEO, Rimsom Strategies, Ltd., joins the Tony Elumelu Entrepreneurship Program Selection Committee (TEEP) members to congratulate the 1000 entrepreneurs who will participate in the TEEP 2015 class.
 Kwemo said:"We salute Tony O. Elumelu, CON for his vision and leadership in making the African private sector take a prominent role in shaping the continent bright future, and for making his resources, network and expertise available to emerging African entrepreneurs. We are proud to add our voice to congratulate all the candidates for applying to this historical program. We applaud the 1000 entrepreneurs selected. During the TEEP 2015 class, you will be equipped with the tools that are needed to bring your business to a new height and to face the global market".
 She added: "For those who didn't make it, we commend you for your hard work, passion and dedication to fulfill your dreams. Do not be discouraged. Know that it is just a pause. Not being selected for the TEEP 2015 class is also part of the process of building the resiliency character that will carry you toward achieving your dreams. You are failing your way to success. Keep your light on and get ready for 2016".
She concluded: "the volume and diversity of applications received reflect not only the entrepreneurial spirit of Africans but also their ability to transform the continent. The candidates cut across all sectors, language, age and gender. Empowering indigenous enterprises and creating the enabling environment for them to grow are the two policies prescriptions that all stakeholders should consider as a priority to really make Africa economic renaissance a reality".
Believe in Africa(BIA)
is an African diaspora-led initiative founded by former U.S. congressional staffers and African leaders in the U.S., to empower young Africans, promote the role of the African private sector, harness the power of the African diaspora, educate policy makers and the public about African economic growth and highlight the continent's gradual rise in the global community.
*AMA
]]>