Zimbabwe's Mugabe turns 91, slowly sheds pariah image
<![CDATA[By MacDonald Dzirutwe* [caption id="attachment_16528" align="alignleft" width="300"]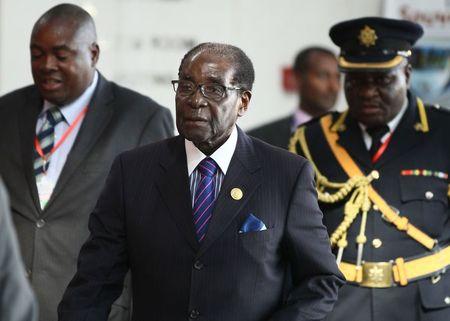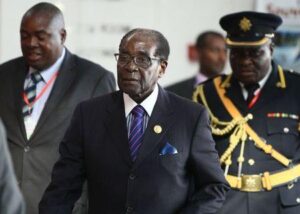 Zimbabwe's President Robert Mugabe (C) arrives for the 24th Ordinary session of the Assembly of Heads of State and Government of the African Union (AU) at the African Union headquarters in Ethiopia's capital Addis Ababa, January 31, 2015. REUTERS/Tiksa Negeri[/caption]
HARARE (Reuters) – Zimbabwean President Robert Mugabe turned 91-years-old on Saturday showing no sign of giving up power as the West slowly eases pressure on a man who has been an international pariah for the last decade.
Mugabe, one of the Africa's most divisive figures, is the only leader that Zimbabwe has known since independence from Britain in 1980.
Leaders from his generation like South Africa's Nelson Mandela have died while others like Zambia's Kenneth Kaunda retired long ago, but Mugabe plans to run in the 2018 election, his last under a new constitution, when he will be 94.
Last December Mugabe fired his deputy of 10 years, changed the ruling party constitution to concentrate more power in his hands and promoted his wife Grace into the top rungs of the ZANU-PF decision-making politburo.
The EU and United States imposed travel and financial sanctions on Mugabe and his acolytes in 2002 accusing the veteran leader of vote rigging and human rights violations.
Finger-wagging and remonstrating, Mugabe has said the West is punishing him for seizing white-owned commercial farms to resettle blacks and have sponsored his opponents at home.
On Saturday, newspapers printed congratulatory messages from companies and government departments hailing Mugabe as "chief of chiefs", "embodiment and a template of unparalleled Pan-Africanism" and "revolutionary and a visionary".
A senior Mugabe aide said he was spending the day at home with his family and would hold huge celebrations in the resort town of Victoria Falls on Feb. 28.
"Given the rarity of this achievement, we believe that this is the best evidence yet that his leadership is indeed the will of the Almighty God," Simon Khaya Moyo, ZANU-PF's spokesman said in a congratulatory message.
Viewed as an international pariah only two years ago as Zimbabwe's political crisis topped the agenda at all summits of the regional Southern African Development Community (SADC), Mugabe's political fortunes have now changed for the better.
After a landslide victory in July 2013 elections that has left the opposition in tatters, Mugabe is now SADC chairman and was last month chosen to chair the African Union, positions his ZANU-PF says are an endorsement of his nationalist policies.
The European Union (EU) on Friday renewed an arms ban on Zimbabwe as well as travel and asset freezes on Mugabe and his wife, although the bloc has gradually eased sanctions to encourage reforms.
The EU this week gave Zimbabwe 234 million euros ($266 million) in aid, the first time the bloc has directly given financial aid to the southern African nation's government since 2002.
Delegations from Britain and France have already visited Zimbabwe this year as Western countries explore business opportunities in a country that has pivoted to China for financial assistance in the last decade.
Political analysts say the West may have realized that ZANU-PF could be in power for longer and calculated that, given Mugabe's advanced age and rumors of ill health, he could soon leave the political scene.
Mugabe frequently travels to Singapore for medical checks but insists he is fit.
"It may have dawned on the West that Zimbabwe is stuck with ZANU-PF for a long time to come and that this is time for rapprochement," said Eldred Masunungure, a political science lecturer at the University of Zimbabwe.
"They are taking a pragmatic approach to say the policy of the last 10 years has not really worked because Mugabe is still president," Masunungure said.
*Source
Reuters/Yahoo
]]>