"Virunga," film on besieged African park, bids for Oscar
<![CDATA[By CHRISTOPHER TORCHIA*
JOHANNESBURG (AP) — "They are my life," a ranger in Central Africa says of endangered mountain gorillas in his care.
[caption id="attachment_16364" align="alignleft" width="300"]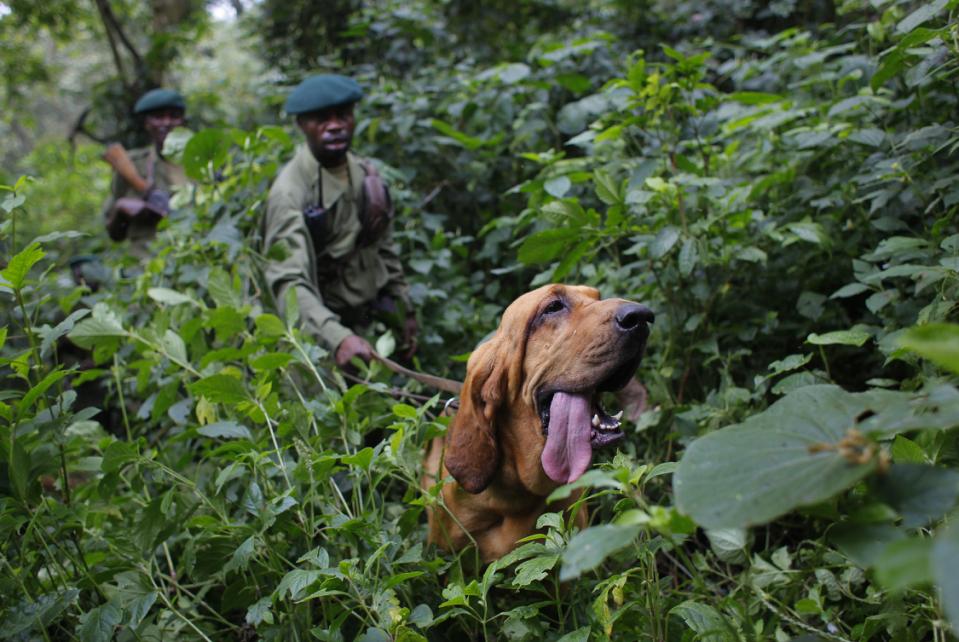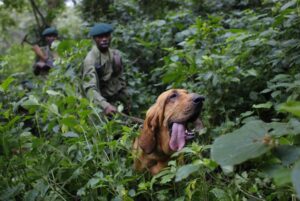 FILE – In this picture taken Sunday Aug. 2, 2012, Virunga National Park rangers follow Dodi the two-year-old blood hound during a search and rescue exercise in the park, some 45 kms north of Coma, eastern Congo. Virunga National Park is where virtually every rebellion in eastern Congo in the past 30 years has started, and its endangered mountain gorillas, are facing increasing threats. "Virunga", the movie, is a nominee for best documentary feature, whose executive producer is Leonardo DiCaprio, is getting high-profile attention ahead of the Feb. 22 2015 Oscar awards in Hollywood. (AP Photo/Jerome Delay)[/caption]
This bond of love infuses "Virunga," an Oscar-contending documentary whose director describes it as a "David and Goliath" struggle pitting wildlife park rangers and other conservationists with few resources against poachers, armed groups and a company exploring for oil.
The film about Virunga National Park, a UNESCO World Heritage site in eastern Congo, brings action and suspense to the nature genre. Its real-life cast includes Andre Bauma, an endearing ranger who tends orphan gorillas; chief warden Emmanuel de Merode, an urbane Belgian descended from nobility; and Melanie Gouby, a French freelance journalist who records shadowy figures on a hidden camera in scenes that make for tense viewing.
The dramatic events unfold in the visually rich landscape of Virunga, a jewel of biodiversity that has forests, swamps, savannah and active volcanoes, and is home to about a quarter of the world's remaining mountain gorillas and to various armed groups.
"I probably could have filmed it on a mobile phone and people would have still said, 'Oh, it looks beautiful,'" director Orlando von Einsiedel said in an interview with The Associated Press. And yet, he said of the park: "Very few people have heard of it."
The nominee for best documentary feature, whose executive producer is Leonardo DiCaprio, is getting high-profile attention ahead of the Feb. 22 Oscar awards in Hollywood. Former U.S. President Bill Clinton attended a recent screening of "Virunga" in New York. Primatologist Jane Goodall described it as a "wake-up call."
The documentary was released on Netflix in hopes of reaching the widest possible audience, and positive publicity has seemingly helped to tilt the conservation battle, and a broader effort to create a sustainable economy, in Virunga's favor for now. Tourism is up, donations have surged and hydropower projects and other job creation schemes are progressing, von Einsiedel said.
But Virunga remains vulnerable, the park's backers warned. Over 140 park rangers have been killed in the last 15 years, according to von Einsiedel.
"There are still a great many very serious security issues," de Merode, the warden, said in an interview. "These are all problems that relate to illegal extraction of natural resources."
De Merode, who was seriously injured by gunmen in Congo last year, said armed factions still operate in the park despite the 2013 military offensive that scattered the M23 rebel group. Another rebel group, the FDLR, has been active in the area for two decades and is active in the charcoal industry blamed for destroying gorilla habitat. De Merode said there is also concern about possible efforts by a London-based company, SOCO International PLC, to drill for oil in the park.
Last year, SOCO International agreed that there will be no exploratory drilling in Virunga unless Congo and the U.N. cultural agency UNESCO agree it would not threaten the park's world heritage status. However, de Merode and the documentary director, von Einsiedel, fear the company could illegally try to extract oil from the park at a later stage.
The Church of England, an investor in SOCO International, has said it is troubled by the firm's alleged conduct in Virunga and that it could consider withdrawing its holdings.
SOCO International has said its "area of interest" has been limited to Lake Edward and adjacent lowland savannah within Virunga, and not in mountain gorilla habitats, the park's volcanoes and equatorial rainforest. It has criticized the documentary as one-sided and said it does not adequately reflect the company's stated commitment to ethical conduct.
Robert Richter, an American documentary producer who has been a judge at international film festivals, said "Virunga" depicts a threat to "at least one part" of the park but it was not clear that the mountain gorilla sanctuaries would be directly threatened by the activities of the oil company.
"It's a film that deserves to be seen," Richter said. But he said parts of the narrative were uneven, describing what he called an "effort to hold it all together" by the filmmakers.
Journalist Gouby, who is currently reporting for the AP from Congo, said she investigated Virunga's story because it was a "very clear case of public interest" and she talked about the wider narrative of a population buffeted by war.
"I find the situation there shocking and horrifying, but also very hopeful," Gouby said. "People are very enduring." *Source
AP/Yahoo
]]>