US bank shuts down informal remittances to Somalia
<![CDATA[By ABDI GULED* [caption id="attachment_16369" align="alignleft" width="300"]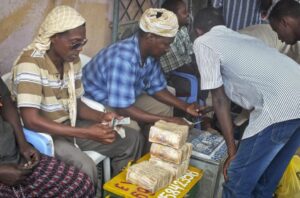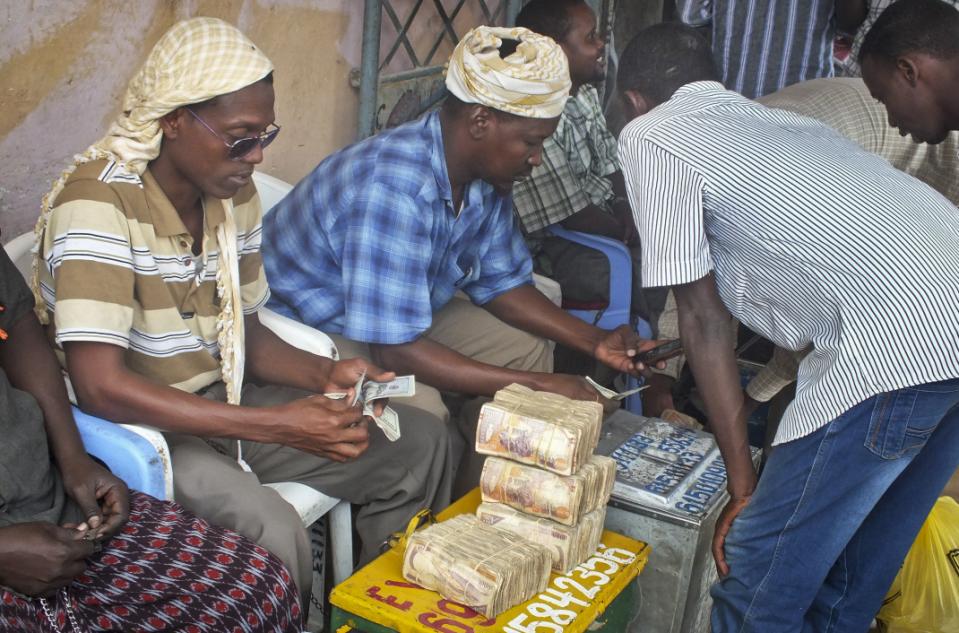 In this photo taken Sunday, Feb. 16, 2014, a customer of Dahabshiil, Somalia's largest remittance company, exchanges his US dollar bills for Somali shillings outside the company's headquarters in Mogadishu, Somalia. Money transfer services have operated for years, but they are now under intense scrutiny as many countries, especially the U.S. and U.K., have accused the agencies of helping fund Islamic extremist terrorist groups. That concern has forced some international banks to terminate business with them — anti-terror laws hold banks responsible if they transfer money to criminal or terror elements. (AP Photo/Farah Abdi Warsameh)[/caption]
MOGADISHU, Somalia (AP) — A man raises his cane in anger outside Somalia's largest money transfer company. He is furious that the Merchants Bank of California has announced it will shut down accounts for informal money-remittance services in Somalia that have been a lifeline to many Somalis who receive money from families abroad.
"If they close the hawala (Somali for money transfer agency), will they pay our bills? I'm totally hopeless." said Zahra Hussein, a mother of nine in Mogadishu, outside an agency where she received the news.
Money transfer services have operated for years, but they are now under intense scrutiny as many countries, especially the U.S. and U.K., have accused the agencies of helping fund Islamic extremist terrorist groups. That concern has forced some international banks to terminate business with them — anti-terror laws hold banks responsible if they transfer money to criminal or terror elements.
In 2013, Barclays, one of Britain's largest banks, cut ties with Dahabshiil, a Somali company that brings in the majority of the country's $1.2 billion in yearly remittances, according to the U.N.
Merchants Bank of California informed Somali-American money transfer operators that it would discontinue their relationship in late January. The decision will likely affect more companies that allow transfers of money from the U.S.
No formal banking system exists in Somalia, and making such transfers is the only realistic way many Somalis can receive cash.
Somalia's prime minister, along with aid workers and experts, have asked banks to back down on these decisions.
"We need to find a permanent solution to keep open this vital humanitarian lifeline," said Prime Minister Omar Abdirashid Sharmarke. He said the money transfer would help bring peace to the Horn of Africa nation, which is recovering from decades of war and sees almost daily violence by militant group al-Shabab.
"Remittances form the backbone of Somalia's economy," said Degan Ali, the executive director of aid group Adeso. Nearly three-quarters of a million Somalis are facing acute food shortages, she said, "and we are likely to see that number rise if money transfer companies cannot remit funds from the United States." *Source
Yahoo/AP
]]>