Tech-savvy 'barefoot law' opens doors of Ugandan justice
<![CDATA[By Amy Fallon* [caption id="attachment_16525" align="alignleft" width="300"]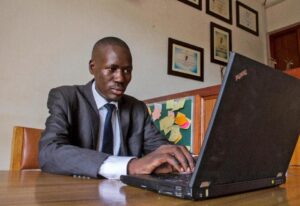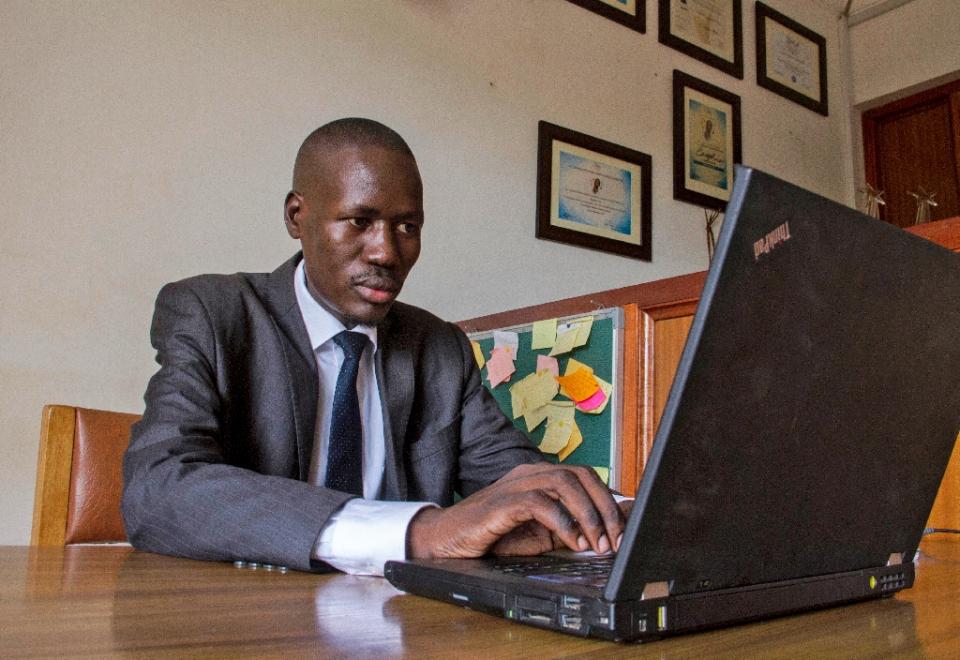 Gerald Abila's tech-savvy legal aid project, Barefoot Law, has helped hundreds of thousands with advice (AFP Photo/Isaac Kasamani)[/caption]
Kampala (AFP) – When revealing photographs of a Ugandan student were leaked online in a case of revenge porn, it left her terrified she herself might face criminal charges under tough new laws.
With the photographs then printed in tabloid newspapers following repeated threats, the devastated and humiliated victim turned to lawyer Gerald Abila, whose innovative and tech-savvy legal aid project, Barefoot Law, has helped hundreds of thousands with advice.
"She was hiding from shame – and at the same time hiding from legal prosecution," Abila told AFP, explaining how a 2013 anti-pornography law had created controversy and confusion, with those featured in naked photographs fearing arrest.
"But we said if your photo has been taken and leaked, then you can easily take the person who has leaked it to the police – and actually have them arrested," he added.
Barefoot Law was born two years ago when Abila, now 32, began offering legal advice via social media and Skype on his smartphone in the east African nation.
Today it is an award-winning non-profit social enterprise with nine volunteer staff reaching thousands of people a month, spreading beyond Uganda to countries including even war-torn Somalia, where thousands of Ugandan soldiers are peacekeepers.
Barefoot Law — which also offers legal aid through phone, text message and email — provides a "dial-a-lawyer" service through its website, barefootlaw.org, as well with a smartphone app.
For many Ugandans, it is the only source of legal advice they can access.
"Don't end up playing the victim and being intimidated by what is going on," Abila said.
– Justice, not mob violence –
The site offers an employment guide and a will template for free download, as well as Uganda's constitution – something Abila said needed to be consulted as much as religious texts.
"It gives you your legal rights on earth, while the religious book gives you your rights in heaven," he stated.
With parliament passing a series of laws — including controversial statutes outlawing homosexual acts — it can be hard for ordinary people as well as policeman on the ground to keep up.
"There is this thinking that the law is a magic bullet, and in the case of any 'social problem' — like HIV, homosexuality, miniskirts — just bring in a law and it will be sorted out," said Abila.
In the case of the anti-porn law, Ethics Minister Simon Lokodo initially insisted it meant women could be locked up for wearing skimpy clothes in public.
But the law passed in December 2013 not only has a sweeping definition of "pornography" with no clear mention of what that means – it also contains no reference to a miniskirt.
Last year, the Barefoot Law team were bombarded with up to 200 queries a day from across the country worried about the law – including women stripped by mobs for sporting miniskirts.
"People were taking things into their own hands," said Abila, adding that the law had "opened a Pandora's box".
One woman was nearly stripped by a gang in Mbale in eastern Uganda, yet police failed to help her.
Barefoot Law shared her experience online. Within an hour, 7,000 people had viewed their alert, with local media and police informed of the reality of the law.
"We tried to educate people, saying: 'In case any of you decided to take this law into your own hands, you'll be charged with indecent assault, assault or battery'," said Abila.
"For all you women, in case you're a victim call this number, you can get in touch with us or the police."
– 'Legal rebel'-
Today Barefoot Law receives up to 100 queries a day ranging from the sometimes absurd to everyday issues.
One query — "Can animals be arrested?" — was asked after two protesters were held along with two piglets they had sneaked into parliament as part of an anti-corruption protest.
Another enquired whether there was a law to take action "when the neighbour's tree falls into my compound, as opposed to going and beating them?"
In remoter parts of the country, Barefoot lawyers offer advice via radio stations.
"You have a population talking about mob justice but you want the population to believe in the law," said Abila, adding that many people had lost confidence in a judicial system swamped by backlogs of thousands of cases.
"A lot of these issues can be nipped at the bud if only you know what the law is," he added.
"All you have to do is get in touch, because ignorance of the law is no defence at all."
Last September, Abila was given a "legal rebel" award by the American Bar Association, and in January, Barefoot scooped the Facebook page of the year category at the inaugural Social Media Awards Africa in Nigeria.
"We've changed people's mindsets towards a lot of issues," said Abila. "Some people even want to go to law school now." *Source
AFP/Yahoo
]]>