South Africa questions its democracy after parliament brawl
<![CDATA[By Joe Brock* [caption id="attachment_16345" align="alignleft" width="300"]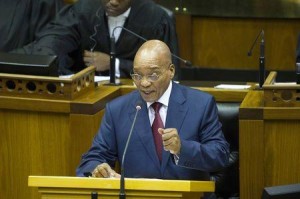 South African President Jacob Zuma speaks during his State of the Nation address at the opening of parliament in Cape Town February 12, 2015. REUTERS/Rodger Bosch/Pool[/caption]
JOHANNESBURG (Reuters) – "State of Chaos", was how one South African newspaper described the images of police and politicians trading blows at the opening of parliament, a damning assessment of the country's democracy twenty years after apartheid.
President Jacob Zuma walked down the red carpet outside parliament in Cape Town on Thursday evening as a brass band blasted out South Africa's national freedom anthem, Nkosi Sikelel' iAfrika, and cannons fired off a 21-gun salute.
But the pomp and ceremony was short-lived.
Zuma had barely started his State of the Nation address inside parliament when lawmakers from the far-left Economic Freedom Fighters (EFF) interrupted him to ask about longstanding allegations of corruption in a $23 million state-funded security upgrade to his rural home in Nkandla.
Quivering with anger, Speaker Baleka Mbete told the EFF and its firebrand leader Julius Malema to stop asking questions. When they refused, she ordered them to be removed, prompting a brawl in which several people were injured.
Zuma was eventually able to deliver his speech but not until lawmakers from the main opposition Democratic Alliance had walked out in protest against armed security guards and police entering the chamber.
"It was meant to be a solemn annual event in the life of our nation … the continuation of a journey Nelson Mandela began in 1994," political analyst Ranjeni Munusamy wrote in a column for the Daily Maverick, a leading online political newspaper.
"We are now forever damaged by the people we stood in queues to vote to represent us."
Tensions were already running high before Zuma arrived when guests discovered that mobile telephone reception had been jammed inside the chamber, prompting journalists and rowdy lawmakers to chant: "Bring back the signal!".
Phone reception was eventually restored after Mbete was badgered by lawmakers but it added to public suspicion that the African National Congress (ANC), under Zuma's watch, wants to chill dissent through censorship.
"This should not be normal in an open democratic society," an editorial in Business Day newspaper said.
"DEEPLY WRONG"
"Something is deeply wrong if a country that claims to be democratic experiences this kind of paralysis while its citizens get used to a culture of thuggery at the highest level."
The incident will increase pressure on Zuma, who has been beset by scandal throughout his career.
Public Protector Thuli Madonsela said in a report last year that Zuma had "benefited unduly" from some of the upgrades to his home, which included a swimming pool, cattle enclosure and amphitheatre, and should pay back some of the costs.
Zuma denies wrongdoing.
Malema and his colleague have feasted off "Nkandla-gate" ever since they won 25 seats in parliament last May. Many experts believe Malema, a former ANC youth leader, is trying to embolden Zuma's opponents in the ANC to launch a leadership challenge.
"Zuma sits at the center of all of this. The EFF are applying pressure on him," said political analyst Prince Mashele, adding that the tussle did not reflect well on South Africa as an evolving democracy.
"No one comes out of this well. If pigs wrestle in the mud, it doesn't matter who squeals loudest. All you see is mud being thrown around."
[caption id="attachment_16346" align="alignright" width="300"]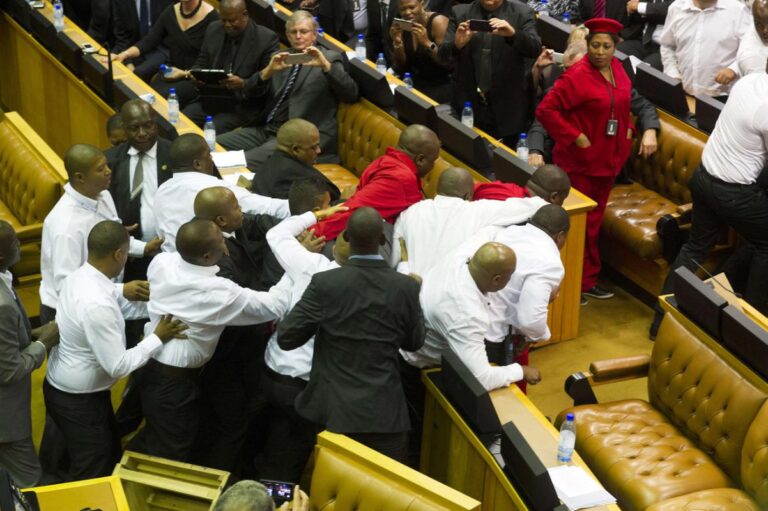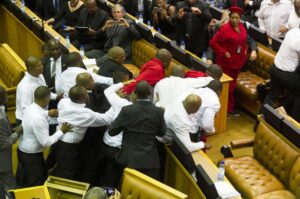 Members of Julius Malema's Economic Freedom Fighters (EFF) (in red) clash with security officials after being ordered out of the chamber during President Jacob Zuma's State of the Nation address in parliament in Cape Town February 12, 2015. The opening of South Africa's parliament descended into chaos on Thursday as security officers fought with far-left Economic Freedom Fighters (EFF) lawmakers after they disrupted President Jacob Zuma's speech. REUTERS/Roger Bosch/Pool (SOUTH AFRICA – Tags: POLITICS CIVIL UNREST)[/caption]
Zuma didn't mention the fracas during his speech but afterwards he dismissed the disruption as the poor behavior of a handful of unruly members of the EFF, praising the actions of Mbete and security personnel.
"My view was that they were behaving dishonorably," he told reporters on Friday. He said he had no idea why mobile phones were not getting reception.
Many ordinary South Africans lamented the shambolic events, saying they distracted attention from critical issues such as severe electricity shortages, 25 percent unemployment and widespread poverty.
"Instead of talking about South Africa's problems, we're talking about chaos in parliament," working mother Dipuo Tsoagong told Reuters outside a shopping mall in Johannesburg.
"We're turning into a banana republic."
*Source
Yahoo/Reuters
]]>