Sepp Blatter slams media coverage of Africa Cup of Nations violence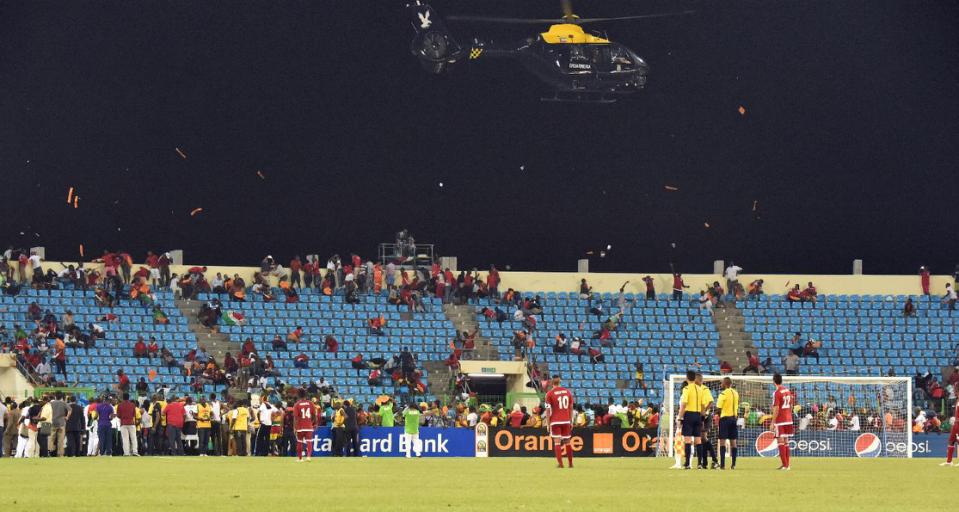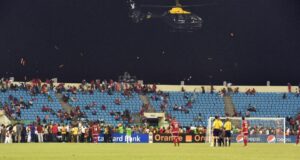 The Fifa president, Sepp Blatter, and the Confederation of African Football chief, Issa Hayatou, have accused western media of dramatising the crowd violence which marred the Africa Cup of Nations semi-final between Ghana and Equatorial Guinea.
Projectiles were hurled at players and supporters, a police helicopter was called to disperse fans in the stadium and conflict continued outside the ground after the match which was delayed for over half an hour before Ghana prevailed 3-0.
"Good news is no news, bad news is news," Blatter said at the signing of a memorandum of understanding between Fifa and the Caf. "We only talk about the bad. Football – which is such a good thing – let it live, leave it in peace, it's well organised, let them do it.
"I don't see the negative side of African football that the media presents. It's normal, we criticise what's good, never what's bad. The unhappy role of the media is to assume and to forecast.
"In the past, the government made a decision and the media passed it on. Today, we make decisions and the media have already presented it. We become slaves to the media who have already given an opinion.
"The media can play a role, must play a role, but they must play a role where the notions of respect and fair play are the basics. Today the world opens the newspapers, watches television, and sees only murders and killing. We never talk about princesses marrying any more."
Hayatou also accused the press of exaggerating events. "The press always dramatise, particularly the western press," he said. "When something bad happens in Europe, they say it's an error. When something happens in Africa, they begin talking about corruption.
"What happened in that match between Serbia and Italy?" he added in reference to the Euro 2012 qualifier abandoned because of hooliganism. "It's the same as what happened here, but when it's Africa it's different.
"It's irrelevant that it's a semi-final. It's a football match. The western media are simply here to perpetuate colonisation."
Equatorial Guinea will end their Africa Cup of Nations campaign in Malabo later on Saturday in the third-place play-off against DR Congo. Ghana and Ivory Coast contest the final in Bata on Sunday.
*Source Reuters/Guardian