Nissan brings AFCON spirit to UEFA Champions League
•          Nissan  brings innovation and excitement to fans during the 2014/15 UEFA Champions League

•          Enlists brand ambassadors Yaya Touré, Andrés Iniesta and Thiago Silva to introduce new innovations to football fans

•          Aims to raise profile across 360 million-strong global audience

The knockout phase of the 2015 UEFA Champions League kicks off in less than a week and Nissan  is gearing up to share the excitement with football fans in Africa and to carry the spirit of unity over from the Orange Africa Cup of Nations.
Nissan will continue to bring innovation that excites closer to fans of Europe's biggest annual sporting tournament, which features some of Africa's best players, including three-time African Footballer of the Year and UEFA Champions League winner, Yaya Touré. Through the qualifying stage and right up to the final in June in Berlin, Nissan will team up with some of the league's most popular players and work to bring fans closer to the game and to raise its profile across the globe.
"Nothing unites and excites people quite like football," said Takashi Hata, Senior Vice President in charge of Nissan's Africa, Middle East and India region. "Innovation that excites is what Nissan stands for. Sharing in the joy of the 2015 UEFA Champions League with fans will help us to strengthen our brand and to increase the excitement about our innovative products."
As the official global automotive sponsor to the UEFA Super Cup and UEFA Champions League, Nissan will bring fans closer to the game with its own thrilling line-up of quality plays. With public events as well as its formidable product line up, fans will see Nissan's innovation first-hand.
"The UCL is an important global platform for Nissan, and our aim is to show fans all over the world the excitement of both football and our cars," says Hata.
With innovation and excitement at the heart of Nissan's Champions League programme, the activity – which stars brand ambassadors Touré, Barcelona and Spain midfielder Andrés Iniesta, and PSG and Brazil defender Thiago Silva – aims to harness excitement both on and off the pitch. As 'Engineers of Excitement', these ambassadors will help Nissan introduce new innovations to football fans, playing a leading role in the brand's advertisements throughout the course of the 2014/15 season. Touré will also star in a series of new television and print advertisements for the UEFA Champions League due to premiere in February 2015.
Touré said: "I'm proud to be partnering with Nissan across its UEFA Champions League and Orange Africa Cup of Nations 2015 sponsorships. I am really looking forward to it and to working with Nissan to help bring the excitement around both of these fantastic tournaments to fans around Africa and the rest of the world."
"Nissan is delighted that Yaya Touré has joined our team as a global ambassador," said Hata. "As one of the greatest midfielders of his generation, Touré is the perfect ambassador for our brand as he possesses great all-round skills combining pace, power and high technical ability – features Nissan incorporates into its vehicles."
The UEFA Champions League has a massive global audience. The 2013 final between FC Bayern München and Borussia Dortmund attracted 360 million viewers across television and social media platforms. Global viewership averaged between 105 million and 228 million per match in 2013, representing a lucrative platform for Nissan.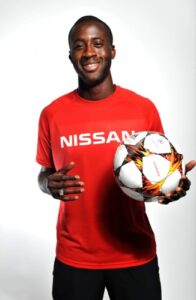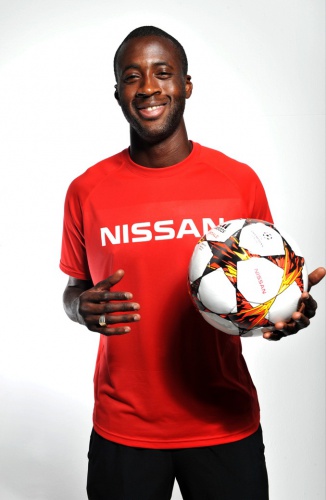 The Knockout Phase of the 2015 UEFA Champions League tournament kicks off on 17 February 2015 with the final scheduled for 6 June 2015. For the full match schedule, click here.
The 2015 UEFA Champions League partnership – Nissan's largest sponsorship deal – is another example of the brand's dedication and growth in global sports, which already includes its proud sponsorship of the Orange Africa Cup of Nations, Rio 2016 Olympic & Paralympic Games, Olympic Team Brazil, official sponsor of the Colombia and Mexico Olympic Teams, Team GB and Paralympics GB, Canadian Football League, sporting ambassadors including Olympics Gold Medallists Usain Bolt and Sir Chris Hoy, corporate partner for Heisman Trust/Heisman Trophy and the official global automotive partner of City Football Group, owners of the Manchester City, the English Premier League champions.
Nissan Motor Co., Ltd. , Japan's second-largest automotive company, is headquartered in Yokohama, Japan, and is part of the Renault-Nissan Alliance. Operating with more than 244,500 employees globally, Nissan sold almost 5.2 million vehicles and generated revenue of 10.5 trillion yen (USD 105 billion) in fiscal 2013. Nissan delivers a comprehensive range of more than 60 models under the Nissan, Infiniti and Datsun brands. In 2010, Nissan introduced the Nissan LEAF, and continues to lead in zero-emission mobility. The LEAF, the first mass-market, pure-electric vehicle launched globally, is now the best-selling EV in history with almost 50% share of the zero-emission vehicle segment.
*APO