New S. African law to ban foreigners from owning land
<![CDATA[By Claudine Renaud* [caption id="attachment_16401" align="alignleft" width="300"]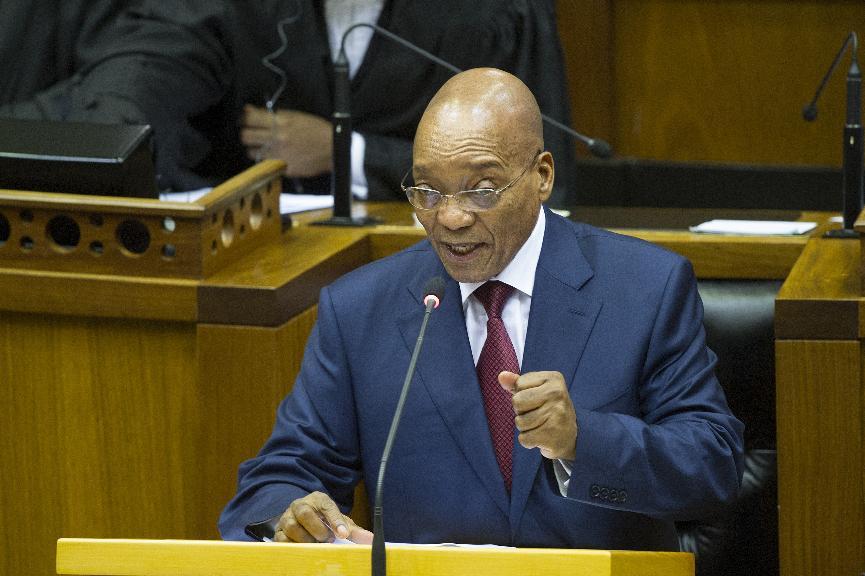 South African president, Jacob Zuma, delivers the State of the Nation address in Cape Town on February 12, 2015 (AFP Photo/Rodger Bosch)[/caption]
Johannesburg (AFP) – South African President Jacob Zuma has proposed a law barring foreigners from buying real estate in the country under sweeping land reforms, his office said Saturday.
The reforms are aimed at rectifying inequalities that have persisted since colonial days and apartheid, with white farmers still owning most of the land, and are slated to be enacted this year.
The law on foreign ownership cannot be applied retroactively, but the president's office said Saturday the government could exercise a "right of first refusal… if the land is deemed strategic."
The reform is aimed at addressing "the need to secure our limited land for food security and address the land injustice of more than 300 years of colonialism and apartheid," the statement said.
In future, foreigners — who currently own some five to seven percent of South Africa's land — would be allowed only to lease property for between 30 and 50 years, and may be required to cede land considered "strategic".
– Spectre of Zimbabwe reforms –
A prominent realtor dismissed the bid as "a severe miscalculation that is likely to have serious repercussions on investor confidence" in South Africa.
"While the percentage of foreign ownership is low, the calibre of ownership is exactly what we need in this country," said Lew Geffen of Sotheby's International Realty.
"What we are effectively saying to them is they're not welcome here."
The highly sensitive dossier evokes the spectre of the land reform programme in neighbouring Zimbabwe in the early 2000s when hundreds of white farmers were violently evicted from their land.
The government last year relaunched a claims process for black families removed from their land under apartheid rule to apply for compensation.
They were given five years from June 2014 to make their claims, with as many as 400,000 requests for compensation expected at a cost of between 130 and 180 billion rand ($12-17 billion, 9-12 billion euros).
Zuma said Thursday that more than 36,000 claims had been submitted so far.
The next phase will be to split up sprawling farms, limiting land ownership for "any individual" to 12,000 hectares (30,000 acres) per person, and the government would purchase and "redistribute" any land in excess of the limit.
The legislation was the subject of a campaign promise ahead of Zuma's re-election in 2014.
Observers say Zuma's aim is to steal thunder from his most vocal adversary, radical populist Julius Malema, who has advocated outright expropriations without compensating ejected farmers.
Zuma's cabinet must approve the proposed legislation, after which it will be put to public consultation and a parliamentary review before the president can enact it, his office said in a statement.
"Environmentally and security sensitive lands… those that are of historic and have cultural significance, and strategic lands… will be classified by law, and land ownership by foreign nationals (non-citizens) in these areas will be discouraged," Saturday's statement said.
A 1913 law gave non-white residents access to only 10 percent of the country's farmland, which was subsequently revised upward to 13 percent. The rule put in place a system that still sees a majority of the best land in white hands.
Hundreds of thousands of blacks were expelled from their lands in a system that was reinforced after 1948 under apartheid.
White South Africans — around 10 percent of the population — still own as much as 80 percent of the land 20 years after the end of apartheid.
* Source
AFP/Yahoo
]]>