Museveni launches road works
<![CDATA[By  DAN MICHEAL KOMAKECH*
Kitgum- President Museveni has commissioned construction works for Olwiyo-Gulu-Kitgum and Musingo roads in Lamwo District all covering 229 kilometres.
[caption id="attachment_16591" align="alignleft" width="300"]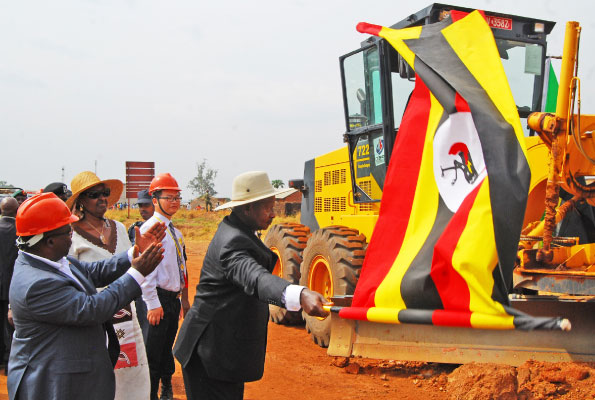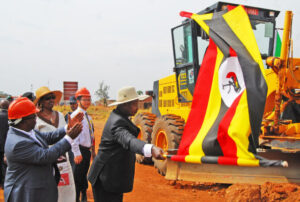 Museveni flags off the Olwiyo-Gulu-Kitgum-Musingo road works at Anaka Town Council in Nwoya District on Saturday. PHOTO BY CISSY MAKUMBI[/caption] Speaking during the commissioning in Pagen village, Layamo Sub-county last Saturday, the President urged residents to utilise the roads whose construction will cost government Shs525 billion.
"This road upgrade is a key development, the aspect of poverty eradication should be explored through utilising the tarmac road to transform the economy of the country," Mr Museveni said.
Warned against theft He also warned residents against stealing fuel. "I am warning the public to refrain from dubious acts of stealing the contractor's equipment and fuel," Mr Museveni said.
The President said upgrading of Rwekunye–Masindi port–Apac– Pader to Acholi bur Road would start soon.
The Minister for Works, Mr Abraham Byandala, urged the public to cooperate with the contractors and pledged government's commitment to compensate residents whose property will be destroyed during the construction.
Mr Byandala said government had completed much of the road upgrade in the greater north, citing the Gulu– Nimule road, Vurra–Arua–Oraba– Koboko road and Gulu-Kamdini – Kafu road, which is ongoing.
Several contractors to do the job
Contracts have been awarded to Zhong Mei Construction Company, which will work on the 70km stretch from Olwiyo in Nwoya to Unyama in Gulu while 73km section from Unyama to Acholi Bur in Pader is being handled by China Railway N0-5. Chongqing International Construction Corporation will undertake the construction of 86 km section from Acholi Bur to Musingo at the Lamwo at South Sudan border. The construction will take three years. *Source
Monitor
]]>