Mugabe admits land reform blunder in Zimbabwe
<![CDATA[By Fanuel Jongwe* [caption id="attachment_16735" align="alignleft" width="300"]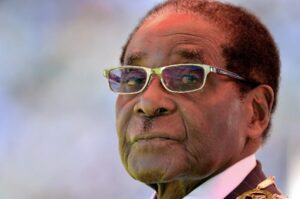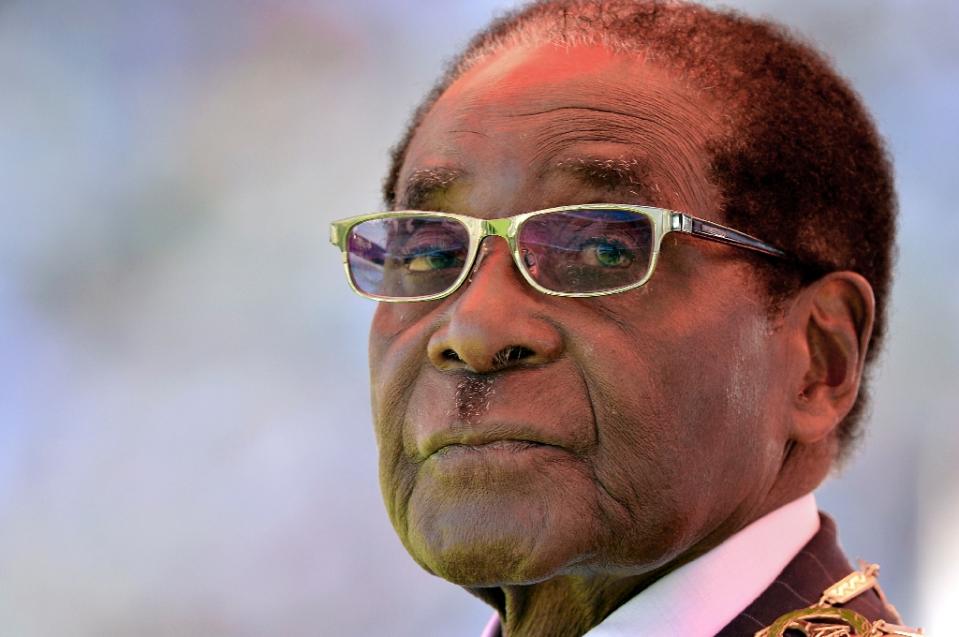 Zimbabwean President Robert Mugabe attends his inauguration and swearing-in ceremony at the sports stadium in Harare on August 22, 2013 (AFP Photo/Alexander Joe)[/caption] Harare (AFP) – Zimbabwean President Robert Mugabe has admitted he blundered by giving ill-equipped black farmers vast tracts of farmland seized from whites under his controversial land reforms.
In an interview with the state-owned Zimbabwe Broadcasting Corporation (ZBC) late Thursday to mark his 91st birthday on February 21, Mugabe also declared he is still in charge, dismissing speculation that his increasingly powerful wife Grace is now running the show.
"I think the farms we gave to people are too large. They can't manage them," Mugabe said, referring to black farmers who benefited from the land reforms.
"You find that most of them are just using one third of the land," he said, a surprisingly candid admission of charges that the reforms were poorly executed.
In the past, Mugabe has blamed a drastic drop in agricultural production on erratic rains due to climate change and western sanctions, which he said hampered his government's efforts to procure equipment for the farmers.
The reforms, launched in 2000 and accompanied by violent evictions of white farmers, were aimed to resettle blacks on 4,000 commercial farms.
The farmlands were parcelled out to tens of thousands of blacks.
The land seizures have reduced Zimbabwe from being the regional breadbasket to having to import grain from neighbouring Zambia and other countries, as most of the beneficiaries lacked both farming equipment and expertise.
The rural population now often relies on food aid and at the worst times families are forced to skip meals to preserve their seed stocks and feed on wild fruits and edible leaves.
Critics say the land reforms mostly benefitted allies of the veteran leader, who has been in power since 1980.
Although an individual is not allowed to own more than one farm, Mugabe's wife Grace reportedly owns several.
Mugabe said in the interview that despite his wife's surprise rise to key positions in the ruling ZANU-PF, he was still in charge of both the party and state affairs.
Grace Mugabe last year became the leader of the influential women's wing in the party.
"She is not the power behind my throne," said Mugabe of his 49-year-old wife. "She has come into politics in her own right."
Her surprise nomination to lead the women's league and be given a seat in ZANU-PF's powerful politburo sparked speculation that she could be aiming to succeed the ageing ruler in the event of his death or retirement.
– Using one-third of land –
[caption id="attachment_16736" align="alignright" width="300"]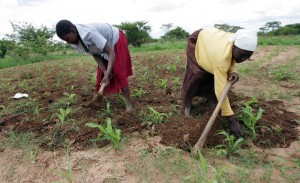 Zimbabwean President Robert Mugabe's controversial land reforms launched in 2000, accompanied by violent evictions of white farmers, was aimed to resettle blacks on 4,000 commercial farms (AFP Photo/Alexander Joe)[/caption]
During a series of rallies last year she denounced Zimbabwe's then deputy president Joice Mujuru, claiming she was fomenting factionalism and plotting to topple Mugabe.
Mugabe subsequently sacked Mujuru, replacing her with long-time ally and hardliner Emmerson Mnangagwa. Several of Mujuru's allies, including party spokesman Rugare Gumbo and cabinet ministers, met a similar fate.
Grace said at a rally last year that as a Zimbabwean she had a right to aim for the presidency, lending credence to the speculation that she was seeking to succeed her husband.
Mugabe, the world's oldest leader, will be feted at a massive party to be hosted by the ZANU-PF youth wing at a hotel in the resort town of Victoria Falls on Saturday.
His health has been subject of speculation following reports that he is making frequent visits to the Far East to seek medical attention. Government officials insist he is fit and that his only health concern was an eye cataract.
Mugabe said his long life was thanks to God and a strict diet on his part.
"I eat well, not filling my stomach," he said in the interview aired on state television.
"Eating foodstuffs that I believe will sustain one most. You must eat well and really not go for food because it's attractive."
Mugabe also played down his fall at the country's main airport earlier this month which sparked speculation about his physical fitness.
"I would want to see a person who hasn't fallen down. I don't see the reason why anyone should be surprised that the president has fallen."
*Source
AFP/Yahoo
]]>