Kenyan president says ICC case against deputy will fail
<![CDATA[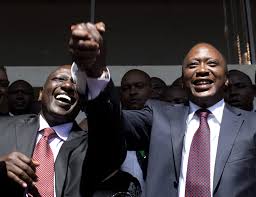 Addis Ababa (AFP) – Kenya's President Uhuru Kenyatta has told fellow African leaders that the International Criminal Court's crimes against humanity trial of his deputy will collapse, and again levelled fierce criticism against the tribunal. Speaking at an African Union summit being held in the Ethiopian capital Addis Ababa, Kenyatta said the Hague-based ICC's case against Kenyan Vice President William Ruto was "exhibiting the same pattern of weakness as the case against me."
"We look forward to its conclusion so that my Deputy can join me in focusing exclusively on transforming Kenya and serving our people," he said in a speech during the two-day summit, according to a transcript released on Saturday by his office.
Both Kenyatta and Ruto were charged by the ICC over the the country's 2007-08 post-election violence, the worst in its history since it won independence from Britain in 1963.
The case against Kenyatta was dropped in December, with prosecutors complaining that their case had been undermined by a lack of cooperation by the Kenyan government, as well as the bribing or intimidation of witnesses.
Kenyatta, however, accused the ICC of "bringing weak, politicised cases to court", and said that "facts and evidence were completely disregarded".
The ICC, he said, "poses a grave risk to peace and security not only in Africa, but to the whole world" and was in need of fundamental reform.
Although he stopped short of directly calling for a mass pull-out from the ICC's founding Rome Statute, Kenyatta said African nations "have the right to chart our own course and correct our mistakes while staying accountable to our people."
African leaders, he added, should accelerate the development of an African Court of Justice and Human Rights, and he announced that Kenya will provide $1 million to help set the court.
*Source
Yahoo/AFP
]]>