Ethiopian capital expands airport, plans new hub to meet growth
<![CDATA[By Aaron Maasho* [caption id="attachment_16358" align="alignleft" width="275"]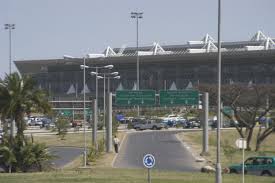 Addis Ababa's Bole International Airport is rolling out free wireless internet for passengers going through the Ethiopian capital city.[/caption]
ADDIS ABABA (Reuters) – Ethiopia will complete expansion work on the capital's airport in 2018 to triple the number of passengers it handles from 7 million a year now and will soon pick a site for a new hub to deal with 10 times the number in future, a senior official said.
Bole International Airport, on the edge of Addis Ababa, is home to Ethiopian Airlines [ETHU.UL], the state-owned national carrier that is ranked the largest by revenue in Africa.
Less than a decade ago, the airport handled 1 million passengers a year but that rose to 7 million in 2014. Officials expect it to climb by 18 percent a year in the next few years.
"We did not expect this growth to happen in eight years. That is why we are undertaking an expansion of the airport that will serve us for the next 15 years, with a capacity about 20 million passengers a year," Hailu Gebremariam, Ethiopian Airports Enterprise project manager for Bole, told Reuters.
Expansion work began in September at the airport, where passengers can face long queues at peak travel and transit times. China Communication Construction Company is carrying out the work at a cost of $300 million, set for completion by 2018.
Ethiopia, with one of the fastest growing economies in Africa, was now looking at sites for a new international airport to serve up to 70 million a year, Hailu said.
By comparison, Dubai International Airport handled 70.5 million passengers in 2014, the world's biggest for passenger traffic, ahead of London's Heathrow with 68.1 million.
"We have whittled down potential sites from eight to three, all of which are within 60 to 70 km (37 to 44 miles) from Addis Ababa," Hailu said, adding the site would be picked within six months although construction might take eight years after that as designs, financing and related issues were finalised.
"Once approved, the construction is only a question of four or five years," he said.
An official said the cost of such an airport could be $2.5 billion to $3 billion.
Ethiopian Airlines has been rapidly expanding its fleet. It now has 77 aircraft, with 44 more on order.
The International Air Transport Association (IATA), an industry body, ranks the airline Africa's biggest by revenue and profit. As well as capturing transit passengers, the airline aims to draw more visitors to see Ethiopia's mountain scenery and ancient churches, castles and other monuments. *Source
Reuters/Yahoo
]]>