Common enemy:How five armies are uniting to tackle Nigeria's Boko Haram
<![CDATA[
Boko Haram crisis: Regional force takes shape
 By Tomi Oladipo*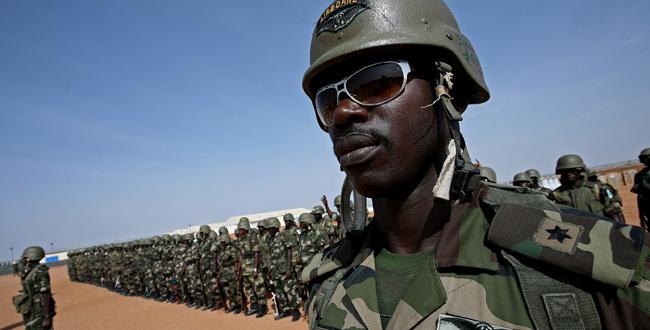 Military chiefs from Nigeria, Chad, Cameroon, Benin and Niger are finalising their strategy for a 8,750-strong regional force to tackle the militant Islamist group Boko Haram.
In the last few weeks, the Multinational Joint Task Force has retaken several towns captured by the militants in north-eastern Nigeria. Now, the regional chiefs are preparing for a major ground and air offensive due to start next month – and are meeting in Chad this week to set out the command structure. The force will be led by a Nigerian commander, after which the position will rotate among the members.
'Common enemy'
It is not clear whether Brig Gen Enitan Ransome Kuti, who was in charge before the force was boosted, will remain its head. He is highly respected but he and other senior officials were arrested in January by Nigerian military authorities after failing to fight off a Boko Haram attack on the force's headquarters in Baga in north-eastern Borno, one of three states under a state of emergency since 2013.
Regional force: Proposed numbers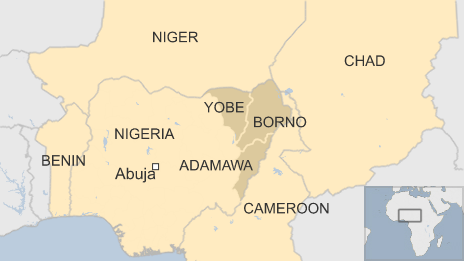 Nigeria 3,500
Chad 3,500
Cameroon 750
Niger 750
Benin 250
Relations between Nigerian and some its neighbours have not always been cordial but now, confronted by a common enemy, they have been forced to work together. The smaller version of the task force had been co-operating on some aspects of cross-border security for more than a decade.
Porous borders
With extra troops it is hoped the force will be robust enough to take on the militants, who have shown they do not respect regional borders. It will also have the behind the scenes support of France, the former colonial power of all those helping Nigeria. The US has also promised to provide communication equipment and intelligence. This is much needed across the vast and arid Sahel where surveillance is difficult along porous borders. The beefed-up force wants to capitalise on recent victories – like the recapture of Baga, its headquarters, last week. Soldiers have also found huge caches of arms, most of which the Boko Haram fighters had seized from Nigerian military armouries.
Rescuing schoolgirls
New supplies of equipment have boosted operations by the Nigerian military, which has been much criticised for its failure to stop the insurgents. This has given rise to some optimism amongst its beleaguered infantry – some soldiers have told me they will not run away from battle as others have done in the past fearing Boko Haram's firepower. [caption id="attachment_16623" align="alignright" width="300"]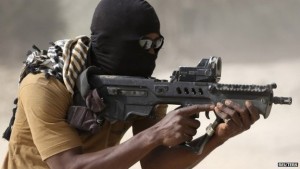 Morale is said to have improved in the embattled Nigerian military[/caption] Restoring Nigeria's territorial integrity and hunting down the insurgents in their hideouts – mostly in the forests and hills of Nigeria's north-east – will be one thing, but there is still the threat of bombings in urban areas. The group still targets populated commercial areas, using women and children strapped with explosives. These will be more difficult to detect. It has been almost a year since more than 200 girls were seized from their school in Chibok town – an incident that shocked the world. There have been many more, mostly women and children, kidnapped by the group. Two weeks ago I met Abigail, a 17-year-old girl who survived an airstrike by the Nigerian air force on the house where Boko Haram kept her and a group of other abducted girls and women. She got away with a broken arm but some of the others were killed. It is not clear where the Chibok girls are – there has been speculation that they are being held in the Sambisa forest or that they have been taken into neighbouring countries. The military will have to consider whether it can defeat the insurgents and still get these girls out alive. *Source
BBC
]]>