CAF ban ref, fine Tunisia after penalty drama
By Samm Audu*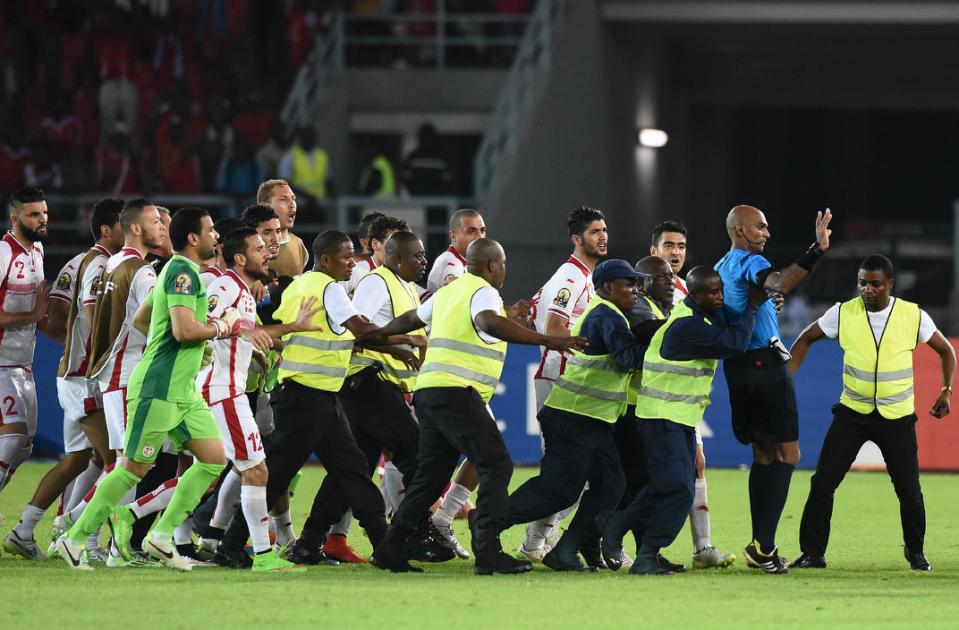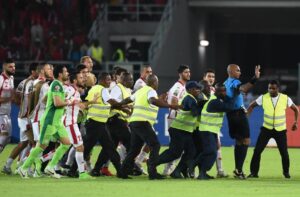 Bata (Equatorial Guinea) (AFP) – CAF banned Mauritian referee Rajindraparsad Seechurn for six months and slapped a $50,000 (43,000 euro) fine on Tunisia Tuesday after a controversial Africa Cup of Nations quarter-final in Equatorial Guinea.
The host nation equalised off a dubiously awarded stoppage-time penalty and went on to a shock 2-1 win over Tunisia last Saturday in Bata.
When the final whistle sounded, riot police had to protect the match officials from furious Tunisian players.
.
According to an African Football Confederation (CAF) statement, host nation Equatorial Guinea were fined $5,000 for a pitch invasion and warned to tighten security at match venues ahead of the semi-finals.
Ivory Coast face the Democratic Republic of Congo in the first in Bata Wednesday and 24 hours later Equatorial Guinea meet Ghana in Malabo.
The CAF referees committee "regretted" the poor performance of Seechurn in the quarter-final.
The Mauritian has been sent home from Equatorial Guinea and dropped from the CAF elite referees panel.
The CAF disciplinary board fined Tunisia $50,000 for "insolent, aggressive and unacceptable behaviour of the players and officials of the Tunisian team" during the match.
Tunisia will also pay the cost of the damages caused at the Estadio de Bata.
CAF have also ordered Tunisia to send a letter of apology, or provide evidence of the unfairness of CAF and their officials, before midnight Thursday.
Failure to do so will lead to additional sanctions against Tunisia, including a possible ban from the 2017 Cup of Nations qualifying competition.
CAF also condemned the conduct of Tunisian Football Federation president Wadie Jary, who entered the pitch to criticise the referee.
Jary resigned as a member of the Cup of Nations organising committee last Sunday in the aftermath of the controversial match.
The Tunisian federation said in a statement that Jary quit having been a member of the tournament committee since mid-2013.
Belgium-born Tunisia coach George Leekens suggested after the match that Seechurn might have wanted the home team to win, calling the penalty decision "forced".
Several Tunisian players echoed the words of the coach.
"The last thing you can call this is a football match," complained defender Mohamed Yaakoubi.
"We felt they wanted us to lose by force. The penalty decision was not justified and came at a crucial time — it was not fair what the referee did."
Asked by reporters if he believed the referee's decision was "premeditated", Leekens told them to look at the television replays.
However, Equatorial Guinea coach Esteban Becker dismissed the Tunisian complaints, telling reporters that refereeing decisions were "part of football".
*Source AFP/Yahoo