Boko Haram crisis: African Union backs regional force of 7,500 troops
<![CDATA[[caption id="attachment_16012" align="alignleft" width="300"]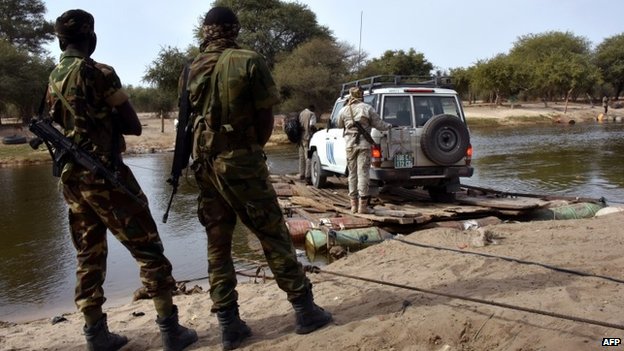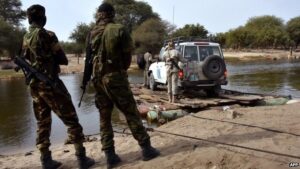 Chadian forces have beefed up their presence around Lake Chad, on the border with Nigeria[/caption]
The African Union (AU) has backed plans for a West African task force of 7,500 troops to fight Boko Haram militants.
AU commission chair Nkosazana Dlamini-Zuma said the threat posed by the Islamist group required a "collective, effective and decisive response". Boko Haram has seized control of a swathe of north-east Nigeria and killed thousands in a six-year insurgency. Four of Nigeria's neighbours – Benin, Cameroon, Chad and Niger – have agreed to contribute troops to the task force. Speaking after AU talks in the Ethiopian capital, Addis Ababa, Ms Dlamini-Zuma said the Multinational Joint Task Force (MJTF) would have an initial mandate of one year. She said it would conduct "military operations to prevent the expansion of Boko Haram and other terrorist groups' activities and eliminate their presence". The plan is now expected to be submitted to the UN Security Council for approval. Institute for Security Studies analyst Liesl Louw-Vaudran said agreement on the force represented a "turnaround" by Nigeria, given its previous opposition to international military intervention. However, she said it was not yet clear if the MJTF would be deployed as a border force, protecting Nigeria's neighbours from Boko Haram incursions, or whether it would attack the militants inside Nigeria.
'Not doing enough'
Nigeria has insisted that it is capable of tackling Boko Haram and is doing all it can to do so. However, some of its neighbours, including Niger and Cameroon, have criticised it for not doing enough. Chadian troops were recently deployed to Cameroon to help repel Boko Haram incursions. The country's forces have also reportedly been fighting this week in north-east Nigeria, helping to retake the town of Malamfatori from the militants. [caption id="attachment_16013" align="alignright" width="300"]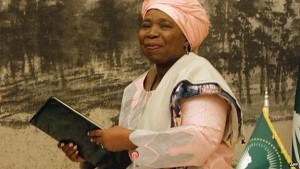 Ms Dlamini-Zuma said a decisive response was needed[/caption] It was not clear whether the Nigerian authorities had prior knowledge of, or approved, the cross-border operation. But late on Thursday, the Nigerian military said Malamfatori was "within the area of operation covered by the MJTF of which Chad has always been a part". It said the Nigerian air force had also been conducting missions in the area for the past two days. Previous plans to beef up regional forces against Boko Haram have foundered. A small MJTF had been based in the north-east Nigerian town of Baga, but the troops were withdrawn following disagreements with the authorities in Abuja. Shortly afterwards, Boko Haram attacked the town, which it still holds.
Satellite images
have shown widespread destruction in Baga and the neighbouring town of Doron Baga. Estimates for the number of those killed in the assault vary from 150 to more than 2,000.
Stoned
On Thursday, President Goodluck Jonathan visited Adamawa, one of three states placed under a state of emergency because of the insurgency. Speaking in the state capital, Yola, he said the army had just recaptured the town of Michika, leaving only one of Adamawa's local government areas, Madagali, in the hands of militants. Military sources told the BBC there had been a fierce battle for Michika and troops were carrying out mopping-up operations in surrounding villages. They cautioned that it was too early to say the army was in full control of the area. Meanwhile, the president's office has denied reports that his convoy was stoned on Thursday in Jalingo, the capital of Taraba state, which neighbours Adamawa. Mr Jonathan, who is campaigning for re-election, has had his convoy stoned at least twice in recent days. *Source
BBC
]]>