Angelique Kidjo Wins Her Second Grammy
<![CDATA[
"This Album Is Dedicated To The Women Of Africa"
By Farai Gundan*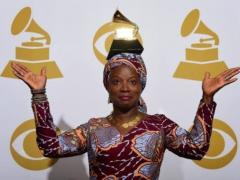 The new year has been off to a great start for world-renowned singer, songwriter and activist,
Angelique Kidjo
. Ms. Kidjo who first won a Grammy back in 2008 for her eighth studio album 'Djin Djin' which included a star-studded list of guest artists ranging from Branford Marsalis, Ziggy Marley, Alicia Keys, Carlos Santana to Peter Gabriel, won the 2015 Crystal Award in a ceremony opening the 45th annual meeting of the
World Economic Forum
in Davos, Switzerland on January 21st. Along with two other exceptional artists, Japanese architect Shigeru Ban and Italian opera singer Andrea Bocelli,
Ms. Kidjo
who was named a
UNICEF Goodwill Ambassador
in 2002, received the Crystal Awards for "not only being world famous artists but also concerned with humanitarian issues and committed to using their time and energy to make a difference," said Hilde Schwab, Chairperson and Co-Founder,
Schwab Foundation for Entrepreneurship
. "I want to dedicate this crystal award to the women of my continent. They are the backbone of Africa. I cannot be who I am without them. To all the women of the world, what you do is priceless; it is not a matter of color, of language, of nationality," said Ms. Kidjo receiving the 2015 Crystal Award.
Continuing with her winning streak, last night at the 57th annual Grammy Awards held at the Staples SPLS -0.96% Center in Los Angeles, California, the revered musician who was born in Cotonou, Benin, won her second Grammy for her 2014 album 'EVE' in the 'World Music' category that included Brazilian bossa nova legend Sergio Mendes and sitar player and composer, Anoushka Shankar. Receiving her Grammy award during a pre-telecast ceremony, Ms. Kidjo the first woman to be listed on FORBES' 40 Most Powerful Celebrities In Africa, said, "this album is dedicated to the women of Africa, to their beauty and resilience. Women of Africa, you rock! For me, music is a weapon of peace and today more than ever, as artists we have a role to play in the stability of this world."
The 54 year-old artist, whose work with UNICEF focuses on girls' education in partnership with her non-rofit organization, Batonga Foundation, has called for swifter action to contain the Ebola outbreak and advocated for increased efforts to improve the public healthcare system in West Africa in the wake of the epidemic.
*Source Forbes
]]>