AFCON 2015: DRC come back to win battle of the Congos
By Taimour Lay in Bata*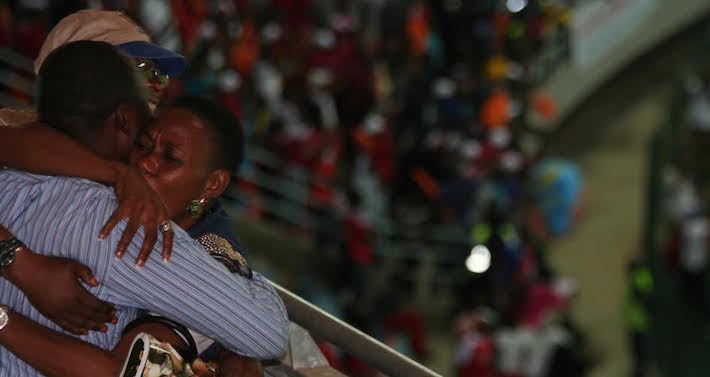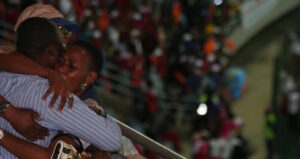 A remarkable second-half turnaround at the quarter-final match between the national teams of the two Congos, Democratic Republic of Congo (DRC) and the Republic of Congo, gives DRC manager Ibenge a place in the semi-finals.
Brazzaville and Kinshasa lie just 4km apart but proximity need not breed hostility. "We are the same country separated by a river," said Democratic Republic Congo manager Florent Ibenge before the Congo "derby" on Saturday, a quarter-final in which the pre-match talk was of ties rather than division, even after the tensions created by migrant expulsions last year.
But any more encounters like this remarkable 4-2 win for DRC, who came from two goals down in a devastating second-half, may well increase footballing rivalry over this most brotherly of borders.
On the hour it looked as though Congo-Brazzaville, marshalled by the canny Frenchman Claude LeRoy in his 8th AFCON, would complete a remarkable feat of making the last four. But his young side crumbled when DRC threw caution to the wind in a desperate bid to stay in the tournament.
The French and Belgian Congos first played one another in 1914, the teams borrowing a field at the Catholic mission in Brazzaville in a match described by a contemporary observer as a "fierce struggle".
This encounter 101 years later was unexpectedly languid until Congo-Brazzaville's opener in the 55th minute, Ferebory Dore ghosting in behind a static defence to volley in from close-range.
Thievy Bifouma made it 2-0 soon after to send a small pocket of Congo-Brazzaville fans delirious amid the empty red seats of Bata Stadium.
But Ibenge duly rolled the dice, switched from 4-3-3 to 4-4-2 and brought on Neeskens Kebano to provide the passes.
Dieudonne Mbokani provided hope at 2-1 in the 65th minute, Jeremy Bokila levelled with a left-footed strike into the top corner and suddenly the flow was all one way. Joel Kimwaki headed in with 10 minutes remaining and Mbokani made it 4-2 before the close.
The result means that Ibenge, one of only three African head coaches at AFCON 2015, will be one of the last four contesting the title.
For LeRoy it could be a farewell to AFCON. He called the result "the biggest disappointment of my career". It has been a long journey with this team.
Congo-Brazzaville had to endure two rounds of pre-qualifying and only reached the final group stage because Rwanda were found to have fielded an ineligible player in a penalty shoot-out win in Kigali.
They then beat Nigeria 3-2 away in their opening qualification group contest, eventually finishing second with 10 points.
Notwithstanding the goals and drama, the quality of the football exposed how far these two nations have fallen since their heydays – DRC won the competition in 1968 and 1974 [as Zaire], while Congo took the title in 1972.
Of the two, it is of course DRC whose sheer size, and relatively strong domestic league bolstered by mineral wealth, have always suggested latent potential on this sort of stage.
DRC will now face either Algeria or Ivory Coast in the semi-final on Tuesday.