Zambia votes after president's death sparks power struggle
<![CDATA[By Susan Njanji* [caption id="attachment_15615" align="alignleft" width="300"]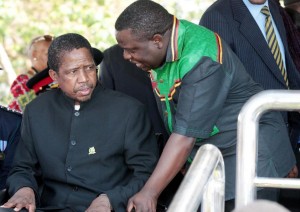 Edgar Lungu, pictured (left) in Lusaka in October, is a front-runner in Zambia's presidential election (AFP Photo/Chibala Zulu)[/caption] Lusaka (AFP) – Zambians head to the polls on Tuesday in a special election to chose a new president for the copper-rich southern African nation and replace Michael Sata who died last year.
The contest is expected to be close between two frontrunners — Defence and Justice Minister Edgar Lungu, 58, and opposition leader Hakainde Hichilema, 52.
The stakes are high for Lungu's ruling Patriotic Front, which goes into the vote badly fractured by a bitter power struggle after Sata's death in October, just three years into his five-year term.
Two opposing camps — one led by Lungu and another by interim president Guy Scott — nominated rival presidential candidates.
After many weeks of mud-slinging, Lungu emerged as the sole candidate — but that left the party weakened and unable to mount a solid campaign just a month ahead of the vote.
Scott — Africa's first white leader in 20 years — cannot stand for the presidency himself as his parents were not born in Zambia.
"There is panic on the part of the Patriotic Front because of the prospect of them losing the election after having served only three years," said Lusaka-based political analyst Neo Simutanyi.
Despite the succession battle, Lungu has the ruling party advantage and could also enjoy a sympathy vote after the death of Sata, various analysts said.
Lungu told AFP in an interview that the party's track record showed "what we are capable of doing".
But despite growth-oriented policies and a stable economy over the past few years, at least 60 percent of Zambia's population of about 15 million lives below the poverty line, according to World Bank figures.
The vote is taking place shortly after the government controversially trebled mining royalties and raised corporate taxes for smelters, a move producers fear could lead to job loses.
– No candidate has complete advantage –
Lungu offered an olive branch to his opponents both inside and outside the party, pledging to form an inclusive government if he wins office.
His toughest challenge comes from Hichilema of the United Party for National Development (UPND), despite the fact that he has lost three previous attempts at the presidency.
Hichilema is expected to perform better this time around because he is the most well-known of the 11 candidates and is likely to draw votes from other opposition parties that are in disarray.
Both men promise to alleviate poverty and create jobs in an investor-friendly economy.
But Lungu is seen as a humble man whom voters relate to easily, while Hichilema is wealthy and perceived as elite.
[caption id="attachment_15616" align="alignright" width="300"]
Zambia's acting president Guy Scott cannot stand in the presidential election as his parents were born outside Zambia (AFP Photo/Chibala Zulu)[/caption]
The UPND has 32 members of parliament and the PF has 74, so if Hakainde wins he will have to run the country with a minority in parliament.
The former governing party, the Movement for Multiparty Democracy, has 37 parliamentary seats and is fielding evangelist Nevers Mumba as its candidate, but analysts give him little chance. "Hakainde may be able to swing it, there has been too much blood on the (PF) floor," said Martin Rupiya, a senior researcher with the University of South Africa. But in the absence of opinion polls, analysts are cautious with their predictions. "As things stand right now, I don't think any of the candidates has a complete advantage," said Simutanyi, director of the Centre for Policy Dialogue think-tank. "So the pendulum is somewhere in the middle and it can tilt either way."
If Hichilema does win, it would be the third time in 25 years that power has changed hands peacefully from one party to another, an enviable reputation in a region where some parties have clung to power for more than three decades.
"When Zambian politicians lose power, even when they have been in power for 20 years, they don't try to engage in dirty tricks and hold onto power," said Cathal Gilbert, an independent political analyst who closely follows developments in Zambia.
Whoever is elected will serve out the remaining 19 months of Sata's term.
Sata, who won the 2011 vote with 42 percent, was Zambia's second leader to die in office in six years, sparking calls for presidential aspirants to undergo medical checks to guarantee they are fit.
*Source
Yahoo/AFP
]]>