'We don't want you here!' – Guinea skipper opens up on Ebola abuse
The captain of Guinea's 'Ebola Team' says the abuse they have suffered because of the virus has made them more determined than ever to succeed at the AFCON.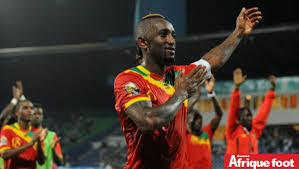 MALABO, Equatorial Guinea — At the opening game of Group D here, Cote d'Ivoire had hundreds of supporters dressed in bright orange on all sides of the pitch. For the later fixture in the same stadium, between Cameroon and Mali, both teams had at least 3,000 fans in a crowd of about 14,000 – mostly migrant workers who live in Equatorial Guinea.
Guinea had barely any fans. Guineans are not welcome. Guineans are treated "like the plague," stigmatized because their nation is one of the three in West Africa that has suffered the worst ravages of the Ebola epidemic. Nearly 2,000 Guineans have lost their lives.
Yet the hosts have treated Guinea the same as any other team. There have been no complaints. They are sharing a luxury beachside hotel with Cote d'Ivoire and enjoying far better treatment than when their coach, Michel Dussuyer, made the "plague" comment during qualifying.
Those few fans who did make it to the Nuevo Estadio de Malabo carried around a banner that read 'God is great – Good luck Ebola Team!' The neutrals gave them plenty of support as Guinea held favorite Cote d'Ivoire to a 1-1 draw. The Syli National, as they are known, now look forward to taking on Cameroon on Saturday and giving the supporters back home in West Africa something more to cheer.
"There is a huge interest in the team back home, you can't imagine," said Kamil Zayatte, the Syli captain who had to sit out the first game with his right leg heavily strapped. "There is so much misery. We want to give them some happiness."
The players also want success to prove a point to some of the nations that treated them so badly during the qualifying matches.
"Uganda was the worst," said Zayatte. "And Togo. They were the first team to say they didn't want to come to Guinea. We beat both of them in our 'home' games in Casablanca and we really enjoyed that. Of course I can understand why they treated us with caution, but it was too much.
"When we planned our journey to Uganda we had our usual group of about 50 people [players, coaches, managers, medical staff, officials]. Uganda said, 'No, you can only bring 18 players and four others.' We had to get a ruling from CAF [Confederation of African Football] to get everybody into the country.
"As soon as we landed the airport workers were saying, 'We don't want you here, you have the virus'. Every player had come from Europe! They locked us away in a compound guarded by the military, and we couldn't even go on to the street. At the match the crowd were chanting 'Ebola! Ebola!' We had a lot of abuse. It was horrible.
"We lost 2-0 and we said afterwards, 'OK, we are gonna beat you in the next game.' We did, and that was the win that took us to this tournament. That was a special feeling."
Guinea played its three home games and held its training camp in Casablanca. This seems unusual to say the least, given that Morocco had withdrawn as host of the Cup of Nations because of fears about the virus.
"Yes, it's strange," said Zayatte. "There is a close relationship between Guinea and Morocco and they were very friendly. There are many students from Guinea in Morocco and we had 6,000 or 7,000 supporters at the matches.
"There is trouble between Morocco and Algeria, and a lot of people think they withdrew because they were worried about terrorism, not Ebola. Maybe they are right."
Junior Binyam, CAF's head of media, said: "I wish I was a Moroccan official who could explain it. It makes no sense."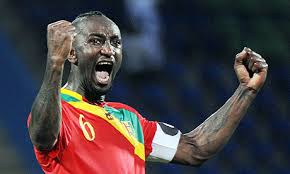 Zayatte, a 6-foot-2 defender, who has suffered a series of injuries in recent seasons, aims to split his time between England and Guinea when he retires. He played for Hull City for three years and would have joined Leicester City but for failing a medical. He signed for Sheffield Wednesday in 2013 but has made only five appearances in another injury-affected season.
Before the tournament, the 29-year-old already knew what it was like to be quarantined. When news of the virus first broke he was in Guinea, visiting his mother. He rang his club, Sheffield Wednesday, and as a precaution on his return he was confined to his home for 21 days.
"I was very worried during that time," said Zayatte, whose wife and three children also live in Sheffield. "Nobody knew much about the virus at the time, and a lot of people in Guinea thought it was just like malaria, something you could treat yourself. I needed to be sure that I didn't have any symptoms of the virus."
Both his parents and two of his brothers live in Conakry, the capital, and his five other siblings are in France. All the team's players have relatives in Conakry, he said, and none has lost any relatives to Ebola. They all take money home for their families in Guinea and do not want to stop returning to Conakry.
"The virus is not there," he said. "If we stop going, our families will suffer."
*Source Goal.com