Uganda: Rebel Gen. under house arrest
<![CDATA[By RISDEL KASASIRA* [caption id="attachment_15148" align="alignleft" width="300"]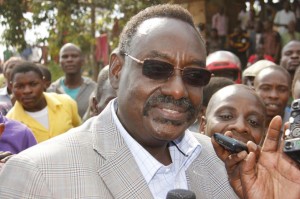 In this photo taken Tuesday Dec. 23, 2014, General David Sejusa returns to the capital Kampala, Uganda. The Ugandan renegade General David Sejusa was Friday put under house arrest by the Ugandan military police in Kampala, said his political pressure group. Gen. Sejusa returned from exile in London in December in what seemed to be a negotiated settlement with Museveni, Uganda's long-serving president. (AP Photo)[/caption]
KAMPALA, Uganda (AP) — A military general who recently returned from exile in Britain has been put under house arrest by soldiers, a Ugandan opposition group said Friday.
The group, Free Uganda, said the arrest of the four-star Gen. David Sejusa was "a cowardly act" by President Yoweri Museveni's regime.
Sejusa returned from exile in London in December and on Thursday told journalists that he had turned down Museveni's invitation to meet for reconciliation. He heads a political party opposed to what he says is Museveni's increasingly authoritarian rule.
Military spokesman Lt. Col. Paddy Ankunda said the military action is intended to give Sejusa protection. Government spokesman Ofwono Opondo tweeted: "the renegade and bellicose Gen. Sejusa has been put under military confinement by the Uganda People's Defence Forces or UPDF and is safer that way."
Journalists were barred by heavily armed military police from getting close to the scene.
The army had previously said Sejusa faces charges of treason, and some of his aides were arrested and charged with plotting to overthrow Museveni's government after he fled the country in April 2013.
At the time, he had written a letter to the domestic spy chief urging him to investigate allegations of a plot to kill high-ranking government officials seen as being opposed to the political rise of Museveni's son, Muhoozi Kainerugaba, who runs the country's special forces. Many Ugandans believe Muhoozi is being groomed to succeed his father. Museveni denies it.
*Source
Yahoo/AP
]]>