Sudan Artist Says He'll Keep Cartooning Despite Threats
<![CDATA[By Karin Zeitvogel* [caption id="attachment_15338" align="alignleft" width="468"]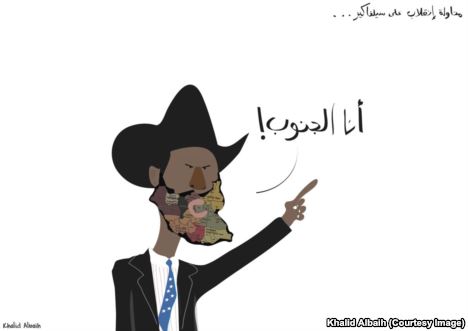 South Sudanese President Salva Kiir says "I am South Sudan" in Arabic in this cartoon by Sudanese cartoonist Khalid Albaih.[/caption] Khalid Albaih knows what it's like to be threatened for poking fun at world leaders. The 34-year-old has been doodling since he was a child in Sudan, and turned his talent to drawing political cartoons when he was at university in Qatar. "You get over being threatened for what you draw," he told South Sudan in Focus in an interview from Doha, where he now lives, on the day that 12 people, including four of France's best satirical cartoonists, were gunned down in an attack on Charlie Hebdo magazine in Paris. "It doesn't really matter any more. If you're not dead, then you're OK," he said. On Wednesday, Albaih posted this cartoon on his Twitter feed with the hashtag #CharlieHebdo. Albaih said he is deeply saddened by the deaths of four fellow satirists in the Charlie Hebdo killings. "They were just doing their jobs. These are innocent people. They never killed anybody. They never meant to harm anyone," he said. But he also fears the inevitable anti-Muslim backlash that the Charlie Hebdo killings will provoke, Albaih said. "Islamophobia was already on the rise in Europe and all around the world," he said. "There's a huge Muslim community in Europe and these are the people who are going to suffer. Going in and killing people who are doing their jobs is not going to solve the problem at all. You're making the problem worse. You're not defending Islam – you're adding oil to the fire," he said. Charlie Hebdo often featured caricatures of the Prophet Mohammed on its cover. Its journalists have been threatened on numerous occasions, and the building that housed the weekly satirical magazine was firebombed in 2011 after Charlie Hebdo published a special issue that was "guest edited" by the Prophet Mohammed. Reports from France say that the two suspected shooters, who have been identified as brothers Cherif and Said Kouachi, shouted that the Wednesday killings were vengeance for the blasphemy committed against the prophet.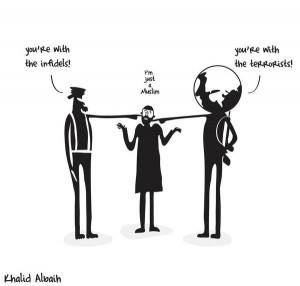 Albaih said Muslim extremists are generally young men with little education who are "taught by the wrong sheikhs or mullahs and have probably been through a lot of experiences with racism or Islamophobia." "That's not an excuse — I'm just trying to see, 'Why would you have to kill to prove your views?'" he said, thinking aloud. "Part of the reason is, we have no heroes. Our politicians are liars, our governments are corrupt, the people are hungry.  We don't have social insurance, the people don't have even basic human rights, health insurance. Their kids are hungry," Albaih said. "So when the West comes and ridicules the only person they think of as a hero, the only person they have left, that's when problems will happen."
Poking fun at political leaders
Albaih has poked fun at South Sudanese President Salva Kiir, Sudanese President Omar al-Bashir, and Syria's President Bashar al-Assad in his cartoons. He has depicted Egyptian general-turned-president
Abdel Fattah al–Sisi as a pharaoh;
shown a fighter from the hard-line Islamic State group, also known as ISIS or ISIL, giving advice on getting media coverage of the Ebola virus; and used his pen to criticize the lack of rights in the Arab world. To mark South Sudan's third anniversary of independence last year, Albaih drew a birthday cake piled high with bodies and ringed with grenades. "Part of my family is from South Sudan. It's such a shame because I had so much hope for that new nation. We thought it was going to be everything that Sudan is not. It's young, it's rich, it has all the factors to be the right country," he said.
Online dialogue
Albaih has been unable to sell his cartoons to politically conservative newspapers in the Middle East where he now lives, so he posts them online. He said that by posting his work on social media, his cartoons spark conversations. "Someone will say, 'I don't agree with this because of so-and-so.' And somebody else will come in and say, 'You're a spy for the CIA, someone's paying you to do that.' And people will start talking together: Islamists will talk to Communists, everybody will start engaging in a dialogue. This is what I want — that people talk," he said. [caption id="attachment_15340" align="alignright" width="640"]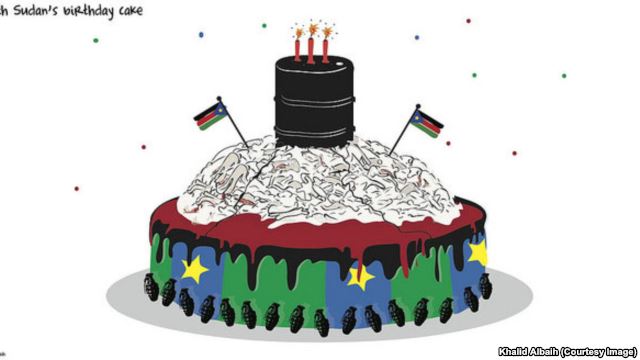 A cartoon birthday cake by Sudanese cartoonist Khalid Albaih to mark the third anniversary of South Sudan's independence on July 9, 2014.[/caption] "We need to listen to each other. We don't need to be extreme about our views. The West  needs to listen to the East, and the East needs to listen to the West — just know each other. People are scared of what they don't know and this is the problem," he said. Albaih said the Middle East is "full of extremists" but added that they represent, as their name implies, the extreme view of Islam. Their views are not shared by the majority of Muslims, Albaih said. "I don't agree with a lot of what the Charlie Hebdo cartoonists used to do but this is their right to do it. This is freedom of speech, this is France," he said. "I don't think I've met a Muslim who was happy about the cartoons but not everyone went there and shot them," he said. His own cartoons raise hackles but Albaih said that, just as the satirists at Charlie Hebdo refused to bow to threats against them, he has no intention of abandoning his cartoonist's pen. In fact, he said he will do the opposite, and "…push the limit as much as I can because you'll never know where your red line is unless you keep pushing… or you get shot." *Source
VOA
]]>