South Africa: Malema Will Never Leave the EFF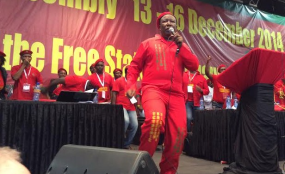 Photo: Getrude Makhafola/Sapa
EFF leader Julius Malema (file photo).[/caption] Johannesburg — EFF leader Julius Malema on Tuesday tweeted he will never leave his party following claims that he planned to return to the ANC. "I will never do that to my people, the EFF remains my only political home now and for the rest of my life," Malema said on his Twitter page. "I will be buried with the red flag." He could not be reached for verbal comment. The Citizen reported that Malema was in talks with the ANC to return to the ruling party. Malema was expelled from the ANC Youth League and went on to become president of his own party the Economic Freedom Fighters. The ANC denied the claims.
"The report in The Citizen: we are not aware of it. There are no discussions between the ANC and Malema," African National Congress spokesman Zizi Kodwa said. "However the ANC remains open to people who want to come back, who were members of the ANC before and left for whatever reason." He said the ANC would not reject any person wanting to return "home" because it was an organisation of the people. Kodwa also dismissed the newspaper's other claim that EFF MP Magdalene Moonsamy would be returning to the ANC. "We are unaware of her return," said Kodwa. "If Malema and others want to come back voluntarily, the ANC will always welcome them." *Source
Allafrica
]]>