Short-term presidents – The country where each leader stays in office for less time than his predecessor
<![CDATA[
Zambian election: Five things you need to know
* [caption id="attachment_15702" align="alignleft" width="300"]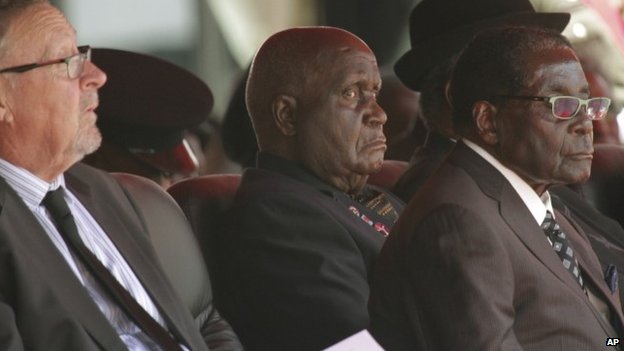 Kenneth Kaunda, seen here between Guy Scott and Robert Mugabe, has outlasted three of his successors[/caption]
A presidential by-election will be held in Zambia on 20 January after former leader Michael Sata died in office last year. Here are five things you need to know about the poll.
1: Medical tests
After the recent deaths of two serving presidents, there have been calls for the four presidential candidates – Edgar Lungu, Hakainde Hichilema, Edith Nawakwi and Nevers Mumba, who are all in their 50s – to undergo medical tests to prove they are fit to hold office. The debate was sparked by Chongwe MP Sylvia Masebo, who defected from the governing Patriotic Front (PF) to opposition candidate Mr Hichilema. She accused Mr Lungu of being physically unfit to hold office and challenged him to take medical tests. His spokesman said Mr Lungu was ready to take any tests, any time. It is not known if he has done so.
2: Beyond race?
Guy Scott, a white Zambian of Scottish descent, was appointed interim president a day after Mr Sata died. A section of Zambia's constitution known as the indigenous clause prohibited the 70-year-old from contesting the election, on the grounds that his parents were not born in Zambia. Much was made by the international media about him being mainland Africa's first white president for 20 years but for many ordinary Zambians, his skin colour didn't seem to matter. Many said they saw him simply as Zambian. Mr Scott has been a major political player since the 1990s, shifting from party to party until he ended up in the PF, as Mr Sata's running mate. The two were known to be close friends. His relationship with PF's presidential candidate, Edgar Lungu, has not been good. A disagreement burst into the open when Mr Scott sacked Mr Lungu as party secretary-general. He was forced to reinstate him shortly afterwards when other party figures objected.
3: Friends with China
Mandarin is taught in many government schools in Zambia. This is an indication of China's deep economic ties to Africa's copper giant but the relationship has not been without controversy. There are allegations that Chinese mining companies are exploiting locals by paying poor wages. Mr Sata won the 2011 elections partly by campaigning against foreign companies exploiting Zambian workers. When he was in office, the close economic links continued. China's influence on Zambia was also visible during last year's jubilee celebrations. A Chinese company was hired to lead the commemorations by teaching Zambians martial arts choreography.
4: Two-year mandate
Elections in Zambia are held every five years. So whoever wins these polls will be in office for less than two years, leading up to the general election in 2016. Zambia has a vibrant democracy, with several different parties presenting a strong challenge to the governing party. Elections have been held regularly since the end of one-party rule in 1991. Zambians now expect their leaders to leave office peacefully.
5: After Kaunda
Long-time leader Kenneth Kaunda, who left office in 1991, has so far outlasted all but one of his permanent successors. Two presidents died in office, one died after standing down and the fourth, Rupiah Banda, is still alive. Mr Kaunda, born in 1924, is himself still going strong as he approaches his 91st birthday. Another oddity is that each successive Zambian president has served a shorter time in office than his predecessor. Mr Kaunda leads the way with 27 years and nine days. He is followed by Frederick Chiluba (10 years, 61 days), Levy Mwanawasa (six years, 230 days), Mr Banda (three years, 86 days) and Mr Sata (three years, 35 days). Were the winner of this election to then lose the 2016 poll, that trend would continue. *Source
BBC
]]>