Mistrust between Nigeria, Cameroon stalls fight against Boko Haram
<![CDATA[By Bate Felix*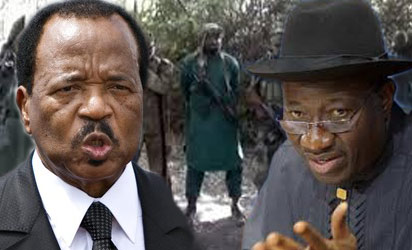 DAKAR (Reuters) – Mistrust between Nigeria and neighboring Cameroon as well as disagreements over how to deploy troops against Boko Haram have stalled efforts to set up a regional force to combat the Islamist militants.
Failure to launch the 2,800-strong mission as planned in November has left the insurgents in control of large swathes of Nigeria's north east from where they launch attacks.
The group, which aims to carve out an Islamist emirate in northern Nigeria, carried out a scorched-earth raid this month on Baga, a town on the shores of the Lake Chad that was due to serve as the headquarters for the regional force.
The fall of Baga and reports of the slaughter of up to 2,000 inhabitants underscore the risks of Nigeria and Cameroon failing to work together.
Amid mounting international alarm, Ghana's President John Mahama, chairman of the West Africa regional bloc ECOWAS, said leaders would press the African Union next week to create a multinational force.
But countries of the Lake Chad region are still expected to form the backbone of any mission. Defense and foreign ministers from the four nations were meeting in Niamey on Tuesday but analysts do not expect a breakthrough on deployment.
For joint military action to succeed, the countries must bury their differences and pool troops and intelligence under a unified command, experts and diplomats said.
"The principal thing that has been stopping this multi-national force from coming about has been the historical distrust and underlying tensions between the two key players: Nigeria and Cameroon," said Imad Mesdoua, an analyst with the London-based Africa Matters consultancy.
DANGER
The four nations of the Lake Chad Basin — Cameroon, Chad, Niger and Nigeria — agreed to bring their forces together to fight Boko Haram in October, together with a contingent from Benin, which borders Nigeria to the west.
But disagreements surfaced over how to deploy the troops. Cameroon insisted that, because Boko Haram was an internal Nigerian issue, foreign troops should not be sent into the country, diplomats and military officials said.
Yaounde was also concerned about allowing Nigeria's army to chase Boko Haram into its territory because of its soldiers' poor human rights record, another diplomat said.
Nigeria says Cameroon has been too passive in the fight against the insurgents and allowed Boko Haram to use its territory as a rear base and supply route.
That appears to have changed, with Cameroon's elite Rapid Intervention Brigade clashing with the insurgents almost daily.
Ghana's President Mahama says the growing threat is forcing Lake Chad countries towards cooperation.
"Mistrust is one of the obstacles but I think that with the clear and present danger most countries face if something was not done about Boko Haram, we have reached the point where they are willing to work together," he said.
However, neighboring countries blame Nigeria's military shortcomings. In October, it was agreed that regional troops in Baga would play a defensive role at the border while Nigerian forces would attack Boko Haram within its territory.
But Niamey pulled its troops from Baga after the Nigerian army lost town after town to Boko Haram and its soldiers fled into Niger.
"Even early on, it became apparent that the Nigerian troops were somewhat avoiding battles and were not vigorously taking on Boko Haram offensives," a senior military officer in Niamey said. "Chad and Niger decided to withdraw their troops from Baga, unwilling to serve as cannon fodder."
Nigerian defense ministry spokesman Gen. Chris Olukolade, taking questions on Twitter, denied the military leadership was "corrupt and incompetent" and said the armed forces were "highly patriotic and committed".
FED UP
Following a lull in attacks between late October and early November, Nigeria announced a surprise ceasefire with the group, brokered by Chad. However, it was rejected by Boko Haram, which stepped up its attacks.
Ahead of Nigeria's Feb. 14 presidential election, the army has been on the back foot rather than preparing counter offensives, Mesdoua said.
This has allowed Boko Haram to stage attacks with increased fire power in Cameroon, angering officials in Yaounde who accuse Nigeria of abandoning the fight.
"We're getting fed up with the situation. Nigeria has to take its responsibilities," Cameroon army spokesman Colonel Didier Badjeck said. "We cannot continue to support the weight of a war which we don't even know the whys and wherefores."
Badjeck said Nigerian forces were abandoning combat and leaving behind weapons later used by the militants to attack across the border.
Cameroon has appealed for international help, prompting Chad to send several hundred troops to the country over the weekend. Washington has pledged to support Cameroon and neighboring countries with military equipment and training.
France has promised to help coordinate intelligence-sharing and joint operations.
"The centrality of intelligence sharing and communication cannot be underestimated in a fight like this one," said Mesdoua. "They don't talk one another or share information on what is happening in real time."
*Source
Reuters/Yahoo
]]>