Manufacturing: Join the Adding value chain
<![CDATA[By Nicholas Norbrook* [caption id="attachment_15886" align="alignleft" width="300"]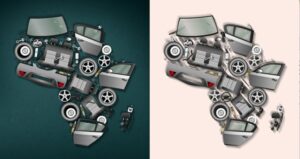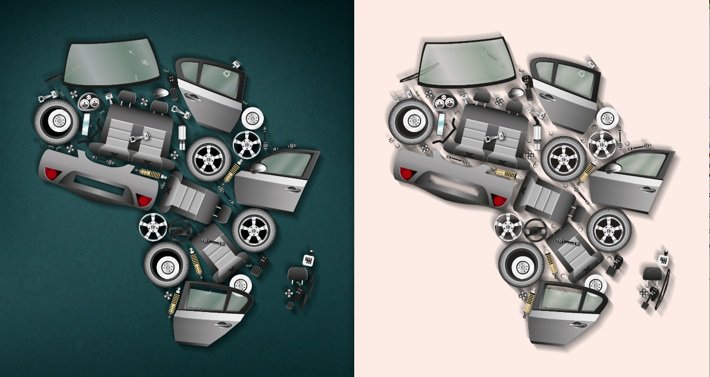 IMAGE©EMERIC THÉROND FOR TAR[/caption] A few African governments are seeking to attract international investors and link up to global value chains. Exporters and outsourcing operations can create much-needed jobs for the millions of young Africans entering the workforce each year. With unnatural precision and surprising grace, a mechanical claw dances around a half-metre piece of metal, neatly pouring lubricant down one side and welding it shut in a final flurry of sparks. An auto part falls into a waiting bin. A youngish woman grabs a fresh piece of metal, slots it carefully into the waiting maw and stands back. Again, the robot waltzes. The factory belongs to SNOP, a French auto-parts supplier to another French company, Renault. Both have opened factories in Tangiers, northern Morocco, tempted by tax breaks and good logistics in free trade zones that sit alongside training institutes built to deliver the required skills to work in these specialised manufacturing operations. It represents Morocco's attempt to break into one of the world's richest value chains. The combined revenue of the top two automobile makers, Volkswagen and Toyota, approached half a trillion dollars in 2013, roughly the gross domestic product of Nigeria. The great decline in transport costs in the past 30 years, made possible by things like the standardisation of shipping container lengths, has made it ever more profitable for companies to outsource various parts of their production and other processes. Hence an Airbus A380 includes pieces made in many different countries, including Morocco and Tunisia, assembled in another and serviced in yet another. This dense network of suppliers is the Airbus global value chain. China's shift With 13 million young Africans hitting the job market every year, there is both a huge opportunity and a huge challenge. The chairperson of the AU, Nkosazana Dlamini-Zuma argues that this is a pivotal movement for the continent, telling delegates at the EU-Africa trade summit that "as China moves up the value chain, Africa is poised to seize the opportunity to become the next hub of textile production." Africa has already started the journey. Egypt has had success in integrating into the Microsoft value chain for example, with Egyptian companies helping to repackage the software giant's programmes for the Middle Eastern market. Lesotho and Mauritius both supply major clothing retailers in the US and Europe. Kenya and Ghana are taking on some of the back-office and call-centre functions of multinationals. Regional value chains are important, too: South African retailers are starting to catalyse value chains in African agriculture, for example. The first hurdle is well known: infrastructure. To pull in foreign investors, many countries globally and in Africa choose to create special economic zones (SEZ), enclaves well endowed in power, water and transport links in which foreign companies can work isolated from predatory and badly run national bureaucracies. Ethiopia's nascent textiles sector and Morocco's auto, aeronautic and electronic sectors use this model, while South Africa created a new SEZ law in May 2014 to reorganise its own zones. Domestic companies obviously face the same infrastructure con- straints. "Forty per cent of our production costs are power, when it should be under 10%", says R.I. Odiah, managing director of Bennett Industries in Nigeria, which manufactures light fittings. From his vantage point on the executive committee of the Manufacturers Association of Nigeria, he sees other problems that resonate across the continent. A lack of funding is one of them. Banks in Nigeria rarely lend for more than a year, whereas manufacturers often need to import raw materials, process them and then sell products, "so we need a period of cost recovery," says Odiah. In Nigeria, there is only one bank devoted entirely to manufacturers, the Bank of Industry. Cost effect Taxation is also an issue, for similar reasons. While traders, who make up the bulk of economic operators in Nigeria, can turn a quick profit, the cash conversion cycle for manufacturing is longer. These business-climate concerns are not static. An August 2014 report by the Boston Consulting Group explains that the new world is no longer set into two manufacturing zones, one expensive the other low-cost: "Who would have thought a decade ago that Brazil would now be one of the highest-cost countries for manufacturing— or that Mexico could be cheaper than China?" The appreciation of Brazil's currency and rising costs hurt the country's attractiveness for manufacturers.
They are not masochists who want to get into the low-margin manufacturing
It is easy to get pushed out of a given chain. Before the revolution, Tunisia attracted Airbus part manufacturers. Recently, Cédric Gautier, chief executive of parts supplier Aircelle, chose to locate a $40m new factory in Morocco, creating 400 new jobs. Gauthier confirmed that the factory had originally been destined for Tunisia. Once governments have sorted out the infrastructure hurdle and have a relatively supportive business climate, moving up the value chain is the next goal. The manufacturer who sells the finished BMW or Airbus makes more profit than a company that just assembles parts. How does that happen? Is it the role of government or the private sector or a combination of both? Is it just about an ever-improving business environment? Should government be encouraging or coercing multinationals to partner with local companies to en- courage the sharing of skills and technology? There is no single answer here – each country chooses its path, and some more consciously than others. There are academic disagree- ments over what extent particular value chains can be targeted and how much a country's comparative advantage can be flouted, but some things seem transferable from other countries' experiences. Education, for example, is essential for moving up. The search for skills is now global, says Anabel González, previously minister for foreign trade of Costa Rica and now a senior director for global practice on trade and competitiveness at the World Bank. "An executive from Hewlett-Packard told me, 'If you have a particular country which graduates 300 engineers in cloud computing, we will hire them. If you graduate 5,000 engineers, we will hire them.'"
Weak links
An active industrial policy can help to move up a value chain too. South Africa is keen to make the most of its auto industry, pushing for greater value-added in the sector – not just providing cheap labour for assembly. In contrast, in Morocco there are still quite weak links between Renault and local suppliers, a criticism that can also be heard about the outsourced manufacturing work done in Tunisia. Tajeddine Bennis, who runs the Tangiers SNOP factory, says that Moroccan entrepreneurs are too happy to focus on quick profits. "They are not masochists who want to get into the low-margin manufacturing", he says. South Africa has not found it easy to get greater local content in the auto-parts sector. Less than 40% of the net value of the components made in South Africa is local however, says the National Association of Automotive Component and Allied Manufacturers (NAACAM). The government – which styles itself as developmental and therefore willing to take a more active role in helping businesses up value chains – has policies to remedy this. The Motor Industry Development Programme, launched in 1995, was successful in boosting car exports, but this was often achieved by importing components for re-assembly. Adjusting its aim, the government launched the Auto- motive Production and Development Programme in January 2013, replacing the export incentives with local production incentives. For example, a local assembly allowance permits manufacturers with a turnover of more than 50,000 units to have duty-free access for 20% of their components. The government also provides grants for new plants and machinery that equals 20% of the project cost over three years. As in Morocco, the first-tier auto- parts suppliers in South Africa are foreign. And though South Africa has a much greater number of domestic companies involved in lower-tier manufacturing compared with Morocco, it is still relatively low. NAACAM executive director Roger Houdet says more must be done to help second-tier and third-tier suppliers. "It's difficult. They are small companies. They don't have the management skills or human resources to address these issues. And we need to address this, as they are the ones that will be bringing increased employment and tomorrow there is the risk that they might disappear." A new body, the Automotive Supply Chain Competitiveness Initiative, brings together manufacturers, labour and government and may offer a solution. There is no guarantee of success. With rising labour costs and no equivalent rise in productivity, South Africa may also risk its place in automobile value chains. Industrial policy – giving subsidies and protecting domestic industry, for example – can quickly lead to crony capitalism. A recent report by the World Bank on pre-revolution Tunisia shows that 20% of all corporate profits ended up in the pockets of just 114 relatives of ousted President Zine el Abidine Ben Ali.
Investing in skills
Nigeria's finance minister Ngozi Okonjo-Iweala angrily bats aside these concerns, pointing to the way newly industrialised countries have used industrial policy to develop. "Why is it OK if some of the countries we admire today like South Korea, India or Brazil use these policies, but if Nigeria wants to use them it suddenly becomes a problem?" She points to the new regulatory framework that Nigeria is working out in this area, including a competition law, as a way of balancing concerns around making local business inefficient by over-protection. There are other ways to help local companies climb the chain. In her ministerial days, Anabel González found that could be done in two ways: putting in place mentoring programmes that actively linked them to multinationals, and helping fund training so that companies could meet the demanding certifications required. This latter approach required state-backed funding for local companies investing in their own skills "because the multinational cannot guarantee beforehand that they will be buying their production, so [local companies] might not have the collateral they need to get a loan," says González. She argues that there is an easy triple win: multinationals usually want a local supply chain because it is cheaper, local companies make more money if they integrate into a value chain and governments want to foster productive companies. General Electric sees things this way and is working in Calabar, Nigeria, to create a manufacturing hub and build up a local supplier base. In the 1980s, Malaysia's Vendor Development Programme encouraged multinationals to help local suppliers become more competitive. Intel, for example, provided financial and technical assistance to Malaysia's Engtek to produce semi-automated wire bonders in 1981. Engtek is now a global supplier of computer hard drives and semiconductors, with an annual revenue of more than $200m and factories in Thailand, China and the Philippines. Bennett Industries' Odiah argues that Nigeria's government has yet to take these ideas of technology transfer and local partnerships seriously. Without them, he is worried that "the investor can come in, and the moment the conditions are not to his liking, he can roll it up and move out." Jacqueline Chimhanzi, a senior strategist at South Africa's Indus- trial Development Corporation, says even if investors eventually close operations, it does not matter so long as African governments have played their hands right. "They will have negotiated the skills transfer, the technology transfer. So even if [investors] leave, you are higher up the value chain than you would have been," she says. Aside from a few honourable exceptions, this is exactly the kind of negotiation that African leaders have not been successful with, she says: "Africa has so much leverage that it is not using to its advantage. We have what the world needs." *Source
 theafricareport
]]>