Life in Boko Haram territory
<![CDATA[By Konye Obaji Ori* [caption id="attachment_15710" align="alignleft" width="480"]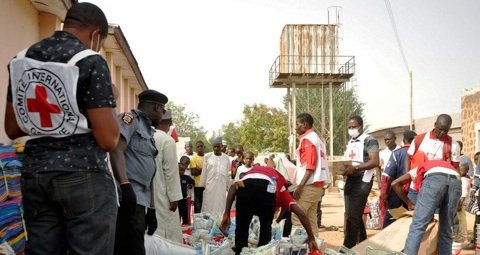 Nigerian Red Cross say one of the first things they do when a town falls back into government hands is to clear corpses. File Photo©Reuters[/caption] Nigerians living in areas controlled by terrorist group, Boko Haram, say their daily experiences are characterised by killings, kidnappings, hunger and economic collapse. Boko Haram's leaders have talked about reviving one of West Africa's Islamic empires that for centuries prospered because of the Saharan trade in slaves, ivory and gold, but have demonstrated little evidence of state building.
"The Islamic state is a figment of their [Boko Haram] imagination. They are just going into your house and saying they have taken over," Phineas Elisha, government spokesman for Adamawa state, told reporters. Boko Haram controls an area just about the size of Belgium, according to a
Reuters
calculation based on security sources and government data. However, the group has no clear administrative structure in place to cater for people living under its siege. "(They) have no form of government," an observer told the
Associated Press.
According to reports, villagers trapped by Boko Haram face food shortages, suppression, killings and a lock down on economic activity. "People are going hungry. They are only feeding on corn and squash. No meat, nothing like that. The insurgents are not providing anything else," another witness told AP. When Boko Haram kill villagers, they often fail to bury the bodies. The Nigerian
Red Cross
said one of the first things it has to do when a town falls back into government hands is to clear corpses. After the army recaptured Mubi town in November, for example, those still alive "were starved for food, water, almost everything there. There's no drinking water because (in) most of the wells there you'll find dead bodies." Many residents of Mubi, which the rebels had renamed "Madinatul Islam" or "City of Islam", looked tattered and malnourished, and some were unable to speak. Maryam Peter, a witness who escaped from a Boko Haram territory, in Pambla village, told reporters that daily exchanges with Boko Haram militants involved the militants questioning villagers on their movements and forbidding them from trying to escape. Andrew Miyanda, another witness who escaped the rebels last week, walking for days to the Benue River told reporters that to survive under their [Boko Haram] watch you have to pretend to support them. Boko Haram has fashioned itself after the Islamic State of Iraq or ISIS, as far its caliphate ambitions go. The Islamist group has forced its captives to adopt their brand of Islam. Boko Haram's insurgency has become one of the deadliest in the world, with over 10,000 people killed and it remains the biggest threat to the stability of Africa's biggest economy.
]]>