Julius Malema: South Africa's fiery politician mellows
<![CDATA[
 By Andrew Harding*
[caption id="attachment_15852" align="alignleft" width="300"]
Members of the EFF in their red workers uniforms are sworn into parliament[/caption]
Julius Malema slipped quietly into the room, looking cheerful, perhaps a little slimmer than on our last encounter, and quite the opposite of the rabble-rousing, Mugabe-in-the-making demagogue that his enemies and critics in South Africa and abroad still like to portray.
"Marriage," he said by way of an explanation, and fell onto a sofa with a happy sigh. He recently married a woman from his neighbourhood in Limpopo. But as the "commander-in-chief" of South Africa's Economic Freedom Fighters (EFF) party began our interview, two things soon struck me. The first is that Mr Malema has evolved from a hectoring, skittish, "rough-diamond" of a politician into something much more polished and impressive. The second thing – which grew on me over the course of perhaps half an hour of talking – was quite how imprudent South Africa's governing ANC were to lose hold of him, and let him break off to form the EFF. "The ANC is not only threatened [by us], it repeats us. Everything we say, the ANC comes after us to repeat. We're fighting the issue of the land, we're saying economic freedom in our lifetime, they're saying the same," he declared. And he has a point. The EFF won only 6.3% of the national vote last year, but they behave – and rattle the ANC – as if they were the official opposition, routinely setting the agenda. "I know for a fact that the EFF is listed as a threat to the state by the intelligence [agencies]… The instruction is 'find anything wrong so we can nail him down,'" said Mr Malema, while admitting he had no proof.
#PayBackTheMoney
Mr Malema still calls himself a socialist, anti-imperialist revolutionary, determined to destroy the system from within. "I'm not a member of the establishment," he told me vehemently, when I mentioned his MP's perks and salary. But he's found a way to merge that rhetoric with a more aspirational, individualistic message about getting ahead that borrows from figures like Hugo Chavez. I suggested that his approach was riddled with hypocrisy – a claim he batted away with his usual confidence. "We are finding a way of living with capitalism while fighting it. Our struggle is not to stay in the shacks – it is not a struggle of sameness." [caption id="attachment_15853" align="alignright" width="300"]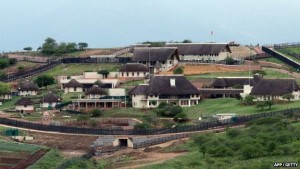 Mr Malema has condemned President Jacob Zuma's controversial homestead[/caption] For months, Mr Malema and his fellow MPs have managed to energise South Africa's parliament with their red uniforms, heckling and demanding furiously for President Jacob Zuma to #PayBackTheMoney – as the online campaign has it – from the state-funded renovations of his Nkandla homestead. Now, Mr Malema told me he is planning to disrupt the president's State of the Nation address to parliament next month. "First he must answer questions," said Mr Malema. "And if he does not?" I asked. "We are going to insist… we will make him answer. We will put more pressure on him. There is no need for publicity stunts – there is a need for political principles. We have taken a decision to fight and confront corruption – and the face of corruption, which is President Zuma."
Apartheid strategy
Julius Malema is currently facing his own charges of racketeering and fraud, which should come to trial this August. He blithely rejected the case against him, insisting he is "the victim of a [political] witch-hunt". Next on the EFF's agenda is a nationwide escalation of the "land occupation" activities it has already begun around Pretoria – which the city's mayor has condemned as "perpetuating anarchy". Pretoria "is just the start. We are not going to stop now. We are putting the necessary pressure. Let the people have land", said Mr Malema, of the crowds brought in to seize unoccupied plots. I asked him about a comment he had made this week to another journalist, where he appeared to be welcoming the possibility of violence. "Sending in police works very well in favour of the EFF because you [are] going to shoot innocent people… and the next thing you have mobilized them into the EFF," he had told the SAPA news agency. Was that not, I suggested, a politician using the poor as cannon fodder for his own ends? "No. [The police] are using the apartheid strategy. Using apartheid tactics will work against you. We are sending our own members… the EFF is just joining the people's struggle. The land occupation is not Julius Malema's idea," he said. "We are in a struggle to liberate our people. We're not in the business of impressing the middle class… I know what I believe in, and what I am pursuing. Rural women continue to be the subject of exploitation by white monopoly capital.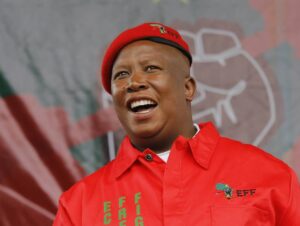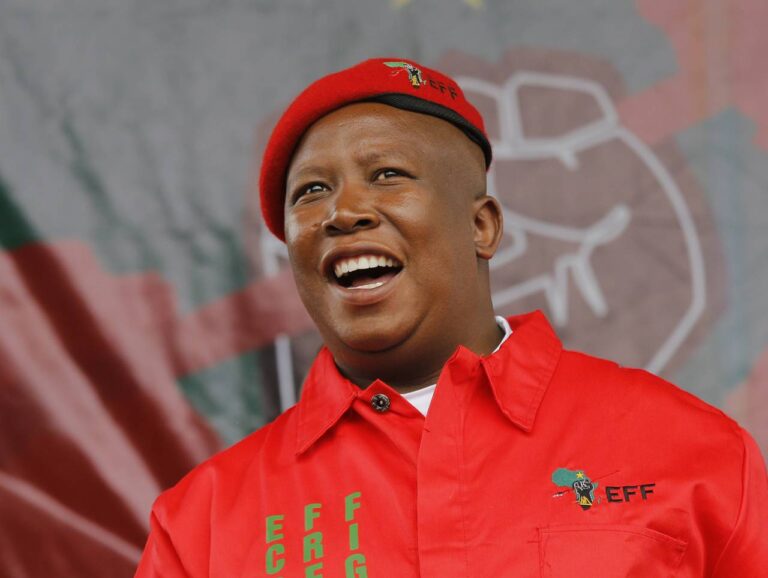 "Those are the people, 21 years into democracy, who still live in the shacks, who still do not have water, who still do not have electricity. I come from that background. That is why I fight to liberate them from the chains of poverty, inequality and unemployment. What other people say really does not matter to me," he continued. Mr Malema's tone was smooth and confident throughout. People have always under-estimated him – the boorish youth with no education. But not any longer. Many South Africans clearly reject the radical policy solutions – land seizures without compensation, across-the-board nationalisation – that the EFF is offering for the country's economic woes. But few now dismiss – and even his critics seem to quietly enjoy – Mr Malema's piercing diagnosis of the governing party's flaws and failures. Towards the end of our meeting we discussed the red workers uniforms his MPs wear in parliament, and Mr Malema – as if to prove that he wasn't an entirely polished diamond these days – showed a flash of the old fire. "I wear what I like, and if you are not happy with it look for the nearest river and jump into it," he said. Then smiled. *Source
BBC
]]>