Honouring an iconic brother – Komla Dumor
By Ben Dotsei Malor*
Rumour or Scam – It can't be true … So where were you when you heard the news?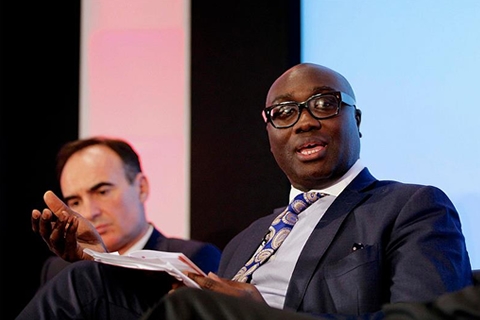 Komla Dumor and I were not related but we became family.  When my phone started ringing unusually and too frequently during an important meeting involving my boss on Saturday, 18 January 2014, I couldn't answer it.  One text came through in the middle of the meeting, "Have you heard about Komla?"  I thought, "What happened?" and tried to concentrate on the meeting.
It was a Saturday.  Komla and I had planned to speak at length the next day.  He was not in any trouble, to the best of my knowledge.  When "death" was mentioned in another frantic text to me, I left the meeting for the washroom.  So, when we are all asked the question, "Where were you when you heard the news (of Komla's sudden death)?" I would have to answer that I was high up on the mountains just outside Accra on a work assignment.
How do you verify rumours of death?
I wanted to call his sister Mawuena, but she had told me days earlier that she would be away in South Africa.  How awkward would it be to call her asking about rumours, allegations or reports of her brother's death, if this report turned out to be false?  I tried to rehearse in my mind how I would go about asking Mawuena.  I called Professor Dumor – Komla's dad – on the home number, but quickly put the phone down, twice.  Quietly, I wished, hoped and prayed that the news would be false.  I thought (or rather fantasized) about Komla emerging later that evening to tease us wickedly with words like, "Ooooh Charley, rumours of my death were largely exaggerated".
Alas, my wish, my hope and my prayer went unanswered and unfulfilled.
Release him and let him go
In the days that followed, I drew inspiration from the memorial sermon given by Archbishop Palmer Buckle – the man who conducted Komla's wedding to Kwansema years earlier.  In the Holy Spirit Cathedral he addressed those of us grieving Komla's death that we must free him by letting go of our grieving.
Professor Ernest Dumor's composure and words of faith granted much quiet consolation and encouragement.  Mawuena's great dignity, poise and stoicism through it all showed me the way – or a way – to handle my personal grief.  Komla's medical doctor brother, Korshie, and I met in London a few days later and had more than a brotherly chat and prayer.  We sat there in that hotel in central London for more than an hour.  Meeting Kwansema and the children in London was very hard.  Later, at a point, I argued in my head, "If Prof Dumor and Komla's siblings are handling things so well and with so much faith and grace in grief, then you cannot be 'more Catholic than the Pope'" in how you grieve the loss of Komla".  Or as Chinua Achebe would put it, you can't be wearing "a deeper indigo than the house of the bereaved."  So I tried to take a cue from the remarkable conduct of Komla's immediate family.
A simple year-long Facebook tribute
Still I couldn't get over Komla's death.  He was not my blood brother but I felt the pain of his death always.  I felt cheated, somehow.  I was upset with myself for not having done more for him.  I was "upset" with Komla, "How could you do this to me, Komla, at this time?" as if he had a say in the matter.  I was upset with GOD – that is if any human being could dare get upset with the Creator and Giver/Acceptor of life.  I must admit that I still feel upset – but not to the same raw degree when Komla died.  Still, I will take a cue from Komla's immediate family and from God's Word.
In the days that followed, I simply could not write a tribute.  I wrote other things about Komla as duty or work demanded.  But it was as if refusing to write a personal tribute could negate the reality.  The easiest and simplest tribute I could manage to pay was my year-long decision to keep Komla's images on my Facebook page, for the cover and profile picture.  In fact, Komla and I shared quite a lot via Facebook, especially through the Inbox.  So, somehow Facebook suddenly lost its appeal and I disengaged for a period.
Well, on the anniversary of Komla's death, I will be replacing Komla's photos on my Facebook page.  I also wish to share a collection of some of my pleasant memories of this brother.
Komla gave a gift that has outlived him
Komla came to spend a few days with me in London when I was working at the BBC.  It was sometime in 1998 or 1999 – long before he would become the star that he became at the time of his death.  I was surprised he asked and chose to spend those days with me and my family.  He was by then a Superstar in Ghana, with huge billboards dotted over Accra advertising a particular type of mattress.  (I teased him about this sometimes.)  He had many friends and family who would have been more than glad to host and pamper him in London.  I was surprised and touched he chose to stay with us.  I don't recall all that happened but I didn't get the chance to interview him on our regular breakfast programme, (BBC) Network Africa, because I wasn't "on the presenter's shift" at the time.  In fact, it would have been a bit nepotistic to do. It was probably Max Bankole Jarrett – whose style and programmes Komla told me he liked.  Komla had a great time in the studios.  Little did he, or we, know that in a few years time he would breeze his brash, bold and beautiful way through the same Network Africa and a number of BBC programmes to become an icon of the world.
Most Ghanaians will tell you that it is simple, almost basic or expected of you when visiting a major city around the world, to go and lodge freely and comfortably with a family member or friend  for a few days (or weeks or even months), with no concern about costs or being a burden.  So when the few days ended and Komla had to leave our London home back to Accra, all that my wife and I expected was a good hug, a handshake and a lift to Heathrow.  But Komla surprised us.  He suddenly produced a gift bag containing a wonderful set of cutlery.  I was "disappointed" in him and told him so.  He just laughed it off.  It felt like he was paying us back for staying with us for those few days – something that would be considered un-Ghanaian.  In fact, he was visiting so many people in London that he hardly touched the food at home.  I told him that he should never expect me to go looking for a gift for him if I should ever come to spend a few days with him anywhere in the world.  What am I saying here? Komla was a giver and a very thoughtful giver at that, because we still have and use that gift he gave us long after I left London for New York to work at the United Nations.
Komla could tease with some disarming "wickedness"
During Komla's few days with me in London, I drove around with him in my BMW (5 Series) car.  It was a red BMW.  Not a sexy red – with open-top or convertible features.  It was just the red, solid, four-door, second-hand BMW that I was comfortable, if not particularly proud, of.  During the runaround in London, Komla never mentioned the car or its colour.  When he got back to Accra and phoned to say thanks for our hospitality he found a way to ask, "So how is that red BMW?"  Now, if you know Komla well, then you can imagine him on the phone with his toothy grin ribbing you very well over a "red" car.  You would think a BMW is a BMW.  Or "all BMW be BMW," as some Ghanaians would put it.  After all I was driving a BMW.
Komla's teasing was quite irreverent but harmless, funny and bearable.  There was no malice in it and you couldn't get offended.   In fact, he had a great, but sometimes wicked, sense of humour. For several months, phone calls between us had to contain the tease, "So, Ben, how is that red BMW?"  In later years, after I had moved to the United Nations in New York, he visited my office and loved the great open view I had over the East River.  I would usually rush into my office, log into my work desktop computer and simply forget that I had an admirable and desirable view from my all-glass set of high office windows in one of the best cities of the world. So, in subsequent phone chats across the Atlantic the red BMW tease was replaced by something more affirmative, "How is that wonderful view out of your window?"  Or "Ben, have you checked the view today?"
"You are Joy … You are Joy"
After moving to the UN and before Komla would join the BBC, he came to New York on one of his visits.  This time, I had a "family fight" with Ambassador Patrick Hayford – an uncle to Komla, who was a top Director in Mr. Kofi Annan's office – about hosting Komla.  With Komla as the deal-breaker, Ambassador Hayford and his family won.  Komla preferred Scarsdale to Montclair. But an amazing coincidence occurred.  My mentor and former Editor of Network Africa, Neil Curry, was also in New York and chose to spend a few days with me.  So, all three of us arranged and met in a Manhattan restaurant where we had a good meal and chat.
As we walked back to the car parked somewhere on the street in the middle of Manhattan, we engaged in animated conversation.  It was summer time in the Big Apple.  The weather was nice, and we observed a curious gentleman seated on a bench on the sidewalk next to our car.  The man was reading some material and had a studious look about him.  But as we started opening our doors to enter the car, this Black gentleman almost leapt with a sense triumphant recognition towards Komla and started saying loudly, "You are Joy, and you are Joy."  Neil and I looked at each other and then at Komla.  From his accent we could tell he wasn't African-American.  I asked him what he meant and he gladly said he recognised the tall burly gentleman beside me to be Joy-FM.
"But have you seen or met Komla before?" I asked.
"No, but I recognised his voice."
He couldn't remember Komla's name immediately, so we told him, and he got even more excited.  He was waiting to start night shift at a nearby car park and chose to spend some time on the bench studying for his Nursing exams.  He used to live in Kokomemle in Accra, not far from Joy-FM.  He gave the names of his wife and children to Komla, and asked him to play a song for them on JoyFM when he returned to Ghana.  As Neil, Komla and I drove off, we discussed the statistical probability of what had happened.  We also wondered about the strange manner of Komla being recognised by his voice in the middle of Manhattan, some thousands of miles from Accra in Ghana.
Confidants, Comrades and Constituents
Unlike me, Komla hardly wore his Christian faith on his sleeve.  But he was a person of practical faith, who believed in God, followed his Catholic faith as best as he could but would become constructively critical if he found anything wrong with religion or the behaviour/conduct of a religious or Christian leader.  Our conversations – whether over the phone or in person – centred around our profession, some personal issues, career choices and how to make a difference overall.  Faith was not something we forced on each other.  Well, not initially.  I was careful not to throw my faith in the way of any critical reasoning and argument between us.  So, I was pleasantly surprised when he called me one day in New York with a sense of urgency and anticipation.
"Ben, what do you think of the TD Jakes clip I sent into your inbox?"
I was busy at work and was not checking Facebook.  I checked when I got home and found an 8-minute video clip of a profound message delivered by the famous preacher.  I was pleasantly surprised because anyone who knew me and Komla would tell you that I was the more likely one to inject a faith clip or TD Jakes sermon into our conversations.
Before this video share, Komla and I had started peppering our sometimes difficult conversations with practical and encouraging Biblical phrases like, "Iron sharpeneth iron," which referred to peer mentoring.  Sometimes, he would say, "And David encouraged himself in the LORD!"  We developed a simple habit of ending most – if not all of – our phone chats with a brief prayer.  We did this even when he would call from South Africa, Tanzania or Kenya on assignment.  We talked a lot about the need for us to be there for each other, in truthful, blunt, and honest ways.
Komla loved to ask me, almost rhetorically sometimes, "So, Ben, who is your Nathan?"  This is in reference to a great Biblical story that still carries wonderful modern applications and relevance.  King David had committed done some terrible things. He had committed adultery with Bathsheba, the wife of his battle commander, Uriah. Bathsheba became pregnant with David's child, and in an effort to cover his sin or scandal, David sent the war commander to a particularly dangerous section of the battlefront where the commander was sure to get killed.  The plan worked and the poor guy got killed on top of having his wife messed with.  It would seem that the whole of Israel knew what was happening.  In 2 Samuel Chapter 12, Prophet Nathan confronted and rebuked David.  He pointed out the scandal to the King, with boldness and truth plus wisdom.  David repented but still had to deal with some of the painful consequences later. Komla felt he and I needed people in our lives who would always tell us the truth, no matter how bad, bitter or unpalatable that truth might be.  The TD Jakes clip was an apt echo of this strong belief.  Every successful person needs a confidant (or two) who must not be confused with comrades and constituents.  It's best you watch it on YouTube here.
"Komla, you are capable of going beyond Network Africa"
Sometime just before I left the BBC in 2003 for the United Nations, I visited Ghana and became Komla's guest on the JoyFM Super-Morning show that he hosted so well.  I was somehow dazzled by the dexterity and multitasking that Komla was showing effortlessly, playing  jingles, selecting songs, taking in phone calls, getting some instructions from the producer, and all manner of things.  Now, back at the BBC, I would have had a studio manager (or two) doing many of these things and leaving me to compose my thoughts and words properly before addressing the world.  It looked like a poor kid in my village accomplishing so much with little compared to a super-rich kid in the United States of America.  I had forgotten all about this interview until after Komla's death, when I would get phone calls saying, "Did you hear what Komla said about you?"  I simply couldn't remember. Sometime after becoming a global TV star on the BBC, Komla visited Ghana, and during a personality profile interview conducted by the popular Bola Ray of JoyFM mentioned how I had motivated him to do better.  He stated that during that interview Komla did with me many years back before he joined the BBC he had asked me what it would take for him to end up presenting Network Africa just like me.  "Komla, you are capable of going beyond Network Africa," I had allegedly told him, in bold and motivational fashion.  I say "allegedly" because the truth is I couldn't recall telling him exactly that.  But clearly I had said something – most certainly out of my deep faith – that helped the brother along the way to the top.  I am just truly humbled that he did achieve this spoken faith word of "going beyond Network Africa." As he and I used to exchange in cryptic fashion, "TGBTG."  To God Be The Glory.  I caught a big personal lesson here:  Be intentional, real and faith-filled when you speak into the lives of people, and then leave the rest to Almighty God.
Every one of us can have a claim on Komla
My story may not be unique.  Komla had an eclectic range of friends.  Everyone can tell their Komla story.  In fact, in a way, Komla had become a global property, a part of whom every one could claim, simply by his fantastic achievement and personality.  I met a non-Ghanaian at a wedding reception in New York who told me that he had used Komla's on-screen presence to motivate his 7-year old son to dream and rise higher.  I felt proud and so I called him later and shared the story with him, simply to encourage him to know that what he was doing was going beyond mere broadcasting or journalism. Sometimes, I wonder how his siblings, father, and wife feel when so many of us come out to lay some claim on their beloved brother/child/husband?  The fact is Komla made a huge and lasting impact on so many of us, whether we met him face to face or just followed him on the radio or TV.
Conclusion
In tribute to Komla, I could write about many other wonderful instances of brotherhood and fellow mentoring that we shared.  Komla and I did not agree all the time.  We disagreed over simple silly things such as the bright purple happy pair of socks he wore when he interviewed members of the Mandela family after the global icon died.
"How could you wear such bright socks and show them, so that instead of all us of complimenting you about the great interview you did we were getting frivolous talking about your socks?" I reprimanded him, half-jokingly.  Of course, he brushed it aside, with a promise that he would still wear the happy socks next time, but not show it.  Sounded like, "I will smoke but not inhale."  We laughed, and that was Komla.
He probed and questioned me deeply when we discussed the call for me to serve as the Presidential Spokesperson and Head of Communications for President John Mahama.  He was concerned about certain things and certain attitudes he knew so well.  He wanted me to succeed and pledged his support and availability "anytime" without me asking.
Komla was driven, passionate and determined in his pursuit of excellence.  He was a self-critical achiever who was open to feedback of any sort.  He loved excellence in other people too.  In fact, unknown to these people – including some of his colleagues at the BBC – Komla frequently boasted in specific terms about them and their work. So, our conversations were frequently peppered with his admiration for many excellent people from many backgrounds and professions.   Through Komla, some of these brilliant people – like Brian Laung Aoaeh, who together with his family, grew up with Komla in Nigeria many years back – became my friends.   We had candid and sometimes heated discussions about his performance and rise at the BBC.   I urged him privately and publicly to write his memoir.  (It would take another article to share some key parts of this.)  I was proud of him and did my best to be a genuine brother to him.  He rather blessed me greatly.
I thank GOD for Komla's life and the legacy he left.
Thanks to Professor Dumor, Kwansema and the children, Mawuena and Korshie for graciously sharing Komla with all of us.  Komla Afeke Dumor will not be forgotten.
Ben Dotsei Malor is currently the Presidential Spokesperson and Head of Communications at the Presidency of Ghana.  He worked for twelve years at the BBC World Service in London, where he presented several programmes including Network Africa, Education Express, Fast Track (Sports), Postmark Africa and Focus on Africa (occasionally).  He rose from a presenter-producer to a Deputy Editor by the time he left the BBC in 2003 to take up an appointment with the United Nations in New York.
*Source myjoyonline