Congo leader pledges to help defeat Rwandan rebels: U.N.
<![CDATA[By Louis Charbonneau* [caption id="attachment_15286" align="alignleft" width="450"]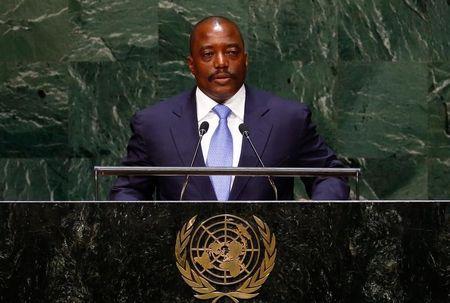 Joseph Kabila Kabange, President of the Democratic Republic of the Congo, addresses the 69th United Nations General Assembly at the U.N. headquarters in New York September 25, 2014. REUTERS/Lucas Jackson[/caption]
UNITED NATIONS (Reuters) – Democratic Republic of the Congo President Joseph Kabila on Wednesday told U.N. Secretary-General Ban Ki-moon that his army is ready to help peacekeepers fight Rwandan rebels in the country's rugged eastern provinces, the U.N. press office said.
The United Nations peacekeeping force in Congo (MONUSCO) has already started preparatory operations ahead of a major campaign to dislodge the Democratic Forces for the Liberation of Rwanda (FDLR), which has been at the heart of years of conflict in Central Africa's Great Lakes region.
U.N. officials say active support of the Congolese armed forces is vital for success against some 1,500 seasoned FDLR combatants spread across eastern Congo.
They also say Kabila's support for MONUSCO has been lackluster so far, while the Congolese army has been responsible for human rights violations, including a mass rape in Minova in 2012 for which senior officers have not been held accountable. "The Secretary-General called for decisive action against the armed group," it said, adding that he "welcomed the president's assurance that his government was ready to take action and noted that MONUSCO was ready to engage with the (Congolese army)," Ban's press office said in a statement. MONUSCO helped defeat Congo's most powerful armed group, the M23 insurgency, in 2013, then unleashed a military campaign against remaining armed groups operating in Congo's mineral-rich east. The FDLR, which includes former soldiers and Hutu militiamen responsible for carrying out Rwanda's 1994 genocide, failed to meet a January deadline to disarm and surrender. Speaking to reporters about a planned full-scale military operation to neutralize the threat posed by the FDLR across large swaths of territory it controls, a senior U.N. official said the main campaign would begin soon. "We're good to go," the official said on condition of anonymity. He added that MONUSCO has been reaching out to the FDLR, urging its fighters to surrender and their families to leave before the offensive begins in earnest. He predicted that the joint U.N.-Congolese operation would be difficult and could take months as many of the FDLR fighters, in contrast to the more conventional approach of the M23, were living with their families and do not wear uniforms.
The military operation, the official said, would involve a special unit within MONUSCO known as the intervention brigade, which is mandated to aggressively search out and neutralize armed groups, along with regular MONUSCO peacekeepers.
An internal review of MONUSCO, obtained by Reuters this week, recommends reducing the number of MONUSCO peacekeepers by nearly 10 percent from roughly 20,000 at present while making it more effective when it comes to protecting civilians from armed groups.
*Source
Reuters/Yahoo
]]>