Congo government says offensive against rebels imminent
<![CDATA[
KINSHASA, Congo (AP) — An adviser to Congo's president said Friday it's only a matter of time before it launches a military offensive against a rebel group that has threatened the country's east for more than two decades.
[caption id="attachment_15563" align="alignleft" width="264"]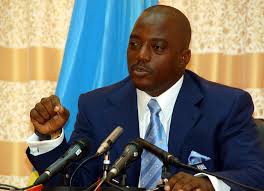 Congolese President Joseph Kabila[/caption]
In an interview with The Associated Press, Seraphin Ngwej hinted that military action against the remaining 1,500 Democratic Forces for the Liberation of Rwanda rebels in eastern Congo was imminent.
"We are determined more than ever and ready to fight the FDLR," he said. "It's only a matter of time."
Ngwej said the use of force was "inevitable" and warned "it's a war and not a scouting operation."
The rebel group known by its French acronym was formed by the remnants of Hutus from Rwanda who were responsible for the 1994 genocide there. They sought refuge and have added to their ranks over the years, attacking villages in eastern Congo and killing an untold number of civilians.
The Congolese military had been focused in recent years on fighting another group M23, which arose in opposition to FDLR, and then became implicated in its own human rights abuses against civilians in the beleaguered region.
The comments come a day after Rwanda's president lamented that the international community was not doing more to squash the FDLR rebels once and for all. Congo's government spokesman Lambert Mende has said that the disarmament of the rebels would take place when the timing was right and in coordination with the U.N. peacekeeping mission present in the country that also aided in the fight against the M23 rebel group.
Eastern Congo is home to a number of armed groups and militias, many competing for control of the region's vast mineral resources. While the fighting is mainly a spillover from Rwanda, it also includes rebel groups from Burundi and Uganda.
In August, the top U.N. envoy in Congo said security in the east has vastly improved in the last year, but the situation remains fragile. Martin Kobler told the Security Council that the key to peace is to disarm the FDLR's remaining fighters.
*Source
Yahoo/AP
]]>