China Strives to Be on African Minds, and TV Sets
<![CDATA[By BREE FENG* [caption id="attachment_15280" align="alignleft" width="592"]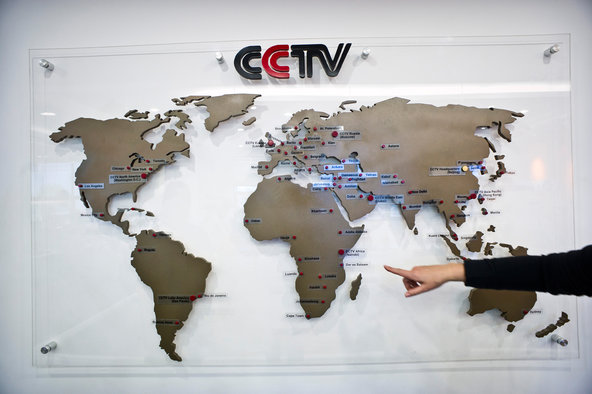 The state-run China Central Television opened CCTV Africa in Nairobi, Kenya, in 2012.Credit Sven Torfinn for The New York Time[/caption]
While China imposes strict controls on foreign-produced entertainment at home, it is also eager to see its cultural products embraced abroad. And in Africa, Chinese television shows have become immensely popular — at least according to the Chinese state news media.
This week, People's Daily, the main newspaper of the Communist Party, reported that Africans have given Chinese television shows a warm reception. It described a Ugandan taxi driver as professing his love for the Chinese romantic comedy "Let's Get Married" as soon as the writer stepped into his cab. And it quoted a Tanzanian professor as saying that his countrymen wait in front of their television sets in anticipation of a new Chinese program.
"More and more African peoples are gaining an understanding of Chinese society by watching contemporary Chinese television dramas, and becoming interested in China," the article said.
Enthusiastic articles about friendly ties between China and other countries, particularly developing countries, are a common feature of state news media. But the emphasis in state news reports on the popularity of Chinese cultural products in Africa underscores the importance Chinese leaders place on winning cultural influence abroad.
In 2011, only two Chinese companies participated in Discop Africa, an important annual trade show for producers, buyers and distributors in the television industry in Africa. But by 2012, the number had jumped to 10, according to Variety magazine.
That same year was also the start of a vastly expanded Chinese news media presence in Africa with the state broadcaster China Central Television opening its CCTV Africa production center in Nairobi, Kenya. The state news agency Xinhua has signed partnership agreements with local news outlets in what a Kenyan newspaper editor described as part of "a full-on charm offensive" by the Chinese news media.
Discop estimates that there are about 42 million households with televisions in sub-Saharan Africa, a low figure given the region's population of 840 million. However, the market is growing.
[caption id="attachment_15279" align="alignright" width="480"]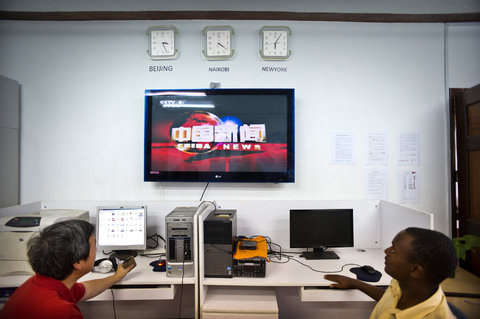 Chinese and Kenyan employees of the Xinhua news agency watching a CCTV news program in Xinhua's Nairobi bureau.Credit Sven Torfinn for The New York Times[/caption]
The Chinese company StarTimes Media Group is riding the waves of that trend, with support from the Chinese government and funding from the Export-Import Bank of China to sell its digital TV packages in Africa. The company is building an $80 million headquarters in Nairobi, complete with a dubbing center where Chinese programs can be translated into various local languages, including Swahili. It says that it has signed up four million subscribers across Africa.
Liu Dong, a cultural attache at the Chinese Embassy in Dar es Salaam, Tanzania, told People's Daily that the five Chinese television series, including family-oriented soap operas, being broadcast in Tanzania were chosen by the embassy in cooperation with China's national broadcast authorities and have been "very well received."
Chinese leaders have made it clear they want CCTV and other media to enhance China's image in Africa.
Speaking at the opening of CCTV Africa in Nairobi in 2012, the Chinese ambassador to Kenya, Liu Guangyuan, told guests, among them the Kenyan vice president, that he wanted the network to project "the real picture of China-Africa exchanges and cooperation."
"Under the current unjust international media order, some people from a few countries are always distorting the fact of the friendly ties between China and Africa," he said, without specifying which countries.
Still, some analysts suggest that Chinese news media and entertainment offerings face significant challenges in Africa.
"Over all, I must say that I am quite skeptical about the popularity of Chinese media in Africa up until now," said Howard W. French, author of "China's Second Continent: How a Million Migrants Are Building a New Empire in Africa" and a former New York Times correspondent in Africa and China.
"I spent most of the summer in East Africa, and people I spoke with in several countries said that not only did they not watch Chinese TV, but that they generally didn't know other people who did, either," Mr. French said.
One problem, certainly for news programs, is the tightly controlled nature of the Chinese news media and the "stodgy and euphemistic" delivery by anchors, he said.
Though CCTV Africa's programs are presented by local journalists, the content appears very much in line with Beijing's goals of promoting a positive view of China.
Bob Wekesa, a Ph.D. candidate at the Communications University of China, conducted a study of CCTV's current affairs discussion program "Talk Africa" and found that "all but one of the shows that relate to China is thumbs up for the image of China," which was also the most discussed single country. The United States fares less well, Mr. Wekesa found.
"Probably the two episodes during which the interviewees are not in a U.S.-bashing position are one where a philanthropic guest is interviewed and the one about the re-election of President Barack Obama," Mr. Wekesa wrote in his report.
The channel's tendency to skirt over what it deems delicate topics is unlikely to endear it to local viewers, Mr. French said.
"The problem with this is that, in a great many African countries, the media scene is quite diversified, and Africans are quite used to having problems, including 'sensitive' problems, raked over directly, with space for lots of contending points of view," he said.
"Beyond that, in most African countries, access to foreign media, whether it is the BBC, Radio France, Al Jazeera or what have you, is high. The CCTV product doesn't hold up well by comparison."
*Source sinosphere.blogs.nytimes
]]>