2015 Nations Cup: Eq Guinea president buys tickets for fans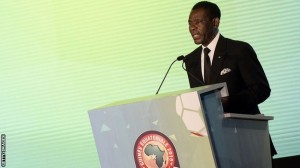 Equatorial Guinea president Teodoro Obiang Nguema has paid for 40,000 tickets for fans to attend the Africa Cup of Nations in his country.
The nation replaced Morocco as hosts only in December and there are concerns the games will be very poorly-attended.
"We must give solemnity to this event, we have to buy tickets to fill stadiums," said Nguema.
"Let those who have the means help the poor. Myself, I bought 40,000 tickets at a rate of 10,000 per region."
The reference to regions is the four cities that are hosting games – Malabo, the capital; Bata, the biggest mainland city; and Ebebiyin and Mongomo, in the country's interior.
Nguema added that the purchase price of the tickets is 500 FCFA (0.75 euro), making the total price 30,000 euro. He said the stadiums needed to be full in order to secure a return for Equatorial Guinea's stepping in to take on hosting duties.
To encourage people to attend matches the working day for civil servants has been cut by two hours on match days.
Equatorial Guinea were installed as hosts after the Confederation of Africa Football rejected Morocco's please to postpone the 17 January to 8 February tournament.
Morocco feared the potential spread of the the deadly Ebola virus which broke out in West Africa in March 2014 and has claimed the lives of 8,386 people in six countries, according to WHO figures up to 12 January.
*Source BBC