US pushes for immediate military action against FDLR
<![CDATA[
By Kevin J Kelley* [caption id="attachment_15091" align="alignleft" width="595"]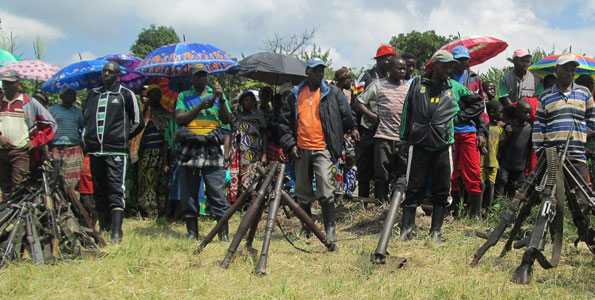 FDLR rebels surrender arms at Kateku in North Kivu. PHOTO | FILE AFP[/caption] The US on Tuesday publicly urged its partners in the eastern Democratic Republic of Congo to make good on their promise to launch attacks on a rebel group beginning January 2.
"Military action should take place" against the mainly Rwandan armed group known as the FDLR, declared Russell Feingold, US special envoy for the Great Lakes region of Africa and the DRC.
A recent surrender of about 150 FDLR fighters "does not come close" to meeting the January 2 deadline for complete demobilisation of a group "with connections to some of the worst crimes in human history," Ambassador Feingold declared.
He cited estimates that the FDLR had about 1400 members prior to last week's surrender. And the US has "reason to believe the FDLR is still recruiting," Ambassador Feingold said in a conference call with reporters.
He added that the United States "stands ready" to lend support to a United Nations combat force and the Congolese army in their promised military campaign to eradicate the FDLR. Ambassador Feingold did not indicate what form such support might take. The special envoy expressed confidence that the 3000-member UN combat force in eastern DRC would carry out its planned mission.
Reports have suggested that South Africa and Tanzania, the main troop-contributing countries to the UN force, are reluctant to attack the FDLR due in part to their uneasy relations with Rwanda, which would benefit from elimination of elements that had taken part in the 1994 genocide.
"We have received repeated reassurances from stakeholder countries" regarding their willingness to carry out their commitment to strike the FDLR, Ambassador Feingold said. He noted that the UN brigade and Congolese army had last year jointly attacked and defeated another rebel group known as M23.
Expressing his own frustration with the year-and-a-half-long effort to persuade the FDLR to disarm, the special envoy said there must be no extensions of the January 2 deadline. The group accused of repeated human rights abuses in eastern DRC has been given "ample time" to lay down its arms, Ambassador Feingold said.
He also ruled out negotiations with what he called "an illegitimate armed group." A meeting in June with FDLR representatives was intended only to make clear that the group's "only options were to surrender or be militarily defeated," he noted.
Ambassador Feingold prefaced his comments on Tuesday with remarks suggesting US opposition to a possible move by Burundi President Pierre Nkurunziza to seek a third term in elections scheduled for next June.
Such a bid "runs counter to the unambiguous language of the Arusha Accords," Ambassador Feingold said. He was referring to a political settlement that he described as having brought a significant degree of peace and security to Burundi for the past decade. *Source
theeastafrican
]]>