Mugabe appoints Mnangagwa as new VP
<![CDATA[By Reagan Mashavave* [caption id="attachment_14653" align="alignleft" width="300"]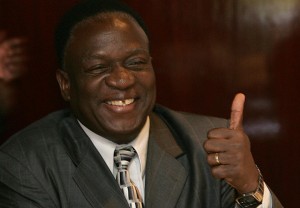 Emmerson Mnangagwa, pictured in Harare on 2008, is in pole position to be Zimbabwe's next president after his promotion to vice president (AFP Photo/Alexander Joe)[/caption] Harare (AFP) – Zimbabwean President Robert Mugabe on Wednesday named hardliner Emmerson Mnangagwa as his vice president, putting the former justice minister in pole position to succeed the veteran leader.
Mugabe announced the appointment at the headquarters of his ruling ZANU-PF party to loud applause, a move that comes just days after he sacked one-time presidential hopeful turned rival Joice Mujuru as vice president in a major purge.
Nicknamed "Ngwena" (The Crocodile) because of his ruthlessness, Mnangagwa has held various senior posts in the country's defence and internal security apparatus.
"I assured the president, I want to assure the party, its leadership, that I will remain loyal, committed and uphold the correct line of the revolution," Mnangagwa said, describing the appointment as an "honour".
The appointment caps a mass purge of rivals by the 90-year-old Mugabe in a bid to end fierce feuding within the ruling ZANU-PF party over who will eventually succeed him.
Analysts say Mugabe is increasingly concerned with making sure his family is secure after he steps down or leaves power.
Mnangagwa is reputed to be one of the richest men in the country and is also renowned for his stern demeanour and tough talk.
The 68-year-old played a critical role in Mugabe's crackdown against opposition supporters that claimed thousands of lives in the 1980s, and which became internationally known as "Gukurahundi".
Mnangagwa also helped Mugabe hold on to power during the 2008 elections, which the opposition won in the first round, but which were boycotted in the second round because of widespread intimidation and violence.
As part of his sweeping purge, Mugabe on Tuesday announced the sacking of Mujuru and eight ministers.
He said the new ministers will be announced soon, while the new vice-presidents were expected to be sworn in on Friday.
Rumours had swirled that Mugabe may seek to appoint his wife Grace to one of the vice presidential posts, although commentators saw the move as unlikely given her recent entry into politics.
The former typist was last week appointed leader of ZANU-PF women's league and on Wednesday she was named as one of 33 members of the party's politburo, which mainly consists of his trusted lieutenants.
The appointment of the 49-year-old first lady as the person in charge of women's affairs at the party's top-decision making body cements her newfound political rise.
In recent months she has been used as Mugabe's attack dog, accusing Mujuru and her supporters of plotting to overthrow the president and of involvement in alleged dodgy business dealings.
– 'Potential fracturing' of party – On Wednesday, Mugabe also named former diplomat Phelekezela Mphoko to the largely symbolic post of second vice president. "There are two vice-presidents. From the former ZANU we have Emmerson Mnangagwa," Mugabe said. "We say congratulations to him." "From the former ZAPU we have Phelekezela Mphoko," seen as one of the few leaders of the ruling party faction who remains loyal to Mugabe. "This is not a honeymoon, this is a challenge that's the most important thing," Mphoko said. The ZANU-PF is an amalgam of two independence struggle parties, but Mugabe's ZANU faction has long been dominant over the ZAPU. Others named to the politburo were Finance Minister Patrick Chinamasa, Foreign Minister Simbarashe Mumbengegwi and Home Affairs boss Kembo Mohadi.
London-based investment advisory group Interhorizon Securities said the latest developments could split the ZANU-PF.
"ZANU-PF already faces a potential fracturing in 2015, as Mujuru's allies are likely to form a new party in an attempt to retain some of their political and business clout," said Interhorizon analyst Robert Besseling.
"However, it is not yet known how much support she would be able to drain from ZANU-PF ahead of the national election in 2018 or any by-elections held before then."
*Source
AFP/Yahoo
]]>